"Opinions are like smart phones, everybody has one."

- Cameron Kaine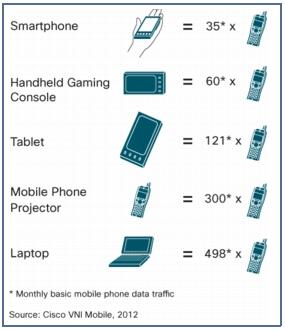 It's hard to imagine that there is anything more popular on the market today than smart phones. As great and as ubiquitous as they are, they do present some challenges not only for the manufactures but for the carriers that provide the networks to support communication. The fact is data demands have and will continue to apply pressure on our communication networks to be more open and accessible and minimize as much traffic congestion as possible. This will not be an easy endeavor, as it will require significant CAPEX by the carriers to improve network speeds and bandwidth.
A recent study by analysts project that smart phone usage on a global scale will only continue to explode upward. When you couple that with a recent Cisco (NASDAQ:CSCO) sponsored survey called "Global Mobile Data Traffic Forecast Update, 2011-2016" the issue gets a bit more "attention-grabbing" as it showed that global mobile data grew by 133% during 2011 - the fourth year that traffic more than doubled. A few of the highlights in the survey were as followed:
The Mobile Network Through 2016
Mobile data traffic will reach the following milestones within the next five years.
Monthly global mobile data traffic will surpass 10 exabytes in 2016.
Over 100 million smart phone users will belong to the "gigabyte club" (over 1 GB per month) by 2012.
The number of mobile-connected devices will exceed the world's population in 2012.
The average mobile connection speed will surpass 1 Mbps in 2014.
Due to increased usage on smart phones, handsets will exceed 50% of mobile data traffic in 2014.
Monthly global mobile data traffic will surpass 10 exabytes in 2016.
Monthly mobile tablet traffic will surpass 1 exabyte per month in 2016.
Tablets will exceed 10% of global mobile data traffic in 2016.
China will exceed 10% of global mobile data traffic in 2016.
Global mobile data traffic will increase 18-fold between 2011 and 2016.
By the end of 2012, the number of mobile-connected devices will exceed the number of people on earth, and by 2016 there will be 1.4 mobile devices per capita. Mobile network connection speeds will increase 9-fold by 2016.
Benefiting from this growth: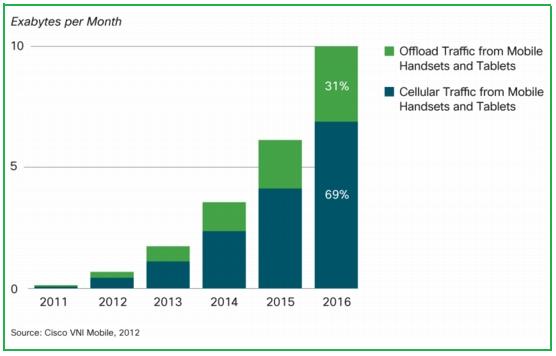 So taking a careful look at the graphic above, several questions should be raised. The first being, how can investors anticipate such an event and capitalize on it? In terms of your portfolio is it better to add cloud service providers such as Microsoft (NASDAQ:MSFT) and Oracle (NASDAQ:ORCL), wireless carriers such as AT&T (NYSE:T) and Verizon (NYSE:VZ), content distributors such as Amazon (NASDAQ:AMZN) and Netflix (NASDAQ:NFLX), network infrastructure firms such as Juniper (NYSE:JNPR) or better yet a company such as Hewlett Packard (NYSE:HPQ) that have the benefit of addressing three of these concerns? The opportunities are endless.
Please bear with me as I walk you through a series of possible investments regarding the proliferation of smart phones, tablets, data traffic, wireless carriers as well as the network expansion that it will require to support global data demand. It is clear from Cisco's survey above that the telecom sector will certainly be forced to try and keep pace with growing data problems. But since we have been taught that "great problems bring great opportunity," I like to think that the end result will be a "great portfolio." In the first part of this article, we are going to look at the possibilities presented by the network infrastructure firms.
Cisco (CSCO)
It is only fitting that I start off with Cisco since it was its survey that opened my eyes to this opportunity. And for that reason, I can't imagine another networking company more prepared to address the very concerns that it has raised. In a recent article, I talked about Cisco's opportunity in mobile computing and addressed some of these concerns. While the corporate enterprise (its bread and butter), is certainly not showing signs of slowing down, Cisco now realizes where it can leverage such an advantage and integrate mobile devices into its platforms to support the increased demand for various types of traffic. Cisco investors should be excited that the company is in such a position to transform itself into the type of company that can potentially impact the hip of every consumer around the globe.
It's hard not to value Cisco now and it is even more remarkable to think how important its position will likely be in the future as the cloud takes full shape. Cisco's equipment still dominates corporate backbones and it powers over half of the Internet. Its recent study of this growing trend only demonstrates that the company is ready and well positioned to take advantage of what is certainly to be a tremendous growth opportunity. With the stock now trading right at $20 and a relatively small P/E of 15, it is clear that Cisco is not being valued as the tech bellwether that it is. The company will likely see a $25 - $30 price tag at some point during the year.
Hewlett Packard (HPQ)
As with Cisco, Hewlett Packard is another company that realizes the opportunity that will be presented by this increased demand. For HP, not only is it well positioned from the standpoint of its network advantage with its Converged Infrastructure solution, but the company is also dominant in servers, printing, services as well as enterprise security. And when you add the fact that it has its own tablet device the touchpad, it makes HP even more intriguing as part of a long term portfolio play.
I continue to feel that at $24 and a P/E of 8, the stock is trading at a considerable discount to its true potential. value investors with the patience of 2-3 years should make a play for HP at current levels as the stock has the potential to reach $40 during that time span and soon the market will realize that as the future of the cloud slowly becomes a reality, Hewlett Packard will be one of the companies that is well positioned to capitalize on its demands.
Brocade (NASDAQ:BRCD)
Brocade is one company that deserves a considerable amount of credit on the market, though it rarely (if ever) gets any. As far as the cloud and managing data demand, the company takes a slightly different approach toward organizations and deployment. The company understands that networks must be cloud-optimized at every critical point because they will define not only the application performance but (to me, more importantly) the end-user experience. Though the company lacks the history of Cisco and HP, it does (in its own right) have a strong tradition in both data and storage networking.
So with the massive shift toward data and how it will be consumed in the coming years, Brocade is also positioning itself and undergoing the sort of transformation needed to compete effectively. To that end, the company appears committed to helping organizations transition smoothly to a world where information and applications reside and can be accessed anywhere regardless of the network need - whether private, public, or hybrid cloud.
As an investment, I have been bullish on Brocade for quite some time. While I can't say that the stock is cheap at current levels, there is still a lot to like with this company going forward. In fact, I still suspect that it will be the target of a possible acquisition at some point this year if not next year. My candidate remains Cisco and with its respective cloud and networking strategies in alignment, it presents excellent synergies - too much to overlook.
F5 Networks (NASDAQ:FFIV)
F5 is one company that always seems to have its act together. The stock is by far the most expensive among the group from a valuation standpoint as well as by virtue of its P/E ratio. There are high growth expectations placed on this company, but remarkably it has yet to give investors a reason to doubt that they can be reached. This sentiment is also the case for investor belief that the opportunities offered by the cloud can be seized. For F5, its belief is that cloud computing is essentially an exercise in infrastructure integration.
What the company understands is that when cloud architectures are introduced in a way that requires environment specific processes and policies, it adds management overhead as well as the greater possibility of human error to derail deployment. This is where the company's solutions become extremely valuable in that it offers an operationally unified environment that eliminates these potential management inefficiencies and risks. The company's "F5 application and control planes" allow corporations to extend existing data center control to cloud architectures while consistently enforcing policies that ensure the security, performance as well as reliability of applications and systems.
Clearly management knows what it is doing, investors are happy and analysts are growing more optimistic each quarter. But the only thing is in terms of an investment, the stock is not cheap. With a P/E of 40 and trading near its 52-week high, what is a good entry point? Investors who are willing to take a risk here may not be disappointed if holding for 12 - 24 months. The company's management is sound and as high as expectations continue to be, the company has not shown any challenges in meeting them.