On February 9th, the day after Groupon (NASDAQ:GRPN) released its first ever public quarterly report, I wrote an article founded on glaring warning signs that the stock was the perfect setup for an immediate short. The stock opened up for trading that day at $21.83, and closed yesterday at $16.74 - a more than 23% decline in 22 trading days. To take advantage of this likely swan dive, I recommended purchasing puts as opposed to outright shorting the stock. Whether you purchased an in the money, at the money, or out of the money put option, you made out with superb results. The following is a case study of the performance of March puts that were purchased on that day.
After the close of trading February 8, 2012, Groupon reported that it yet again failed to register its first profitable quarter in an unexpected earnings miss. More importantly, Groupon decided to be a bit more secretive regarding key operating metrics. The first and most troublesome is Groupon's number of subscribers. Groupon has disclosed the number of subscribers in every quarter since its inception in its SEC filings, but failed to do it in its first quarterly report as a publicly traded company. I pointed out in the previously linked article that the most likely reason was because subscriber growth was anemic. Secondly, Groupon also hid how many of those subscribers, old and new alike, actually purchased groupons. Unlike the first metric, Groupon has never disclosed this key measurable and failed to do so yet again. The earnings miss and glaring lack of transparency was all that was needed to suggest shorting the stock immediately via the purchase of puts. As illustrated below, if you bought an in the money put ($23), an at the money put ($22), or an out of the money put ($21), with March expiration, you had returns of 63%, 78%, and 105% respectively as of the close of trade on Monday.
GRPN March $23 Put: 2/9 - $3.75; 3/12 - $6.10 (63%)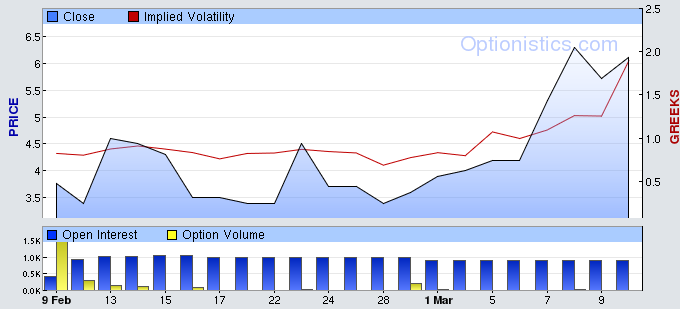 Click to enlarge
GRPN March $22 Put: 2/9 - $2.75; 3/12 - $4.90 (78%)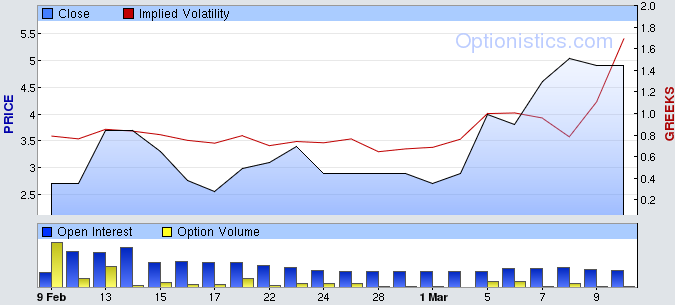 Click to enlarge
GRPN March $21 Put: 2/9 - $2.00; 3/12 - $4.09 (105%)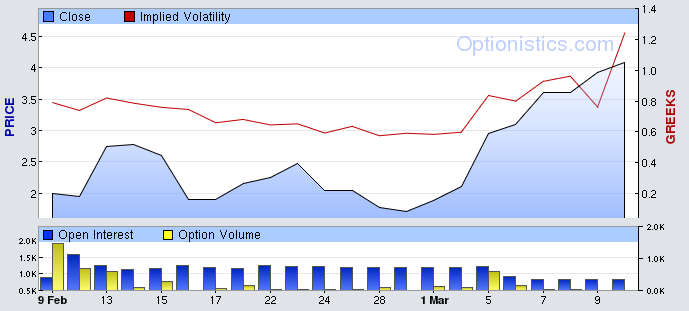 Click to enlarge
Purchasing puts, while risky, are a viable way of generating substantial returns on stocks that are a conviction sell. While there are alternatives to this method depending on your risk tolerance, this case study shows the return may definitely be worth risking the premium paid. This article is by no means intended to bash the recent rash of dot com IPOs. Notably, Global X has significantly scaled down its GRPN position in its Social Media Index ETF (NASDAQ:SOCL). On November 22nd, that ETF which includes fellow IPO darlings - RenRen (NYSE:RENN), LinkedIn (NYSE:LNKD), Yandex (NASDAQ:YNDX), Zynga (NASDAQ:ZNGA), and Pandora (NYSE:P), had Groupon as part of its top ten holdings with a 5.1% weighting. SOCL has since sold more than 50% of its Groupon position to 2.41%. Needless to say, Groupon has been a laggard in that ETF and has underperformed it since its earnings. As I previously highlighted in numerous articles, Groupon is a growth stock that simply isn't growing anymore. From issues surrounding its business model to merchant retention, accounting issues, and omissions of critical data, this is the perfect example of a stock to short or simply avoid altogether.
Disclosure: I have no positions in any stocks mentioned, and no plans to initiate any positions within the next 72 hours.