I continue to believe the market is overextended. However, I do have to admit equities have shown remarkable resilience given high gas prices, the problems in Europe and still anemic domestic growth. I am encouraged that I still finding some good value even if it is much harder than it was six months ago. One stock I like here due to its high cash balances, valuation and longer term growth prospects is below.
AXT, Inc. (NASDAQ:AXTI):
AXT, Inc., together with its subsidiaries, designs, develops, manufactures, and distributes compound and single element semiconductor substrates for use in wireless communications, lighting display applications, fiber optic communications, and solar cell. It offers semi-insulating substrates made from gallium arsenide, which are used in power amplifiers and radio frequency integrated circuits of wireless handsets, direct broadcast televisions, high-performance transistors, and satellite communications applications. (Business Description from Yahoo Finance).
7 Reasons to buy AXTI at just over $5 a share:
The company has a pristine balance sheet with over 20% of its market capitalization in net cash.
The stock is selling near the bottom of its five year valuation based on P/E, P/S and P/CF.
The company sells for a five year projected PEG of less than 1 (.57) and operating cash flow has improved each of the last four quarters.
Earnings estimates for FY2013 have significantly gone up over the past month.
It is under analysts' price targets. The consensus analysts' price target for the 6 analysts that cover the stock is $8.
Although revenues are expected to be flat in FY2012, analysts expect sales to grow in FY2013. It has a forward PE of just under 9.5 which is roughly a 50% discount to its historical average.
The stock looks like it bottomed earlier in the year, is showing increasing technical strength and now is solidly above its 100 day moving average (see chart).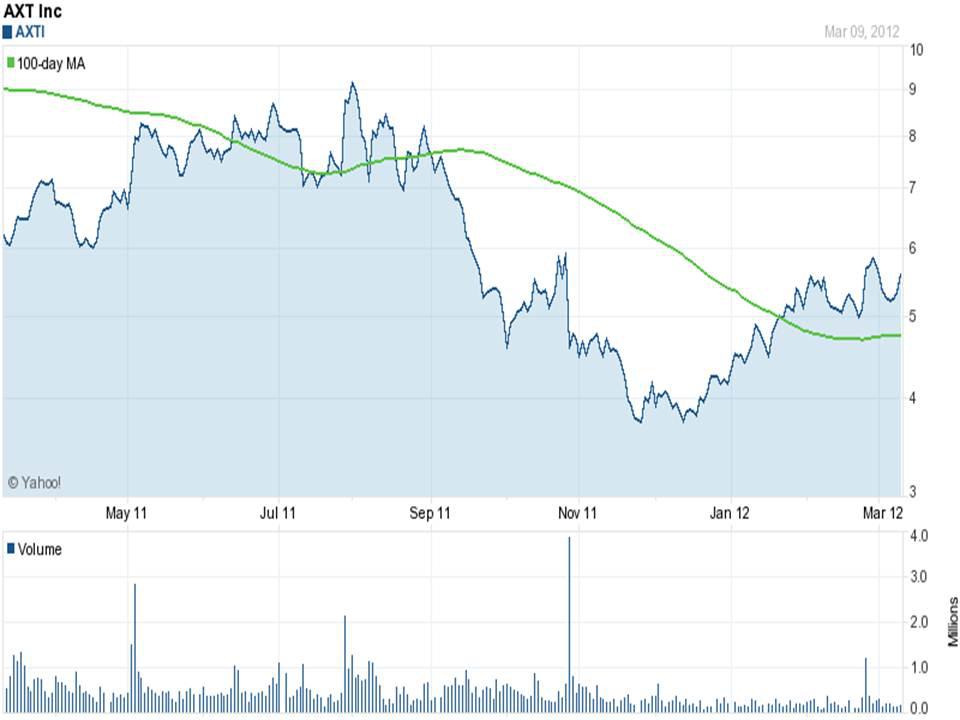 Disclosure: I have no positions in any stocks mentioned, but may initiate a long position in AXTI over the next 72 hours.