The industrialization of emerging economies continues unabated. Popular acronyms like BRIC (Brazil, Russia, India, and China) and ASEAN (Association of Southeast Asian nations) understate the relative size of China. As China has become the workshop to the world, prodigious amount of commodities are required to industrialize. One can expect energy to be next.
The popularity of KFC in China has Yum! Brands (NYSE:YUM) as a favorite China play. The material stocks are the poster boys for Chinese growth. Chinese economic reports and central bank moves send stocks like Freeport-McMoran (NYSE:FCX) and Peabody Energy (BTU) soaring or reeling. However, Freeport is also a proxy for copper and Peabody is being hurt by the U.S. natural gas supply glut.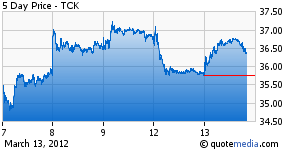 Teck Resources (TCK) is correlated and leveraged to Chinese industrialization with its diversification to China's import needs. Teck's largest business unit is steelmaking metallurgical coal. Copper is Teck's second largest business unit, followed by zinc production. Additionally, Teck has long lived undeveloped oil sands leaseholds which fit nicely with Teck's ability to develop and operate mining resources.
China produced 46% of 2011 global steel production. Teck's metallurgical coal business is well positioned to serve that market with the high quality product needed for today's large blast furnaces. With China's steel production growth having slowed, pricing has weakened. In 2011 Teck's coal business produced $3.3 billion in EBITDA, 57% of the total company cash flow. In 2008 Teck purchased the half of this business it did not already own, making it Teck's largest unit.
China now consumes 40% of global copper supply. The Teck copper business produced $1.67 billion in EBITDA in 2011. Copper is considered a leading economic indicator and a symbol of industrialization. Teck plans to double the size of its copper business over the next five years through the expansion of existing and building of new mines.
Teck's zinc business is world class and contributed 14% of 2011 operating profit. In the middle of the last decade when Zinc prices were strong the investment community was concerned about the heavy weighting zinc had on Teck's results. Teck's diversified portfolio allows for long term investment decisions to be made while the various commodities fluctuate in price through investment cycles.
Teck plans to enter the oil sands mining business and recently Teck has been consolidating leasehold positions. Oil sands mining fits the core competency of the company of building and operating these large projects. Energy investments will further diversify Teck while maintaining leverage to the industrialization of China.
Teck Resources is large enough to be a diversified mining company, yet not so large that new investments can't meaningfully grow the company. The steelmaking coal business has near term growth and the copper business will drive company growth in the years to come. The low cost zinc business is positioned well and oil sands production will be a driver of the company's growth long term. Teck is generating record cash flow and has $4.4 billion in cash on the balance sheet. Rather than compete with China, sell them what they need. Teck Resources is an outstanding way to play the industrialization of China.
Disclosure: I have no positions in any stocks mentioned, and no plans to initiate any positions within the next 72 hours.