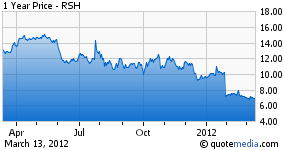 Way back in November, I told investors that if they were long Radio Shack (NYSE:RSH), it was time to sell: the stock was trading at over $13 per share. I argued that the company was dangerously increasing debt to fund higher dividends and increased share repurchases. At the time, I thought that Radio Shack might be a good long term value if the price fell to $10, but unfortunately the company's performance deteriorated even further. Due to policy changes made by carrier partner Sprint (NYSE:S) (which have led to fewer early upgrades) and the cost of subsidizing the iPhone, Radio Shack's Q4 EPS dropped to 12 cents from 51 cents in 2010. Full year adjusted EPS came in at 95 cents. While revenues actually increased by 6%, margins deteriorated by more than 600 basis points.
Furthermore, the company has made it clear that it expects continued weak performance at least in the first half of 2012. Overall profit is projected even lower than the poor 2011 figure. The headwinds that are impacting gross margins are not going away. On the other hand, if the company can contain SG&A growth and continue to grow sales through better customer awareness of its newer Verizon (NYSE:VZ) mobile offerings and the continued rollout of its Target (NYSE:TGT) kiosks, then profitability would rebound in future years. (If sales growth outpaces SG&A increases, operating margins would rise even with gross margins remaining flat.)
On the plus side, the company did state in late January that it had suspended its share repurchase program. As I had argued in November, it did not make sense for Radio Shack to burn through its cash cushion to repurchase stock when its operations had not yet stabilized. Since Radio Shack's stock price has fallen significantly in recent months, the money spent on previous share repurchases was wasted, in a very real sense. The company could have waited and bought the shares today for roughly half of the price it paid in 2010 and 2011.
However, Radio Shack has recently been trading below $7. Its current market value of roughy $690 million is slightly below tangible book value of $716 million. Tangible book value is a very important figure because it provides some safety cushion; if the business ceases to be profitable, the company could (in theory) liquidate its assets and return that amount of money to shareholders. With Radio Shack trading below book value, is it worth buying today?
Based on current analyst estimates of 62 cents per share in 2012 EPS, Radio Shack is trading at roughly 11X earnings. For troubled companies, this is not really a bargain price. There are other companies that may provide better value. However, if Radio Shack can sort through its problems more quickly than analysts expect, there would be some upside to 2012 earnings, and we would also expect better future earnings growth.
I currently consider Radio Shack a speculative buy. However, I expect the market to correct from its recent highs over the next few months, and so I prefer to stay on the sidelines for now. If Radio Shack were to drop below $6 per share, the risk/reward profile would become fairly attractive based on the potential for a buyout or activist takeover. If shares approached $5, I would recommend the stock for investors with a medium-long term (at least 2 years) investment horizon, assuming no further cuts to management's outlook.
Disclosure: I have no positions in any stocks mentioned, and no plans to initiate any positions within the next 72 hours.