MLPs primarily attract investors because of their strong and growing income stream. Yet examining the MLP ETF and ETN products available results in disappointment for income investors - where's the attractive dividend? Is a 5% net dividend from an MLP exchange-traded product all that compelling? Finally, with the launch of the Yorkville High Income ETF (NYSEARCA:YMLP) today, income investors have a product to get excited about.
Why are the dividend yields so uninspiring in the MLP ETP category? The answers lie in the indexes the ETPs track. After all, an ETP's dividend yield can only be as good as the distributions of the underlying securities in the index. Here's an analysis of the index data behind all the unleveraged MLP ETPs.


Source: Bloomberg Data 3-12-2012
Would you believe the most widely owned MLP ETPs track the indexes with the lowest distribution rates? It's true.
The Alerian MLP Index ETN (NYSEARCA:AMJ), is the first and largest MLP ETP. Despite tracking the index with the second lowest distribution in the category, it has gathered $4.2 billion of investor assets. This is primarily due to first mover status. The second largest MLP ETP at $2.7 billion is the Alerian MLP ETF (NYSEARCA:AMLP), which was the only MLP ETF until YMLP's launch. And, you guessed it, AMLP tracks the index with the worst distribution rate of the peer group. Go figure.
In other words, there is essentially an opposite relationship between amount of dividend yield and amount of AUM within the MLP ETP product set right now. You can't make this up; Here's the AUM chart from ETFdb.com.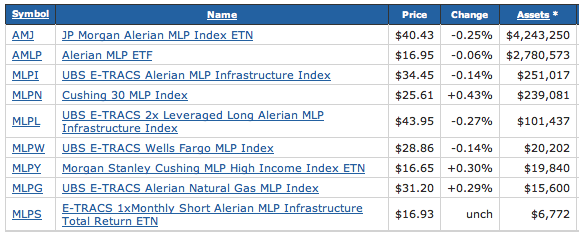 YMLP has a solid chance to upset this odd trend for two reasons. First, it's hard to believe that its substantial advantage in distribution and familiar ETF structure won't be an attractive combo. Second, and just as important to its success, YMLP owns an entirely different set of MLPs than the other MLP ETF, AMLP. There is no overlap in holdings between the two, as YMLP owns commodity-focused MLPs and AMLP owns infrastructure MLPs. The AMJ ETN has only slight overlap with YMLP. This makes YMLP a great diversification play and a significant income booster to current holders of the $6 billion plus in AMLP and AMJ assets.
To invest in MLPs is to do so primarily because of their attractive income characteristics. ETF investors now have an option via the YMLP ETF that delivers more of what investors want and need: high income and diversification.
Disclosure: I have no positions in any stocks mentioned, and no plans to initiate any positions within the next 72 hours.