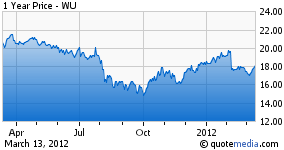 The Western Union Company (NYSE:WU) is a leader in global payment services. Together with its Vigo, Orlandi Valuta, Pago Facil and Western Union Business Solutions branded payment services, Western Union provides consumers and businesses with fast, reliable and convenient ways to send and receive money around the world, to send payments and to purchase money orders. As of December 31, 2011, the Western Union, Vigo and Orlandi Valuta branded services were offered through a combined network of 485,000 agent locations in 200 countries and territories.
TRUSTED BRAND
For more than 160 years, the familiar signs of Western Union have stood as a trusted symbol for connecting friends, family and businesses around the world. From the roots of their signature telegram business in 1871, Western Union has expanded and evolved their services. Today, Western Union offers money order, money transfer, payment and prepaid services. While the telegram is a distant memory, Western Union continues a long history of connecting people around the corner and around the globe with financial services that are fast, reliable and convenient. In 2011, Western Union completed 425 million business payments and 226 million consumer-to-consumer transactions worldwide, moving $81 billion of principal between consumers.
2011 FINANCIAL RESULTS
Western Union reported revenue increased 5% in the fourth quarter to $1.4 billion with net income delivering an 86% gain to $452 million as operating margins expanded and the company benefited from gains in other income and a $205 million favorable settlement with the IRS. For the full year, revenue increased 6% to $5.5 billion, reflecting the highest full year revenue growth since the 2008 financial crisis. Gains in other income and the favorable IRS settlement which reduced the full year effective tax rate to 8.6% contributed to record EPS of $1.84.
Each of the company's consumer-to-consumer regions grew during the year with strong performance in electronic channels where revenue grew 36% in 2011. The company's goal is to grow Westernunion.com from $100 million in revenues today to over $500 million in revenues by 2015. Western Union ended the year with approximately 485,000 agent locations around the world and 100,000 customers, including over 500 financial institutions.
Fiscal Year

August

4-YR

CAGR

2011
2010
2009
2008
2007
Sales (000,000)
2.9%
$5,491
$5,193
$5,084
$5,282
$4,900
Net Income (000,000)
8.0%
$1,165
$910
$849
$919
$857
EPS
13.5%
$1.84
$1.36
$1.21
$1.24
$1.11
Dividend
68.2%
$.32
$.25
$.06
$.04
$.04
Profit Margin
21.2%
17.5%
16.7%
17.4%
17.5%
IMPRESSIVE FREE CASH FLOW
Free cash flow increased 19% to $1.1 billion with Western Union returning most of this cash to shareholders through $194 million in dividends and $804 million in share repurchases. Given its impressive free cash flow, Western Union announced a 25% increase in the dividend payment for 2012 to an annual rate of $.40 per share. Western Union had suspended share repurchases in the fourth quarter pending the completion of the $1.2 billion Travelex Global Business Payments (TGBP) acquisition but expects to resume share repurchases in 2012. However, share repurchases will not likely be at the same rate as in 2011 as management plans to pay down debt on the acquisition as they seek to maintain a strong balance sheet. Cash flow from operations should remain robust in 2012 in the $1.0 billion to $1.1 billion range. With the business generating so much cash, management is able to increase the dividend, repurchase shares and make acquisitions.
ATTRACTIVE VALUATION
While management expects 2012 to be impacted by macro challenges and currency headwinds, especially in Europe, constant currency revenue growth for the year is expected to be up 6%-8%, including a 4% benefit from the inclusion of TGBP. Earnings per share are expected in the range of $1.65-$1.70 which reflects stable operating margins and a lower effective tax rate, although the one-time tax gain in 2011 won't be repeated. Western Union appears attractively valued trading for about 10.5 times expected earnings. The company also sports an attractive 10% free cash flow yield. Long-term investors may want to deliver Western Union into their portfolio given this high-quality company's trusted brand, impressive free cash flow and attractive valuation. Buy.
Disclosure: I am long WU.
Disclaimer: Hendershot Investments holds a long position in each stock presented. The content in this article should not be taken as investment advice or construed as a recommendation to buy or sell any security. Ideas expressed may not be suitable for every account, depending on an individual's investment objective, risk-tolerance and financial situation. Information presented here was obtained from sources believed to be reliable but accuracy and completeness and opinions based on this information are not guaranteed. It should not be assumed that investments discussed will be profitable or will equal the performance of securities listed here or recommended in the past. All data, information and opinions expressed are subject to change without notice. Further information on companies mentioned is available upon request.