Invesco Plc (IVZ) is a publicly owned investment manager. The firm primarily provides its services to individuals, typically high net worth individuals. It also manages accounts for institutions. The firm manages separate client focused equity, fixed income, balanced portfolios. It also launches equity, fixed income, and balanced mutual funds for its clients. (taken from Yahoo Finance)
The company has been fairly strong lately and in favor with analysts. Two recently (January) upgraded the company. Recently Credit Suisse continued to believe the company would outperform in 2012 after it had stronger than expected earnings and net flows the last quarter of 2012. IVZ has one of the best annualized growth rates in the industry at 4%, and this is expected to exceed 2012 forecasts. Stifel Nicolaus also upgraded it to a buy.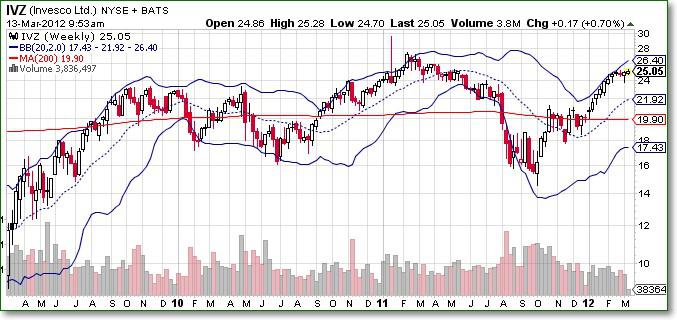 With the stock in favor in 2012, it could be a good value stock. Presently, analysts have projections close to 26 and 27 for the 52 week high. Invesco is close to that now. When we look at the long-term chart, we see that last year's high in early January was just over 27. While the stock may move up, we believe it is ready for a pullback before it continues up long term. If it bounces off the resistance level, we could see a pullback clear down to the 20.5 level before it moves up again. We would look at a Bear Put Spread toward the end of the year for a play like this.
The Option Play
Buy the October 2012 '25' put option (priced at $2.50)
Sell the October 2012 '22.5' put option (priced at $1.35)
Net Debit to Start: $1.15
Maximum Profit: $1.35
Reasoning behind the Trade
We like the bullish sentiment on the stock, but also recognize the long term peak and valley formation it has. We believe it will pull back soon. We find good support but not until we reach 20.5 level. Out trade is well within this range. The stock does not move very fast, so we were looking to buy 6 months out for safety from time decay.