That's probably the question on many people's minds, from plain consumers to hard-charging competitors. Before each new iteration of the iPhone, the web gets filled with speculation on its features and capabilities.
For Apple (NASDAQ:AAPL) there's nothing more important than the new iPhone - after all, it represents around three-fourths of the entire company's profits. Sometimes, the new models get leaked to the public, with people getting fired, lawsuits flying, and websites racking in millions of page views.
After the iPhone 4S, it's clear that Apple will have to be revolutionary with the design. The iPhone 4S did not change its exterior design from the iPhone 4, and is now looking dated when compared to Android phones from Samsung and others, such as the Samsung Galaxy Nexus.
So, is there a clue on how the iPhone 5 might look like?
This is where it gets interesting. There might be such a clue. An impossible coincidence tells us at least a tiny bit regarding its exterior. It all starts with Walter Isaacson's "Steve Jobs" biography. You see, this biography has a curious difference between its international translations (this has been verified in the Portuguese and Greek versions) and its English version: Apparently there is a paragraph missing in the English version of the book.
The paragraph is in the "iPhone" chapter, "gorilla glass" sub-chapter. It reads like this (translated from Portuguese, Jony Ive was/is SVP of industrial design at Apple, Wendell Weeks was/is Corning's CEO):
Weeks became friends with Jony Ive, who sometimes came to visit him at his lake house north of New York. "I can show Jony some similar glass samples, and he can tell them apart just by touching them," said Weeks. "Only my head of research can do the same. And when you show something to Steve, he either likes it - or doesn't like it - instantly. But Jony, he plays with it, examines it, studies the tinniest detail and capabilities." In 2010, Ive took his most senior managers to a Corning factory, to make glass together with the specialist glass makers there. The company that year was working on a tremendously stronger glass, codenamed "Godzilla Glass," and it hoped someday to be able to make glass and ceramic tough enough to be used for an iPhone that would not need to have a metal rim. "Jobs and Apple made us better," Weeks said. "Each of us are fanatical about the products we make."
It suggests that Corning (NYSE:GLW) was working on a type of glass that exceeded the gorilla glass specifications, codenamed "godzilla glass." That glass could be the recently introduced "gorilla glass 2" by Corning, since it's a stronger glass by Corning within a time frame that would correspond to such a prototype glass becoming a commercial product, bearing in mind that the passage above took place during 2010.
So we know, from the paragraph above, that there was the intention to, if possible, make a glass strong enough that there wouldn't be any need for the metallic rim (that brought so much trouble with iPhone 4). We can thus speculate that Apple is readying itself to introduce an all-glass iPhone, probably one-piece, all-smooth, somewhat curved at the edges, with a larger screen than the 3.5" LCD in the iPhone 4S (screens have been trending larger). This would truly set the iPhone 5 apart from the present throng of phones that all look similar. It might thus help Apple keep its unique position in a market that increasingly seems under a glut of similar spec'd, similar-looking, phones.
It's also an important development for Corning. Presently it is speculated that Apple gets only some of its aluminosilicate glass from Corning, while also using other suppliers simultaneously. With gorilla glass 2, though, Corning should probably either be the sole supplier, or get license revenue from letting others produce it. Thus, if the design of the iPhone goes in this direction, Corning should be a prime beneficiary.
Relevance
The importance of the iPhone 5 for Apple cannot be underestimated. As we can see in the tables below (Source: Q1 2012 10-Q), in the latest quarter the iPhone represented 52.7% of Apple's revenue, but most importantly, it can be estimated that the iPhone represents between 70.8% and 82.6% of Apple's gross margins. In a way, Apple is the iPhone, even if all the other products aren't slouches themselves.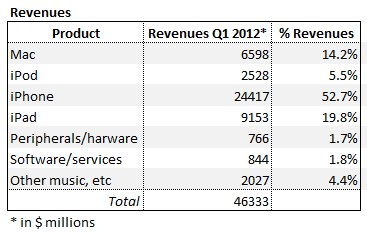 Click to enlarge
Not only is the iPhone incredibly relevant for Apple, but it's also a product that's being sold into the fastest growing segment of the mobile phone market - smart phones. As per IDC, this segment grew 61.3% during 2011, to reach 491.4 million units. This growth is expected to continue into 2012, albeit at a slower pace, with much of the growth coming from cannibalization of the feature phone segment, where Apple isn't present and Nokia (NYSE:NOK) is dominant.
Apple absolutely needs to keep this string of brilliant iPhones to keep its market position, its ability to receive huge subsidies from mobile operators, and its profitability. An all-glass iPhone might just achieve that for another product generation (still, this market is so dynamic that, one or two years down the road, Apple will need to beat every other competitor … again).
Conclusion
A strange coincidence might have allowed us to have a glimpse into the possible future of the iPhone 5, Apple's most important product by far. This coincidence seems to point to an all-glass iPhone that will keep Apple's uniqueness intact for some time. This development, if confirmed, should also be a positive for Corning. Obviously, at this point it's all speculative, but certainly the paragraph mentioned above, including the idea of not needing the metallic rim, was at some time considered.
That said, and since we're still within the time frame of a possible correction in Apple stock, care should be taken the next week or so before buying Apple stock. Also, Apple's great reliance on a single product makes the stock riskier than is immediately apparent, with every new iteration of the iPhone presenting an opportunity for failure that could seriously compromise Apple's stock value.
Disclosure: I have no positions in any stocks mentioned, and no plans to initiate any positions within the next 72 hours.