MarkWest Energy Partners (NYSE:MWE) fell nearly 4% Monday night, as the company takes advantage of the strength in the units to do an unit offering. The partnership is offering 5.9 million units, with an underwriters option for another 885,000. MarkWest will use the money raised to partially fund its ongoing capital expenditures. For investors who have been looking for a way to play the growing production of hydrocarbons in the Marcellus and Utica Shale without taking on commodity price risks, take a strong look at this offering, and the opportunity it provides.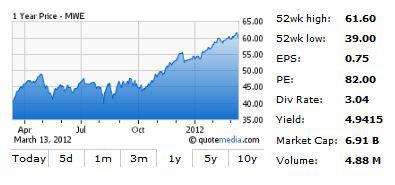 MarkWest has been on an absolute tear since bottoming around $7 in 2009, climbing close to $62 before this offering. The partnership has a significant first mover advantage in providing infrastructure to serve the Marcellus and Utica Shale formations, and this is allowing MarkWest to quickly become an integral part of the North American energy infrastructure. The company's December announcement to buy out EMG's 49% stake in its Liberty JV gave MarkWest full control over very desirable midstream assets serving mainly the wet gas sections of the Marcellus. That deal was expected to be up to 6% accretive from 2013 and beyond. Additionally, MarkWest and EMG agreed to a new JV, MarkWest Utica, to develop natural gas gathering, processing and transportation, as well as NGL fracturing transportation and marketing infrastructure. The partnership plans to have processing capacity of nearly 2.3 billion cubic feet of natural gas and fractionation capacity of 300,000 barrels per day once construction is complete over the next few years.
MarkWest is rapidly growing into one of the best MLPs in the U.S. The partnership is spending in the $1 billion range in cap-ex this year, roughly 25% of MarkWest's market cap. This huge amount of spending, as well as the ramp up of exploration and production in the Marcellus and Utica should provide MarkWest with outsized returns for years to come. Given the prospects for torrential growth in the next 2-3 years, I think MarkWest should easily outperform the broader MLP universe. I would caution investors, however, to avoid chasing the name after the huge run it has had, and instead use opportunities such as this pullback to get into the name.
Disclosure: I have no positions in any stocks mentioned, but may initiate a long position in MWE over the next 72 hours.