In the last couple of months, J.C. Penney (NYSE:JCP) experienced a quick and strong run in the price of its shares, and we decided to dig further and see if there was solid ground for a trade.
On February 14th, I published a recommendation to short the stock. I decided that it was time to fade this rally. And so we did. Back then, I stated, "The only surprise is the one awaiting the investor who buys JCP at its current price only to watch his investment make annual returns of 2% on his equity."
We shorted the stock at $42.50, and that's what happened: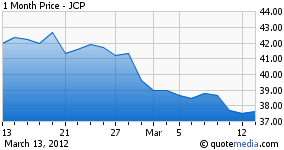 Plenty of events have occurred since then for JCP, and our trade instructions should adjust accordingly. Lets try and summarize the highlights:
Downgrades
On March 7th, S&P initiated a downgrade on JCP's debt. It lowered its rating from BB+ to BB. This move has several implications. First, it will now cost J.C. Penney more to borrow money. This will be a burden on its debt financing obligations. Second, because it is now categorized in what many consider the "junk" territory, various funds and institutions are refrained from owning both its shares and its debt. This will cause further downside pressure on the price of its stock.
Report Season
On February 24th, the company reported its fourth quarter results, resulting in a 41 cents/share GAAP loss on weak sales and dreadful margins. That was a big surprise to analysts. But on the other hand, analysts always seem to be caught by surprise. Not only that, but CEO Ron Johnson commented that February sales were "trending below last year," particularly on days when the company had major promotions last year.
Clouds of Uncertainty
The company has recently embarked on a new strategy of "Becoming America's favorite Store." Among other things, the main point is to slash prices across the board. The main fear is that no one really knows how this strategy will play out. It might potentially deter current loyal shoppers rather than bring new ones. Uncertainty is always a risk factor in the markets.
Still Pricey
Judging by J.C. Penney's peers, the stock still remains pricey and not fairly attractive. Take a look at the following table:
| | | | | | |
| --- | --- | --- | --- | --- | --- |
| Metric/ Company | JCPenney(JCP) | Kohl's Corp (NYSE:KSS) | Macy's (NYSE:M) | Sears Corp. (NASDAQ:SHLD) | Target (NYSE:TGT) |
| P/E | N/A | 11.7 | 13 | N/A | 12.2 |
| PEG Ratio | 2 | 0.9 | 1 | -0.2 | 1 |
| Price/Book | 2 | 2 | 2.6 | 0.7 | 2.3 |
| Price/Sales | 0.5 | 0.7 | 0.6 | 0.12 | 0.5 |
Technical Front
The stock has violated its 50 EMA downwards, which previously served as a line of support for the stock. A further decrease beyond the $34 area will pave the way to the $30 price zone.
Action to Take
Our short recommendation remains intact but with the following adjustments: We will now change our stop loss to $45 to save our unrealized profits of 12% on this trade. We will still take profits at $31.
The main pending risk to our trade is that pessimism already began to sink in. When we first shorted the stock, everyone was so excited about the future prospects of JCP. Now, with the downgrades, there is more room for a positive upside surprise, such as a highly profitable 1Q for 2012. That is the reason why we are now tightening our stop loss.
Disclosure: I am short JCP.