Out of the 11 major China-based, U.S.-listed solar companies, Hanwha SolarOne (HSOL) is perhaps the most difficult to classify. In 2010, Hanwha Chemical purchased a 49.9% stake and subsequently replaced most senior executives and directors, including the Chairman and CEO positions. Since then, the company resembles more a Korean than Chinese company. Hanwha SolarOne's manufacturing capacity is also quite large on a global basis, with an estimated ninth position in 2011 market share, but still well below direct peer leaders such as Suntech Power (STP). The company is also highly integrated with a target 800MW wafer, 1.3GW cell, and 1.5GW module capacity at the end of 2011, but not fully integrated as Yingli Green Energy (YGE) and Jinko Solar (JKS). Its cost structure, while leaps and bounds above most global competition, remains in the lower echelons among larger Chinese peers. With average selling prices ("asp") for photovoltaic products across all crystalline solar verticals dramatically lower than year ago levels, SolarOne's execution in the following quarters will be critical in determining its role in the industry.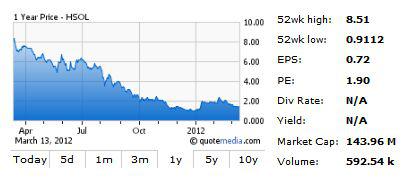 During a period of asp erosion, a company's bottom line result is less indicative of its overall competitiveness because likely corporate losses are more a function of realigning inventory levels to lower market pricing. As explained in my recent Trina Solar and Yingli articles, cost efficient manufacturers do generate reasonable gross profits using real time procurement variables, but report much weaker results due to inventory cost blending and revaluations.
The same situation applied to Hanwha SolarOne in its third quarter 2011 earnings report, where a $30.6 million inventory provision contributed to a quarterly gross loss of $24.3M. Hanwha SolarOne reported a blended module unit cost of $1.20/watt in the third quarter vs. asps of $1.23/watt yielding just 2.4% gross margin, excluding the inventory charge. Fully integrated internal production costs were even lower at $1.13/watt. However, manufacturing costs, excluding higher carrying cost inventory, would have been much lower at approximately $0.95/watt, using metrics detailed by the company in its Q3 earnings conference call. While many global peers have been forced to reduce or completely shut down operations as market pricing fell below manufacturing costs, companies like Hanwha SolarOne, Trina Solar, and Yingli Green could still generate fairly positive gross margins using all real time input variables. This key factor is perhaps overlooked as companies are forced report much weaker U.S. GAAP results due to inventory accounting.
What is a bit more concerning about Hanwha SolarOne has been its quarterly shipment trend. For the first three quarters of 2011, overall shipments have been on a sequential decline to 200.9MW in the third quarter, and are expected to decline further to a range of 160-180MW in the fourth quarter. For 2011, annual shipments are only expected to rise slightly from 798MW in 2010 to a range of 815-835MW, despite larger direct peers such as Trina Solar and Yingli Green posting annual shipment increases more inline with the industry's roughly 50% growth in 2011. Despite Hanwha SolarOne's high market share position, the company has been losing market share in 2011. As the industry continues to consolidate, weeding out weaker participants, Hanwha SolarOne's shipment performance last year may indicate an overall weaker competitive position within the industry.
On the manufacturing cost front, the company is also slightly behind industry leaders such as Trina Solar and Yingli Green. Management stated overall non-silicon module silicon costs at the end of the third quarter was $0.74/watt, which compares to about $0.64/watt for industry leaders Trina Solar and Yingli Green. The company hopes to lower this manufacturing cost to the low $0.60s/watt by the end of this year. If achieved, Hanwha SolarOne should be cost effective enough to remain competitive and generate positive gross margin, but overall profitability may lag larger rivals, which have targeted costs roughly 10% lower than Hanwha SolarOne. As evident in the past, Hanwha SolarOne continues to be a step behind direct peers- albeit those peers are the industry leaders.
Unlike all of its direct U.S.-listed Chinese peers, Hanwha SolarOne possesses an unquantifiable asset. Although Hanwha SolarOne's parent Hanwha Chemical has not played a major role in its operations in the past few quarters since taking a 49.9% position, a more active role in the future could help level the playing field.
Hanwha Chemical is a large global conglomerate with business ties to many countries and could potentially help open new market opportunities for Hanwha SolarOne. In addition, Hanwha Chemical could also help lower Hanwha SolarOne's material procurement costs through its larger scale and purchasing power. A polysilicon plant expansion has already been announced for the parent which is expected to come online by the end of 2013. Although at current market pricing, Hanwha SolarOne may not need help with polysilicon procurement, this is one example how its parent may play a more active role in the company's future input costs. Lastly, Hanwha Chemical's deeper pockets and financial ties could also secure more financing opportunities for Hanwha SolarOne, such as a $100M five year loan from Standard Chartered Bank and Korea Development Bank, as detailed in its latest conference call.
Another potential safety net for Hanwha SolarOne investors is Hanwha Chemical's large financial commitment. In two separate private placements, Hanwha Chemical has already invested approximately $450M for a 49.9% equity state in Hanwha SolarOne. This investment, given Hanwha SolarOne's dramatic decline in market valuation, is over three times its recent market cap of $120M. As long as Hanwha SolarOne's operating prospects as a stand alone entity or though the help of its parent to remain at levels which reasonable profitability could be attained under normalized pricing conditions, Hanwha Chemical would unlikely let Hanwha SolarOne fail. If potential normalized earnings become too discounted by the market, a complete buyout may also be possible.
However, given the irrationality of pricing in an industry where the vast majority of companies have simply been imploding, it is difficult to gauge what normalized conditions may resemble. As noted, Hanwha SolarOne's competitive positioning as a stand alone company is, while not among the best, still relatively much better than most peers. Any potential assistance from its parent may play a key role reducing any competitive gap difference with the industry's cost leaders.
Similar to most U.S.-listed Chinese solar peers, Hanwha SolarOne's fourth quarter will likely end with losses. The company's relatively high inventory level and carry cost should make it difficult to attain positive gross margin on a blended level. A sequential decline in unit shipments and asps will also lower consolidated revenues a fair degree. With metrics stated or implied by the company, a fourth quarter earnings estimate has been compiled below and does not speculate outside of ranges offered by management.
Hanwha SolarOne's Q4 Earnings Estimate:
Revenues: $160m

Shipments: 150MW module, 20MW oem

Asps: $1.00/watt module, $0.50/watt oem

Unit Costs: $1.04/watt module, $0.45/watt oem

Gross Profit: 150 x -0.04 = -$6m + 20 x 0.05 = $1m, -$5m total

Gross Margin: -3.1%

Operating Costs: $22m

Net Interest Expense: $8m

Net Convertible Bond Market Gain: $5m

Tax Benefit: $5m

Net Loss: -$25m

Diluted Share Count: 84m

EPS: -0.30
Given Hanwha SolarOne's fairly high inventory cost level at the end of the third quarter, another inventory provision is quite possible in the fourth quarter. If another writedown is taken based on the company's inventory costs, the charge could be roughly $15-20m. In addition, the final quarter of the fiscal year may cause the company to take all other necessary provisions, such as bad debt, in order to close out the year with a clean book. To Hanwha SolarOne's credit, the company has not taken any accounts receivable writedowns in 2011, but trends indicated by peers suggests it is definitely possible. Other possible charges include prepayment write offs made to upstream suppliers, which may have folded operations during last year's challenging environment.
Looking forward, Hanwha SolarOne's cost structure, especially at the operating level, is still reasonably low and thus could generate positive earnings if the company's manufacturing cost targets are achieved. It may take another quarter before costs fully normalize with real time variables. Thus, the first quarter of 2011 will likely be another weak quarter for the company. While the degree of profitability may lag more efficient industry leaders, the company should not be in any near-term jeopardy, especially considering any potential backing through its parent. Without the Hanwha Chemical wildcard, Hanwha SolarOne does not represent any relative value over better positioned larger peers, but at current valuations, Hanwha SolarOne may represent a higher risk and higher reward play for investors who believe in the longer term prospects of the solar industry.
Additional disclosure: No Position in STP.