By Tim Plaehn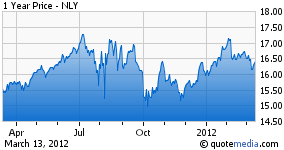 Pull up the stock information of Annaly Capital Management (NYSE:NLY) on some of the stock market discussion websites and titles like "Confidence in Annaly Capital Management" and "Why Annaly is A Good Bet Now" pop out from the page.
Although a handful of mortgage REIT stocks seem to be going against stock market history, stocks with dividend yields of 14% to 15% or higher are not safe investments and in almost every period of time, investors going after these high yields end up losing more than they earn. It is time to take a close look at the numbers from Annaly and its nearest competitor to see if there is a way the dividends are sustainable.
A mortgage REIT like Annaly earns money by holding and managing a portfolio of mortgage backed securities - MBS. In the case of Annaly the company focuses on agency securities issued or guaranteed by Fannie Mae (OTCQB:FNMA), Freddie Mac (OTCQB:FMCC) and Ginnie Mae. To earn a decent profit on the portfolio, the money used to buy the mortgage securities is borrowed at lower interest rates and the difference between the rate earned on the MBS portfolio and the cost to borrow money allows Annaly to leverage the company's capital.
The result is the ability to pay a 14% dividend from a portfolio yielding about 3.2%. The management of a mortgage REIT puts in a tremendous amount of work to analyze the choices of mortgage securities and the paths to finance the portfolio to maximize the net interest earned. A big challenge when investing in mortgage securities is prepayment rates - they speed up when rates decline, forcing reinvestment at lower interest rates and prepayments slow as rates increase, locking an investor in at lower than market rates. The challenge for mortgage REIT managers right now is the relentless decline in mortgage rates with no room on the borrowed money side to maintain a spread.
Let us compare year over year numbers for Annaly Capital Management and American Capital Agency Corp (NASDAQ:AGNC), another REIT with a similar business model. American Capital Agency is a little more open than Annaly when sharing information about the company's financial situation.
At the end of 2010, Annaly reported a weighted average portfolio yield of 3.80% and a cost of funds of 1.84% producing a net interest rate spread of 1.96%. Capital was leveraged 6.7 to 1 at the end of 2010. Annaly paid a total dividend per share of $2.65 in 2010.
At the end of 2011, the weighted average portfolio yield was 3.32% and cost of funds 1.60% for an net spread of 1.62%, a year-over-year decline of 34 basis points. Leverage had been lowered to 5.4 to 1. Total dividends paid per share in 2011 were $2.44, 8% lower than the amount paid in 2010.
At the end of 2010, American Capital Agency reported a portfolio yield of 3.44% and net interest rate spread of 2.42%. At the close of 2011, the portfolio yield had dropped to 3.07% and the spread to 1.94%. American Capital has maintained its leverage near an 8 to 1 level. Multiply the leverage times the net spread to obtain a leveraged net interest rate spread. On the slides which accompany the year-end results, American Capital Agency takes all of the financial results to a bottom line comprehensive income return on equity. For 2010, this rate was 23.31%. In 2011, it averaged 20.96%. At the end of 2011, the portfolio was providing a 16.89% return.
The numbers show how the earnings of these mortgage REITs are being squeezed. The tightening will not let up in 2012. For the first week of March 2012, the average rate on a new Fannie Mae 15 year mortgage was 3.13%, down over a full point from a year earlier. The 30-year mortgage averaged 3.88%, down exactly 1%. Mortgage securities pay less than the mortgages in the pools and in early March, the yield-to-maturity on the popular agency MBS offerings were in the low 2% range.
Annaly is experiencing a constant prepayment rate - CPR - of about 20% and American Capital Agency expects a CPR of 14%. These numbers represent the percentage of the companies' portfolio which will be paid off and must be replaced at the current lower rates over the next year. Any government programs which help homeowner refinance could speed up the prepayment rate.
At this point it seems inevitable the rate spreads of these mortgage REITs will continue to shrink. If interest rates start to increase - probably not in 2012, but maybe 2013? - the rate to borrow may increase faster than portfolio earnings rates. These companies are not many basis points away from losing all of their earning power. The solution to a very small rate spread is to de-leverage a portfolio.
Earning 3% on an un-leveraged portfolio is better than a net loss after expenses on an overly leveraged one. The problem is that de-leveraging can only happen at about the same speed as the CPR. As much as investors want to believe the mortgage REITs like Annaly and American Agency Capital will find a way to maintain their dividend rates, the current interest rate trends make that outcome very unlikely.
Disclosure: I have no positions in any stocks mentioned, and no plans to initiate any positions within the next 72 hours.