Market Recap: The market had a solid day as the Nasdaq (NASDAQ:QQQ) broke above 3,000, retail sales came in solid, and a key German business survey came in good. The market got a good report from retail sales as they beat expectations at 1.1% vs. 1.0% expectations and increased month over month, showing a solid amount of consumer strength even with higher oil and gas prices. Finally, the market traded higher after the FOMC meeting. There was really no change from the previous meeting, and there was no talk of any further QE. Yet the market continued higher.
Tomorrow is the follow through day to this up day. The S&P 500 looks like it wants to test 1400 right now, and the news tomorrow is more limited. We would not be surprised to see some follow through and then another big day on Thursday and Friday. The key report for tomorrow is the eurozone CPI and industrial production. If Europe falters tomorrow, it will raise the dollar and probably hurt us. With that said, this market continues to look strong, until the trend changes, buy!

We are a fan of two trades right now: Goldman Sachs (NYSE:GS) and FedEx (NYSE:FDX). Today, we got involved in a bull put spread in Goldman Sachs, and we wish we had been more aggressive. Right now, the banks are going to see some dividend increases as the stress test allows certain banks to raise dividends. Goldman looks good moving into April earnings. They are on the breakout right now. The company is about to have a golden cross where the 50-day MA crosses the 200-day, and they have solid fundamentals. Q1 has been great for investing firms, and GS is expected to see a nearly 100% increase in EPS from last year. The company broke out today, and we expect to see more of that moving forward. FDX has been one of our favorites for awhile as we like the company's value and growth potential for this quarter. We believe they are poised to take off into their next earnings report.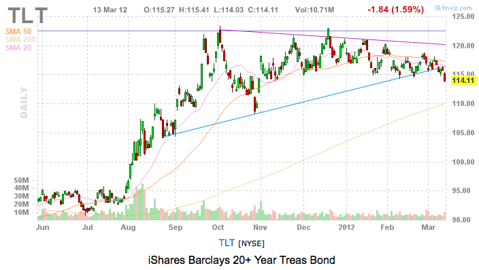 Tomorrow's Outlook
The market will most likely see a nice follow through tomorrow, although some weak reports from the eurozone or Great Britain's jobless claims will probably help keep everything in check. Additionally, we have export/import prices, which will also influence the dollar. Crude inventories are tomorrow, but we believe crude is in a whole separate world right now. Overall, though, this type of strength typically sees follow through. Lack of it actually signals fairly bearish market.
Analyst Action
There was not a ton of big upgrades and downgrades that we found terribly interesting. We did see an upgrade to Conviction Buy from Goldman on Ace Limited (NYSE:ACE). We believe that Goldman's Conviction Buys continue to represent solid opportunity as they tend to outperform the market. Additionally, we saw a downgrade of CVS Caremark (NYSE:CVS) from BMO Capital to Market Perform. Overall, though, it was a limited day from analysts.
Commodity Talk
We continue to like shorting oil and United States Oil Fund (NYSEARCA:USO) as we discussed last week. We actually opened a long position in Ultrashort Proshares DJ-UBS Oil (NYSEARCA:SCO) as we like for oil to come down this week. Inventories are expected to rise 2.2M, and we believe the dollar should maintain strength. The weekly charts are also showing oil has topped and is breaking down. Gold is actually at a point now where we believe it could be a nice pickup. A bull put spread on SPDR Gold (NYSEARCA:GLD) is intriguing to us.
Our Moves
We had a solid day as we exited five positions for a gain today and one for a loss. We got out of Coventry (CVH) from our Short-Term Equity Portfolio for 1% gain. In our Earnings Alpha, we exited a short in Navistar (NYSE:NAV) for a 2.2% loss. We got a 6% gain in an Amazon.com (NASDAQ:AMZN) bear call spread that we had originally taken a loss on last week, but got 0.10 on it today. Further, we exited three positions from our Extended Value Portfolio. We got out of Monster (NASDAQ:MNST) for 30% gain. We got a 19% gain on Microsoft (NASDAQ:MSFT), and we got a 18% gain in DR Horton (NYSE:DHI).
We have the following positions. In our Short-Term Equity Portfolio we are long SCO and Boston Beer (NYSE:SAM) and short APOL. In our Options Portfolio, we are long Ralph Lauren (NYSE:RL), McDonald's (NYSE:MCD), Panera Bread (NASDAQ:PNRA), Bed, Bath and Beyond (NASDAQ:BBBY), and Discover Financial (NYSE:DFS) and iShares 20-Yr Treasury (NYSEARCA:TLT). We are short APOL and USO. In our Earnings Portfolio, we are long Ulta (NASDAQ:ULTA), FedEx , Activision Blizzard (NASDAQ:ATVI), Monster Beverage , and GS.
Chart courtesy of finviz.com.