For the first time in about six months, an ounce of platinum costs more than an ounce of gold. Platinum is usually more expensive than gold, but earlier this year, platinum traded as much as $120 per ounce less than gold.
Here's a chart that shows both metals and the ratio between the two: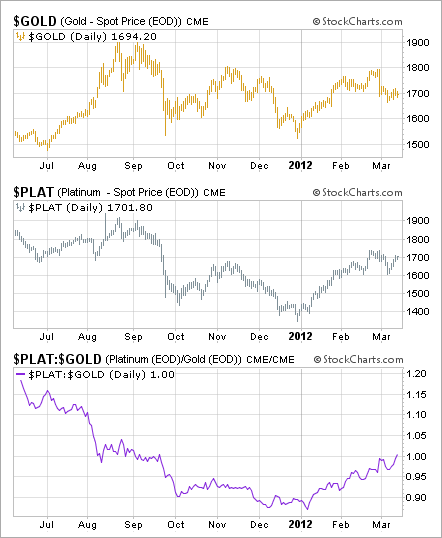 Click to enlarge
Gold is down about $100 per ounce since February 24 while platinum is down only $30. I own platinum through the ETF Securities Physical Platinum Shares ETF (NYSEARCA:PPLT) and I think it's worth buying. I own the SPDR Gold ETF (NYSEARCA:GLD), too, but I believe platinum offers more upside potential.
There is its use as an autocatalyst, of course, but it's also in demand for jewelry. Those two applications alone represent about 70% of the demand for the metal according to data compiled by Johnson Matthey,
Demand from China alone was about 2 million ounces in 2011, a total of about 25% of the gross demand worldwide.
Platinum ETF assets on the rise
I took a look at the net assets of the major gold ETFs (both the SPDR GLD and the iShares Gold Trust (NYSEARCA:IAU)).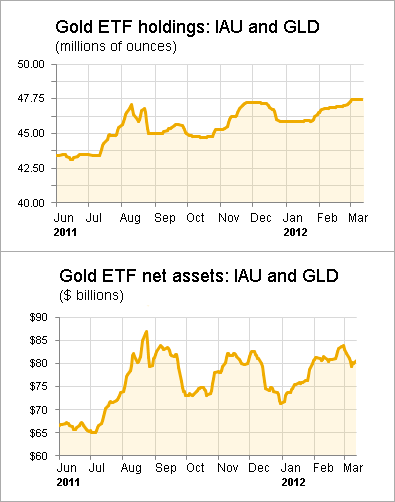 Click to enlarge
The combined ounces in both trusts dipped from last December into January, but have caught up their December peak.
But the holdings of the PPLT ETF rose dramatically over the same time period, up from about 425,000 ounces in December to around 500,000 as of March 13, 2012.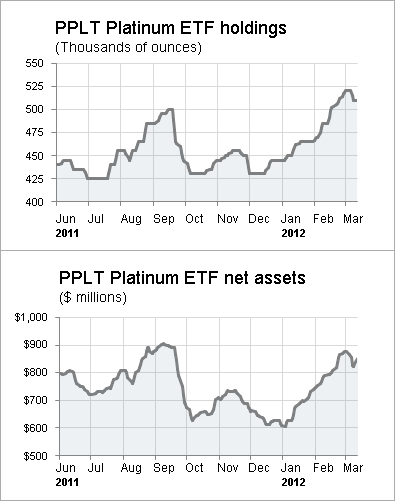 Click to enlarge
That doesn't sound like a lot, but 100,000 ounces of platinum is a lot of platinum, representing about 1.2% of total annual world demand.
The investment thesis for any commodity rests on two factors: Marginal demand and the marginal cost to supply it. Platinum should trade at a premium to gold and I expect that premium to grow. Palladium is also a good choice, but that will be the subject of another article.