Last August, I wrote an article about how Macy's stock (NYSE:M) was a good buy. Since, shares have risen by 54.9 percent at the close of trading on March 13th. This increase came from a combination of a bullish market, a stronger earnings outlook, and an upward correction of the stock's intrinsic value. Macy's is a mature company with very little revenue growth, so the question now is, will Macy's shares continue to grow at such a fast rate, or subside in the coming months?
In this article, I explain why Macy's shares still have a little room left for high growth.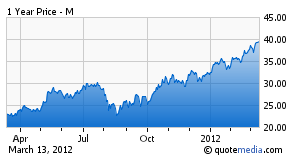 Macy's had an outstanding Fiscal Year 2012, which ends in January like most departments stores. The company increased year-over-year earnings by 48.3 percent with only a 5.6 percent increase in revenue. In addition, gross margin stayed about constant, decreasing from 40.7 percent to 40.3 percent. For $1.4 billion in increased revenue, Macy's added on only $463 billion in operating expenses excluding costs of goods sold. This demonstrates that if Macy's continues to experience small revenue growth, especially in same store stales, it will be able to substantially increase earnings in the future.
Over the next five years, Macy's EPS is expected to achieve 12.40 percent annual growth, compared to a market average of 10.55 percent. This includes an expected EPS increase of 15.3 percent and 13.9 percent in FY 2013 and FY 2014, respectively. The company still has a lot of room for earnings growth despite revenue growth expectations of 4.6 percent and 2.5 percent in the next two years, respectively. If Macy's can continue to keep operating cost growth low relative to revenue growth, it should have no problem meeting its earnings expectations over the next few years.
Macy's did a great job during the past holiday season of attracting customers without sacrificing margins. Small revenue growth while maintaining margins is a much better long term strategy than pushing out inventory in an attempt to steal market share. In addition, the company did an excellent job of staying profitable in the other 3 quarters, which shows management is focused on more than just the holiday shopping season.
With its strong brand and large physical footprint, I believe that Macy's still has a little bit of room for growth. I give Macy's shares a one year target price of $45, which is 14.4 percent higher than its current price of $39.33.
Disclosure: I have no positions in any stocks mentioned, and no plans to initiate any positions within the next 72 hours.