This is the first of a two part series where we analyze Student Transportation Inc (STB). The two part series is broken down as: 1) Recommendation and Overview and 2) Valuation Analysis and Outlook.
We maintain our near term Avoid rating, a long-term Strong Sell Rating and Fair Value share price of $2.23 for Student Transportation Inc. common stock, approximately 70% below the current price of $7.24 for the American shares and which represented the company's year-end book value per share. We expect continued acquisition-driven revenue growth and inconsistent operating performance.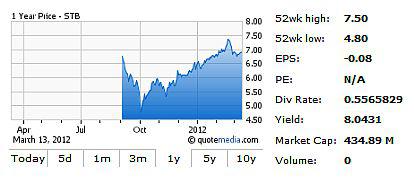 We expect to see Student Transportation continue its massive capital spending, acquisition deal-making and leveraging up the balance sheet. The only reason why we don't recommend an outright short-sale action on the stock is because the company is paying an 8% dividend to common shareholders, albeit financed through new debt and share issuance, which we believe is supporting the value of the stock.
Company Overview
Student Transportation Inc. formerly Student Transportation of America Ltd, provides school bus transportation services. The company operates in two segments, school bus transportation (98.5%) of revenues and an oil & gas portfolio (1.5%) of revenues. Its school bus transportation segment operates in the United States and Canada. Student Transportation operates more than 8400 buses and is the 3rd largest school bus transportation services provider. The company operates buses in Ontario Canada and 13 states in the U.S., mostly in the northeast (Maine, New Hampshire, Vermont, New York, Connecticut, New Jersey, Pennsylvania, Illinois, Wisconsin, Minnesota, South Carolina, Florida & California). Its U.S. headquarters and executive offices are in Wall, NJ.
Management: The Founder, Chairman and CEO of the company is Denis J. Gallagher who has over 35 years of experience in the industry and is the third generation of his family to found and head a passenger transportation company. He began his career at Coast Cities School Buses, which was founded in 1922 and grew to be the largest private school bus operator in New Jersey. We like that the rest of the management team also have strong education and transportation experience, with the exception of the CFO and CAO.
Ownership: As of the end of the last fiscal year, about 1% of the outstanding stock is owned by company management, which is quite low. Only CEO Denis Gallagher owns more than 100,000 shares of the company. Two of the directors did not even own any stock at all. Two large Francophone institutional asset management companies control 26% of the stock. Gallagher is a significant 40% stockholder in the Class B shares of STA Holdings, which is 99% owned by the company through its 100% ownership of the A shares. On balance, I would prefer that Gallagher's stock holdings were consolidated into STB shares, rather than dual-class shares of a majority owned subsidiary. We are also displeased that the transportation equipment dealer that the company utilizes for its procurement and disposal of the company's fleet is a firm controlled by a relative of the CEO.
Summary of Observations
On one hand, Student Transportation Inc. is a company whose business model would be attractive to us (privatized outsourced service provider, in this case, providing school transportation services). On the surface, it has racked up great revenue growth, as well as paying out a monthly dividend that represents a 7.9% yield. It also has a profitable sideline in owning oil & gas properties, which have benefited from the 10 year bull market in commodities. We like that the company focuses on rural and suburban markets instead of large urban cities, which offers the opportunity to have lower operating and safety costs, reduced competition and improved contract stability. We even appreciate the need for acquiring its competitors, as the top 4,000 private transportation companies only comprise 30% of the industry's revenues. Student Transportation's business is seasonal; the first quarter is typically a money-losing quarter, as the schools they serve are not in session and results in lower revenues, leading to losses in the first quarter. The losses in Q1 are mitigated by the fact that the company doesn't depreciate its equipment during the months that school is not in session.
On the other hand, we are not pleased that the firm's grueling expansion program has not translated into profits for the company, nor has it resulted in increased gross margin or EBITDA margin. The company has never generated positive free cash flow in any year and from 2004 to 2009, the company accrued annual losses in reporting net income or loss. Student Transportation returned to profitability in 2010 and then had to deal with profits declining by 40% in 2011 due to its acquisitions. Also while Student Transportation may be the third largest private school bus operator, with its fleet of 8,400 buses, it is a distant competitor to First Group plc's First Student USA Inc. (which has 60,000 buses) and National Express Group plc's Durham School Services and Stock Transportation (17,408 buses).
We appreciate the company's thesis of focusing on suburban and rural markets. However, of the 13 states & provinces it operates in, only Florida, South Carolina and Ontario saw local population growth that exceeded the 5 or 10 year cumulative national population growth by 1% or more. The company had missed its previous seven out of its last eight EPS estimates and it is no surprise that analysts have reduced their recent consensus estimates. Even if the company could have added back to income certain non-recurring or non-cash expenses, it would have still failed to meet the $.08 analyst consensus EPS estimate. Even if Student Transportation achieves the consensus EPS estimates, one is still paying 700 times FY 2012 EPS and 60 times FY 2013 EPS, as well as 4.25 times diluted book value.
In our next article on Student Transportation, we will discuss the valuation of the company and the outlook of its industry.
Additional disclosure: Saibus Research has not received compensation directly or indirectly for expressing the recommendation in this report.