Starbucks (NASDAQ:SBUX) is iconic. Its white and green logo can be found just about anywhere- if not in one of its many coffee shops that seem to pop up on every other block in the city, then on grocery market shelves across the country. It is an exceptionally well-known company and has the type of customer loyalty usually reserved for Apple (NASDAQ:AAPL) customers. Sure, Starbucks has good coffee, but it is something more, isn't it?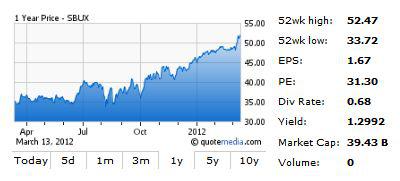 Most people say that Starbucks made its brand image from its ambiance and its ability to function as that "second place". It provides a place for people of all ages to meet and connect outside of work and the home. They cite the music and the comfy chairs as Starbucks key advantages, and I am sure that plays into it. But I think there are other factors at work here that make it a force to be reckoned with in the fast foods industry: Consistency and aggressive innovation.
Consistency is easy to understand. When you want a good cup of coffee, you want a good cup of coffee. That corner diner may be incredible, but you take a risk if you have never been there before. And if you are short on time and just need your coffee, you are going to go where you know you will get a great cup. Add to this the fact that a Starbucks in England serves the same coffee as one in DC (a happy find when I moved abroad) and you have a winner.
Aggressive innovation though is, in my opinion, the deciding factor. When the specialty coffee drinks trend started to fade, Starbucks brought out iced coffee drinks, then frozen ones. It doesn't just keep up with the trends - it builds on them and creates new trends - such as in introducing frozen coffees once iced coffees caught on. Starbucks has also been right there on the healthy eating trends, introducing salads and other meal options.
This shift in its focus has worked out well for the company - Starbucks revenue rose 16.4% over the same quarter last year, versus 14.0% for its peers - but it also changed its competitive landscape. Now, instead of competing solely against other coffee shops, like Green Mountain Coffee (NASDAQ:GMCR) and Dunkin' Donuts (NASDAQ:DNKN), Starbucks started competing with the lunch crowd - companies like Panera Bread (NASDAQ:PNRA) - and vice versa. Even McDonald's (NYSE:MCD) has gotten into the game, offering a range of coffee drinks it calls 'McCafe'.
Starbucks is still in a good position though. Its earnings per share have improved 11.1% over the same quarter last year, just the latest in a string of positive earnings growth that extends over the last two years. The growth was driven primarily by increased sales from new stores and new products. The company has also had strong share price performance, swelling 38.54% over the last 52 weeks versus just 8.09% for the market. Yet, even with all that growth, Starbucks is still priced only marginally higher relative to its peers - the company has forward price to earnings ratio of 22.69 compared to its industry's 21.43. The stock recently traded for $51.84 a share and pays a 68 cents dividend (1.30% yield).
In comparison, Green Mountain Coffee shares fell 15% on Friday March 9 after Starbucks announced that it would be launching a single cup brewing system, called Verismo. Starbucks said that its system is more geared toward espresso and specialty coffee drinks; the system can even brew a latte thanks to shelf stable milk pods. But given the high cost of Green Mountain Coffee's Keurig machine and the K-Cups it uses to brew the single cups of coffee and tea, not to mention the fact that Starbucks is also offering its own K-Cups through a deal it has in place with Green Mountain Coffee, it is easy to see why investors fear Starbucks as a potential major competitor in the single brew coffee market.
Let's be clear. The Green Mountain Coffee's Keurig coffee maker will co-exist with Starbuck's Verismo as the two are fundamentally different. The former makes coffee while the latter makes espresso and espresso-based drinks. But the reason to worry is that there are many people using Keurig machines right now that would rather have espresso. They buy the darkest coffee they can find in a K-Cup and make do.
When the Verismo comes out, they won't have to. They can enjoy a shot of espresso or an Americano (espresso and hot water). For a coffee drinker, the difference is huge. Then, there are the people who really prefer lattes (or otherwise like milk in their coffees) and would rather not use creamer cups. The Verismo's milk pods are 100% dairy. I imagine this will likewise be a major draw. So, even though the two machines are different, there will be a fair number of people that switch their Keurigs for Verismos.
Green Mountain Coffee closed trading on March 9 at $52.59 a share, bringing its total loss over the last 52 weeks to -14.78%. That said, the company has had impressive revenue growth. Its revenues leaped by 101.7% compared to the same quarter last year, versus its peers' average revenue growth of 24.7%. Green Mountain Coffee also boasts a growing return on equity and good cash flow from operations. Plus, it is priced low relative to its future earnings with a forward price to earnings ratio of just 14.18.
Personally, I am not a fan of Green Mountain Coffee. The coffee may be pretty good, but I think it is over-priced- especially as an at home coffee- and out of financial reach for many people. I think this fact will end up being the company's downfall, especially in this volatile economy. Now that Starbucks is competing on the same ground as Green Mountain (namely the single-cup brewing system), I think the share price is going to drop further. This could be a good short: Starbucks won't start selling its single-cup system until fall 2012 and I think Green Mountain will fall hard then. But in any case, I don't think Green Mountain will have much upside going forward.
Dunkin' Donuts has its well-known doughnuts and coffee business, but it also owns ice cream chain Baskin-Robbins. Even though Dunkin' Donuts stores may not be fancy as a coffee shop, they have their appeal with brightly colored sprinkles, boxes of freshly baked donuts ready to go for that breakfast meeting or the morning after a sleepover party, and early opening hours. And Dunkin' Donuts has more points of distribution, boasting over 10,000 points of distribution to Starbucks' roughly 9,000. That's not even counting Baskin-Robbins' 6,700 distribution points.
Really though, there are several reasons to be bullish about Dunkin' Donuts. Right now the company is trading at roughly $31 a share, higher than its 50-day and 200-day averages. Over the last 52 weeks, its share price has gone up 9.55%, beating the market soundly. The company has also had relatively steady revenue growth over the last five years and it is priced on par with its rivals, with a forward price to earnings ratio of 21.45. I think though, that at this price, with its modest performance, Dunkin' Donuts is really more of a hold.
Starbucks is definitely my pick. Its aggressive innovation and strong brand identity are going to ensure that this coffee and foods company is around for a long time. At its current price, there is definitely money to be made, both in the shorter term and as a long position.
Disclosure: I have no positions in any stocks mentioned, and no plans to initiate any positions within the next 72 hours.