Ford (NYSE:F) is the largest auto manufacturer by market capitalization in the U.S. It has a market cap of over $47 billion, beating out General Motors (NYSE:GM)'s market cap of roughly $40 billion. Unlike General Motors, Ford didn't need a bail out. While it did come close (and has the debt to prove it), not needing the handout, to me, is very much to its credit - and I am not alone in that sentiment. That fact also allowed the company to gain a better foothold in the U.S. markets as many customers shunned General Motors and Chrysler for taking the bailout.
Right now, Ford has a lot going on. The company is currently battling a major increase in competition from its Asian competitors, like Toyota (NYSE:TM) and the Honda Motor Company (NYSE:HMC). Try as it might, Ford lost some market share as Toyota and Honda (amongst others) have gained more of a foothold in the U.S. markets. Between that and increases in raw materials costs, Ford reached a point where some restructuring was needed to lower costs.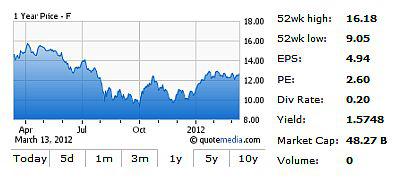 The company answered that need by paring back its offerings and discontinuing its Mercury brand, amongst others. It may sound like a bad thing, but I think it was a smart move. Mercury sales fell almost 80% from 1999 to 2009. The move has allowed Ford to focus its brand offerings more keenly and, more particularly, help the company re-establish its Lincoln brand and continue its increased focus on alternative energy vehicles. The company has three alternative energy vehicles in production now - two hybrids and one all-electric - with three more to be released this year.
In addition, Ford is increasing the features it offers on its vehicles. So far, the company has introduced a variety of safety features, including blind-spot monitoring and collision warning. Ford also has a lot of features that help improve fuel economy, such as regenerative breaking and adaptive cruise control. Then, there is the technology options Ford is bringing to table, like its Ford SYNC and navigation systems with SIRIUS (NASDAQ:SIRI) Travel Link built in.
All in all, these factors may be enough for Ford to avoid too much of a stigma for its recent issues with the Ford Taurus. An investigation opened by the National Highway Traffic Safety Administration (NHTSA) on March 7, is looking into complaints that accelerators in 2005 and 2006 model year Tauruses are sticking. There have been 14 complaints so far but, luckily, no injuries or accidents reported. They suspect that it could be an issue with the cruise control but nothing is definite yet. If the NHTSA find the vehicles defective, 360,000 Tauruses would be implicated. The investigation does not include the nearly identical Mercury Sable (now defunct) at this time. But it likely will if an issue is found with the Taurus, because the Sable used many of the same parts. In any case, nothing is confirmed as of yet.
Ford is very strong right now and is a buy for many reasons: Sure it has had some bad debt management, but it is on the mend. It has a strong return on equity, compelling net income growth and good earnings per share growth. Ford's revenue growth of 6.6% over the same quarter last year narrowly beat out its industry's average of 6.3%. The company's net income grew magnificently, going from less than $200 million at the end of the fourth quarter 2010 to $13.62 billion at the end of the fourth quarter 2011. There is a downside though: Analysts say that Ford could lose between $500-$600 million in the European markets this year.
Now, take a look at General Motors. In terms of new vehicle sales, it is the largest automaker in the world. GM had 19.2% of the market in 2011, while Ford was in second place at 16.5%. General Motors recently traded at $25.62 a share and is priced low. It has a forward price to earnings ratio of 5.82 compared to its industry's average forward price to earnings ratio of 27.59. That said, General Motors performance is somewhat lacking. The company's revenues increased by just 3.0% compared to the same quarter last year, less than half the average growth its peers experienced (6.3%). However, that growth in revenue did nothing for its bottom line. General Motors earnings per share actually declined.
Toyota isn't doing much better. Its revenue increased by just 5.7% over the same quarter last year, falling just short of its peers' performance. Its net cash flow increased by 26.51% over the same quarter last year, which sounds great until you look at its industry's average growth rate of 31.76%. Toyota also has a weak quick ratio at 0.78, suggesting that covering its short-term debt obligations could be problematic. Its return on equity actually fell compared to the same quarter last year as well. Toyota recently traded at $83.81 a share. I recommend Toyota as a hold, at best.
It is a similar story with Honda. It too has a low quick ratio. At 0.84, it is somewhat weak and suggests that the company could have problems covering its short-term debt obligations. The company's net cash flow is just as disappointing. It plummeted significantly compared to the same quarter last year. Honda's return of equity also fell compared to the same quarter last year, as did its net income. Honda recently traded at $38.30 a share. Honda is definitely a hold in my book, but barely.
I think Ford is a great pick right now. Its numbers may not be perfect but it just went through a restructuring and I like the fact that it has narrowed its brand portfolio. Ford's focus on both technology and the environment is smart and fits into the current mindset nicely. I see big things in Ford's future.
Disclosure: I have no positions in any stocks mentioned, and no plans to initiate any positions within the next 72 hours.