"Opinions are like smart phones, everybody has one."

- Cameron Kaine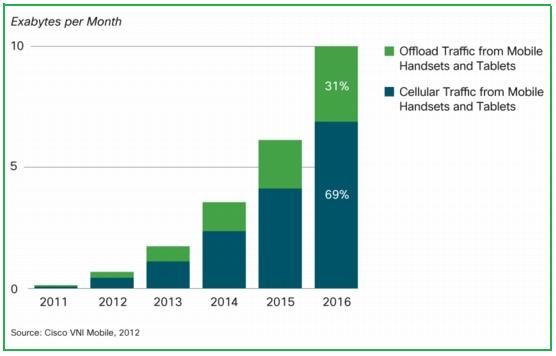 Part 3
In the first part of this article, we listed some dominant networking companies that are poised for growth leading to the coming wave of increased demand for data traffic. In the second part of the series we looked at some names that are making waves in the cloud as new opportunities emerge in infrastructure management. In this article, we are going to focus on the wireless carriers and see which ones are better positioned for the explosion that is coming based on the recent study by Cisco, (NASDAQ:CSCO) which suggests that the growing popularity of smart phones has the potential to create some sever bottlenecks if carriers such as AT&T (NYSE:T) and Verizon (NYSE:VZ) are ill-equipped to support the demand.
The study showed that global mobile data grew by 133% during 2011 - the fourth year that traffic more than doubled. But even more noteworthy, were some of the statistics that went along with the study. Some of which include monthly global mobile data traffic will surpass 10 exabytes in 2016, smart phones handsets will exceed 50% of mobile data traffic in 2014 as well as the likelihood that the average mobile connection speed will surpass 1 Mbps in 2014. This is just to name a few.
How can investors capitalize?
So taking a careful look at the graphic above, several questions should be raised - the first being, how can investors anticipate such an event and capitalize on it?
Please bear with me as I walk you through a series of possible investments regarding the proliferation of smart phones, tablets, data traffic, wireless carriers as well as the network expansion that it will require to support global data demand. It is clear from Cisco's survey above that the telecom sector will certainly be forced to try and keep pace with growing data problems. But since we have been taught that "great problems bring great opportunity," I like to think that the end result will be a "great portfolio." To that end, here are a few names to consider.
AT&T (T)
AT&T offers what is called "Synaptic Compute as a Service" with VMware vCloud Datacenter Service that lets you access virtualized servers in the AT&T cloud to quickly turn compute capacity up when needed and down when requirements change. Whether it's introducing a new application or supporting new users, geographies or business initiatives, AT&T cloud computing services provide a ready-made hosted infrastructure to help corporations increase computing capacity when needed while also allowing businesses to reduce it when requirements change. Some of the other features include avoiding procurement delays, reducing CAPEX, speed provisioning and deployment while also responding quickly to business needs.
As it relates to mobile network, the company not only features one of the better 3G and 4G networks, but also has a wide selection of wireless products highlighted by Apple's iPhone and devices on Google's Android platform. AT&T is in a great position to add to its customer base. In fact, subscriber growth increased faster last quarter (1.3 million new wireless customers) than the previous two and a half years, thanks primarily to the iPhone.
As great as all of this sounds, when you add to the fact that the company has one of the best dividend yields on the market at almost 6% it makes it hard to imagine a safer investment to make. For this reason investors have flocked to this stock during down markets for some of the reasons mentioned above as well as because of its track record for solid market beating performances and yet the future is even brighter from the standpoint of data demand that it will generate for its network.
Verizon (VZ)
As with AT&T, Verizon offers one (if not the) fastest mobile networks on the planet. Its 4G LTE network is considered one of the most advanced services anywhere. Users are able to download movies, photos, Apps, games, news and pretty much any content within a matter of seconds. The best part about it is that it is available whenever you want it. I think this is one of the things that we have started to take for granted. It's become just like the faucets in our homes - we turn on the water and expect it to be there and with a certain level of water pressure. This is both a good and (perhaps) an unfortunate thing for the company depending on your vantage point.
Its 4G LTE service is currently available in over 196 cities and over 122 major airports. And yet the company is aggressively expanding the network to cover its existing nationwide 3G network by the end of 2013. As far as the cloud is concerned, the company, along with Terremark, which it recently acquired, offers global enterprise-class IT as well as security services by combining advanced IT infrastructure with world-class provisioning and automation capabilities - one that is scalable, reliable and is able to scale based on the enterprise needs.
It offers these services regardless of whether or not the company is in the midst of an expansion or simply trying to do more with less. The company makes it easy to extend IT infrastructure into Verizon's cloud services. So from an investment standpoint investors have to be pleased that the company is still investing in its network and realizing that in order to remain dominant it cannot afford to rest on its laurels.
Sprint Nextel (NYSE:S)
One company that I have not yet been able to get my arms around is Sprint Nextel because the company just can't seem to catch a break not matter what it attempts to do. It has even fallen behind upstart company MetroPCS Communications (PCS). But I have to believe that at one point its fortunes will change and with its stock trading at such depressed levels of $2.79, investors with a reasonable appetite for risk may want to consider making a play right here. But the question is, will it pay off? And I think the company realizes the urgency that exists for it to perform before it regains any level of trust on the market.
In a recent article the company said it will offer small and medium-size businesses and large corporations "hosted collaboration services" such as software, security applications and Internet hosting, and also will sell its infrastructure as a service, which can be purchased on an on-demand model, according to Paget Alves, head of Sprint's business markets. Basically, it plans to follow AT&T as well as Verizon and seize the opportunities that are likely going to come from the cloud. The question is, is it too late?
But the interesting contrast here is that the company plans to use its own existing infrastructure and data capacity within its new service offering. With its loyal base of existing business customers of all sizes, I have to give it the benefit of the doubt that its strategy will be successful although this is hard to do considering that the company just recently returned to revenue growth. Be that as it may, I can't imagine it getting any worst for the company than it has been. I view this as a positive and even if it can capture 10% to 15% of the growing cloud market, it has to certainly help its share price going forward.
Disclosure: I am long CSCO.