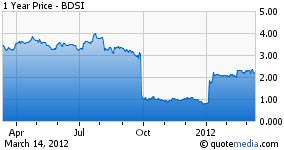 BioDelivery Sciences (NASDAQ:BDSI) shares about tripled earlier this year when the company signed a worldwide licensing and development agreement with Endo Pharmaceuticals (NASDAQ:ENDP) to bring BEMA Buprenorphine to market as a treatment for chronic pain.
BEMA Bup, as its known for short, failed to meet the primary endpoint of a Phase III trial completed earlier this year, although company CEO Dr. Mark Sirgo said at the time that some data from the trial was compelling enough to warrant additional studies.
The recently-announced licensing deal is an indicator that Endo agrees with that assessment.
BioDelivery received additional good news with the approval of the FDA's Risk Evaluation Mitigation Strategy (REMS), which covers all transmucosal fentanyl products. The approval alleviates a long-standing concern for BioDelivery and levels the playing field for the competition, in relation to the already-approved ONSOLIS, had been on relative hold for some time as the REMS issues were worked out.
The news finally started to look encouraging for ONSOLIS, but another setback was announced this week, as the planned relaunch of the product has again been effectively placed on hold while the company addresses some appearance-related formulation concerns raised by the FDA.
According to the above-linked press release, "The discussion with FDA centered on the formation of microscopic crystals and a slight fading of the color during the 24-month shelf life of the product. While these changes do not affect the product's underlying integrity or safety, the FDA believes that the fading of the color in particular may potentially confuse patients, necessitating a modification of the product and product specification before additional product can be manufactured and distributed."
The expected re-launch time frame has yet to be announced, but more information will be forthcoming as BioDelivery and partner Meda resolve the issue. Company statements also emphasized that the delay will not materially effect the bottom line, as ONSOLIS has yet to become a factor in revenues, and the European launch of the product under the name BREAKYL will likewise be unaffected by the FDA's concerns.
Although ONSOLIS continues to bring BDSI headaches, BioDelivery did receive good news on another front. The United States Patent & Trademark Office informed BioDelivery recently that it has rejected all claims made by Monosol Rx, LLC, in relation to a patent infringement case.
Both companies remain positive regarding the eventual final outcome of the ongoing litigation process, but the news was certainly a boost to the confidence in BDSI's case. The situation is worth continued monitoring.
Just when it looked like this company had taken two steps forward, another ONSOLIS delay looks like another step back.
That said, the appearance issues are unrelated to the rest of the pipeline and has no material effect on the Endo deal for BEMA Bup that could be worth as much as $180 million to BioDelivery.
Any resulting loss in share price could just be temporary.
Disclosure: Long BDSI.