Within only five days last November, the release of "Call of Duty Modern Warfare 3" put $775 million into Activision Blizzard's pockets. While the video game industry has gone through a number of iterations, from Atari through XBOX 360, one thing is certain: the quality of games has consistently gotten better. One of the major players in this segment is Activision Blizzard (NASDAQ:ATVI), the publisher of incredibly successful franchises such as "Call of Duty" and "World of Warcraft."
ATVI released a fresh 10K two weeks ago, and I thought it would be the perfect opportunity to dig into its most recent statements and determine a fair value for the shares. My valuation puts ATVI at $20, over a 50% upside from the current price of $12.
Background and Financial Highlights
ATVI is the largest and most profitable 3rd-party interactive entertainment publisher and makes some truly industry leading products. "Call of Duty Modern Warfare 3" was the best-selling game of 2011. ATVI had nearly 1 billion in operating cash flow in 2011 and 3.5 billion in cash and short-term investments (27% of total assets, up from 26% in 2010). Further, the company has no long-term debt, 2.8 billion in working capital, and has actively committed to buying back shares and increasing the dividend since 2010. Margins are also at all-time highs (28% GAAP)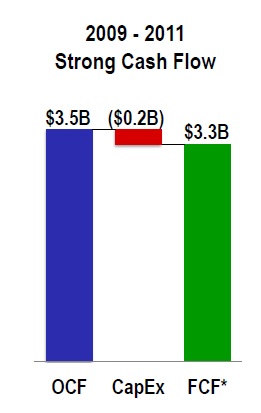 Pipeline and Future Revenue Opportunities
ATVI has a fantastic 2012 pipeline, the highlight being "Diablo 3." There are also expansions due out for "Starcraft 2" and "World of Warcraft." Far from resting on its laurels, ATVI locked up new license agreements with Marvel for Spider Man and Xmen franchises that are in the works. They also signed a 10-year strategic partnership with Bungee, makers of the Halo franchise.
As more people in developing markets get computers capable of running these games, Blizzard will be among the first to monetize these markets. There are currently 10.2 million "World of Warcraft" subscribers, a tiny fraction of the worldwide market that exists for compelling computer games.
Regarding the console market (Xbox 360, Playstation 3, Nintendo wii) there are 138 million installed units, with the number of Xbox and Playstation units still increasing by a remarkable 27% year on year. Both of these consoles are over five years old but show no signs of aging. Gamers also have much to look forward to, as new versions of the Xbox and Playstation are expected to be released within the next two-three years. As the consoles improve, graphics improve, and games from ATVI are able to become even more dynamic.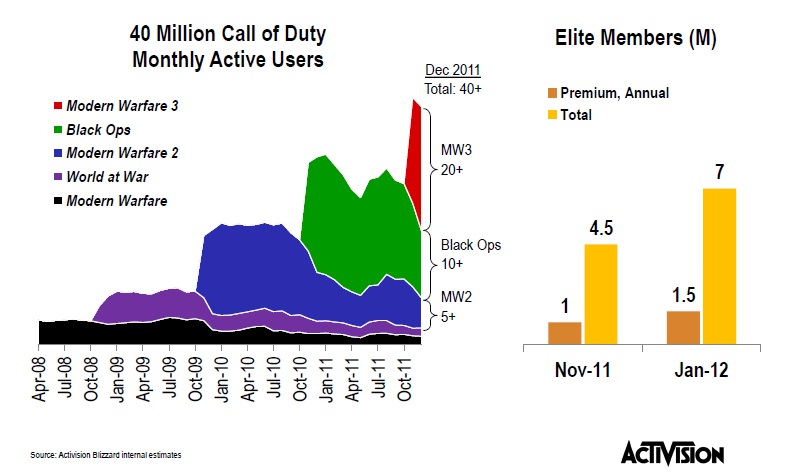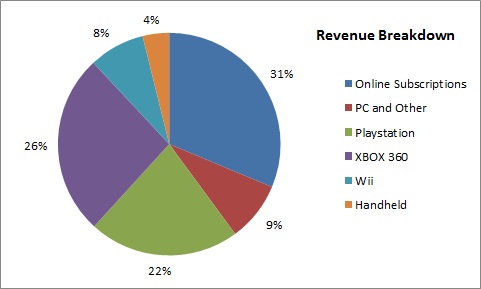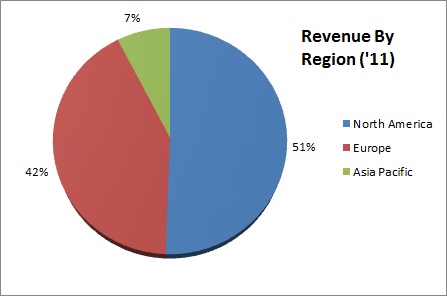 Valuation
Investors should not be concerned with the 424 million CFO decrease from fy '10, as both the new installments of the Starcraft series and "World of Warcraft" expansion were booked into 2010 revenue. As a testament to the sheer financial strength of this company, the Blizzard division produced nearly half a billion dollars in operating income in 2011 without releasing a single product!
Digital revenue is also growing, as it increased from 32% of net revenue in 2010 to 34% of net revenue in 2011. The future is clearly digital, as subscribers will pay monthly fees for access to the "World of Warcraft" online multiplayer platform, use the auction house to buy and sell digital goods, and access the new "Call of Duty Elite" platform.
ATVI has also consolidated its strategy. By taking a bath and writing down the value of some music and casual game franchises in 2009 and 2010 (there were over $600 million in internally developed intangible write downs over these two years) ATVI is really focusing on developing high-quality content for proven winners. After all, the top 10 video games accounted for 26% of sales for the entire industry. There is clear consolidation among the winning titles. In this industry it pays to be a foot wide and a mile deep rather than a mile wide and a foot deep. A winning game like "Diablo 3" takes ATVI years to develop and tweak. The staff at Blizzard are perfectionists, and are known to never release a product unless they deem it to be perfect.
After listening to the Goldman tech analyst presentation from this February, it is clear ATVI is making a concerted effort to broaden its subscriber base. A great way to expand the footprint is promotions like a free copy of Diablo with a 12-month "World of Warcraft" subscription.
I forecasted sales growth at 8% with a .2% step in the first year and a .1% step thereafter. I derived this number since in FY11 there was 10% subscriber revenue growth and 5.5% product revenue growth.
My blended DCF puts a share value of between $19.50-$20 on ATVI.
Conclusion
Unless there is a major creative miss over the next few years, ATVI is in a fantastic financial position and I see no downside in this stock at the current levels. The future is bright, as I personally cannot wait to see the incredible games this studio puts out once the new consoles arrive. Neither can millions of others.


Disclosure: I have no positions in any stocks mentioned, but may initiate a long position in ATVI over the next 72 hours.