On March 2nd, BP (NYSE:BP) reached a $7.8 billion settlement to compensate the thousands of businesses and individuals affected by the Deepwater Horizon explosion and subsequent oil spill that devastated the Gulf of Mexico in 2010. BP is far from out of the woods yet, as it still faces potentially billions in government penalties over a multi-decade horizon, but its recent settlement brings BP a step closer to putting the tragic events at the Macondo oil well behind it.
Looking at a 5-year chart of BP below, the events of April 20, 2010, have produced a roughly 50% discount in its price relative to the broad energy sector. Factoring in a 10% risk premium, given the heightened awareness of the financial liabilities that offshore drilling and exploration companies face in the wake of Deepwater Horizons, we estimate that BP currently carries a 40% discount to fair market value absent impending legal liabilities.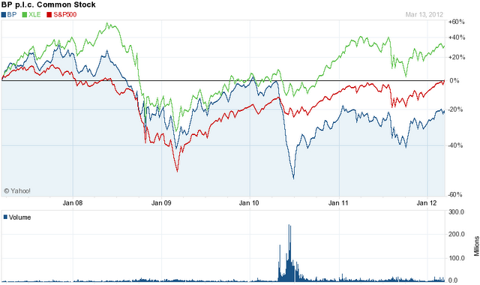 The question remains whether BP's discount appropriately prices in the substantial financial liabilities it still faces. From the start, BP has set aside a $37.2 billion charge to cover what it estimated to be the maximum amount it may be responsible for in spill-related costs. Given that the expenses have been publicly available and are steadily rising toward this maximum estimate, we can assume that the market has priced in this $37.2 billion cost--with a strong likelihood that this amount is exceeded over the long-term.
Prior to the March 2 settlement, BP had spent around $22.1 billion as a result of the accident, much of that tied to the initial response and clean-up effort and some $8.1 billion as compensation to individuals, businesses, and governments affected. With the settlement, that figure increases, but BP plans to pay the settlement with the remainder of a trust fund already established and maintains its $37.2 billion overall cost estimate.
The remaining liabilities yet to be resolved include civil and criminal fines related to pollution and other environmental violations, and these could be the most expensive yet. Estimates of the outstanding financial penalties vary widely, anywhere from $5 billion to nearly $40 billion. The amount BP set aside to cover these penalties is likely to come up short, in our view. From an investment perspective, therein lies both the unknown and the opportunity.
But let's return to what we know. BP is trading at a steep discount to its competitors. At 5.87 times current earnings and 6.76 times forward earnings with a 4.1% annual dividend, BP is significantly cheaper than Exxon (NYSE:XOM), Chevron (NYSE:CVX), or Conoco Phillips (NYSE:COP), which are all trading at forward P/E's in the 8's or 9's with lower annual yields. BP is also trading at 1.33 times book value, the lowest among its competitors. Based on these valuation metrics, we can confirm what we already knew by looking at the 5-year price chart: The market is heavily discounting BP's share price.
We also know that estimates of BP's financial responsibility were initially much higher than they are now (Goldman Sachs estimated shortly after the disaster that spill costs could reach $200 billion). And, finally, we know that U.S. Attorney General Eric Holder told Congress shortly before the March 2 settlement was reached that while the AG was prepared to go to trial over the case, it would "remain open to a fair and just settlement."
Reaching a settlement would help ensure a manageable price tag for BP and, like the March 2 settlement, would likely be met positively by the market. In light of recent events, and considering the steep discount BP currently trades at, we feel now is an appropriate time to begin initiating a long position in BP.
We feel the market currently prices in a long-term spill cost that exceeds the $37.2 billion charge BP has already taken, and looking ahead we foresee a settlement reached between BP and the U.S. government that levies an environmental-based fine on the company that brings its total spill costs to roughly $40 billion, or just beyond its initial estimate. Given the long time horizon of the charge and the relief that would accompany an orderly and survivable settlement, we predict significant upside at current levels--even with the $37.2 billion cost estimate breached.
Disclosure: I have no positions in any stocks mentioned, but may initiate a long position in BP over the next 72 hours.