Skullcandy (NASDAQ:SKUL) is a $406 million small-cap producer of high quality headphones, audio accessories, and clothing. It sells its products under the Skullcandy and 2XL brand names to various retailers and through its website.
The company went public in July 2011 with its IPO. The stock is trading well off of its highs of over $20 immediately following its Wall Street debut. Skullcandy still looks undervalued with a forward PE ratio of 10.43 and a PEG ratio of 0.50.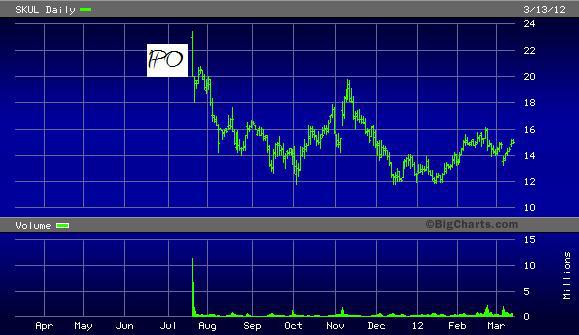 Overall, the financials look attractive. Skullcandy has a profit margin of 8.01% and an operating margin 18.14%. Management has achieved an impressive return on assets of 20.12% and an even more impressive return on equity of 42.81%.
Skullcandy pulls in $29.07 million in operating cash flow and $11.72 million in free cash flow. It has $23.3 million in total cash and $9.88 million in total debt. The balance sheet indicates 2.24 times more current assets than current liabilities.
Last year, Skullcandy completed an acquisition of Kungsbacka 57 AB. This acquisition allows Skullcandy to distribute its products directly in Europe, excluding the sales agency rights for the consumer electronics channel in Denmark, Sweden, Finland, and Norway.
Currently, Skullcandy products are sold in the United States and in over 70 other countries throughout the world.
Skullcandy exceeded its earnings estimates for all of its reportable quarters last year. The company has two upward earnings revisions for Q1 2012 and two upward revisions for Q2. It is expected to grow earnings annually at 25% for the next five years. This is more than double the expected growth of the average S&P 500 company. This growth should take the current stock price of $14.91 up to $45 by 2017.
Recently, the company's CFO, Mitch Edwards, announced his resignation which initially alarmed Wall Street. However, Mr. Edwards stated that he has previously discussed his departure after the IPO in July. He also said that he gets an "adrenaline rush" as he takes a company public and prepares it for global business. So, he might be looking for another opportunity to repeat what he set-up for Skullcandy.
Since the company looks like an attractive investment in terms of valuation and future earnings, it should also look appealing to larger companies looking for acquisitions to grow their business. I wouldn't be surprised to see a producer of smartphones or similar electronics acquire Skullcandy to accelerate its sales and earnings growth.
Disclosure: I have no positions in any stocks mentioned, and no plans to initiate any positions within the next 72 hours.