If the bull market is to continue for some years, as some argue, we'll soon see the U.S. markets take out their all-time highs.
Let's investigate this a little more. What is necessary for a bull market is: relatively low valuations, top and bottom line growth, low and stable interest rates and the absence of significant negative shocks.
Valuations
On average, stocks in the U.S. trade for 14.1 times earnings while interest rates are very low. It's difficult to argue that this is expensive. The dividend yield is at 2% and while this is well below historic values (3-6%), these values broke down in the 1990s when stock prices surged relative to dividends and value growth became the main rationale for equity investors.
(Click to enlarge)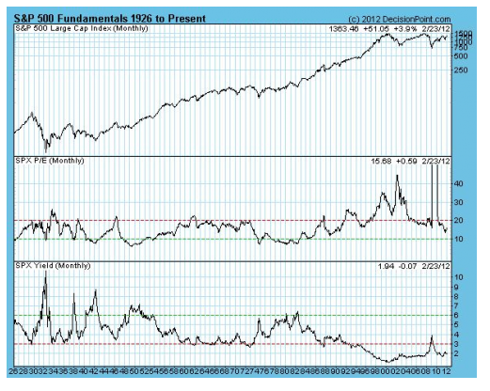 Click to enlarge
Other's have another take on this, like Laszlow Birinyi, who sees similarities with 1982 when:
markets were just leaving a pessimistic period and the Dow increased from 777 to 1,000 in a matter of months. Like 1982, markets recently experienced a strong start following a very pessimistic period.
Like a true contrarian, he sees negativity in the financial press as a buy signal, although we have to say that much of the negativity seems to have disappeared of late.
Revenue and profit growth
With most large caps either exporting to and/or having a presence in emerging economies and the growth story in most of these set to continue (albeit a bit less exuberant), revenue growth for big companies is likely to continue. The U.S. home market is also performing a bit better than most had expected, with employment growth coming back.
Close to a quarter of a million new jobs every month is enough to expand demand for many products and services, but not enough to reduce unemployment significantly. Unemployment is likely to remain elevated for some time to come, that is, wage pressures are likely to be muted. Some would argue that this combination is pretty close to that old famed 'goldilocks' scenario.
With continuing productivity growth, moderate wage growth (despite a recent unit labor cost jump) provides room for further corporate profit growth, if commodity prices can be contained. Small business confidence is at a one year-high in February, which bodes well for the U.S. domestic market as these smaller companies mainly sell domestically.
While corporate profits have already doubled from 2009, and are at historic highs. Here is Robert Reich:
New data from the Commerce Department show employee pay is down to the smallest share of the economy since the government began collecting wage and salary data in 1929. Meanwhile, corporate profits now constitute the largest share of the economy since 1929.
Corporations also have plenty of funds to return to shareholders in one way or another (share buybacks, dividends), or going on a take-over path. Both these uses are generally supportive of stock prices.
In Europe, the crisis has induced a speed-up of structural reforms, and there is a bit of a supply-side revolution brewing. But of course, the biggest risk also lies in Europe as the euro crisis hasn't been solved and it can flare up at any point.
However, economic growth returning to Europe would do much to dispel that fear. Nothing is better for containing debt and deficits than economic growth, which increases tax receipts, reduces public outlays, and increases the gross domestic product against which public debt is measured as a percentage. So what are the perspectives for economic growth?
Economic growth
Well, according to the OECD:
For the eurozone, its leading indicator of economic activity rose in January and also turned positive for Britain.
The United States and Japan also continued to show signs of a pick-up.
While there is some cooling in China but the authorities expect 7.5% growth there and retail sales still grow at 14% a year. Since inflation is cooling off quite a bit, authorities have room to push on the accelerator should growth disappoint further.
However, if you're a monetarist, not all is well:
Data collected by Simon Ward at Henderson Global Investors shows that M1 money supply growth in the big G7 economies and leading E7 emerging powers buckled over the winter. The gauge - known as six-month real narrow money - peaked at 5.1pc in November. It dropped to 3.6pc in January, and to 2.1pc in February. This is comparable to falls seen in mid-2008 in the months leading up to the Great Recession, and which caught central banks so badly off guard. "The speed of the drop-off is worrying. This acts with a six months lag time so we can expect global growth to peak in May. There may be a sharp slowdown in the second half," said Mr Ward.
So despite all the warnings for years that all the 'money printing' by central banks is soon going to lead to hyperinflation, the reality is that the money is decelerating or even contracting in many economies.
It remains to be seen whether this endures, or what kind of effect this will have, but it definitely is something to keep in mind. We will also have to see how the U.S. is going to deal with the expiry of a large amount of tax breaks at the end of the year.
But for now, the background for stocks seems quite benign and there aren't many alternatives to put your money in.
Disclosure: I have no positions in any stocks mentioned, and no plans to initiate any positions within the next 72 hours.