The Fed published the 82 pages details of their stress here and you have likely read the summary. Here I want to call out a few details that are in the report but have attracted less media coverage.
What is the stress test?
As a banking regulator, the Fed collects disclosure from banks on the details of their assets and liabilities, it then models what will happen to those holdings in the event house prices and stocks fall and unemployment increases. It does this to ensure that banks have sufficient capital, and to attempt to avoid the problems that occurred in the last recession.
Why The Stress Test Is Likely Misleading
We should not lose sight of the fact that successfully "passing" the stress is important in so much as it allows the company to return more capital to shareholders though dividends or buy backs, but it is based on an extremely negative scenario, and it is possible that the sort of balance sheet that does relatively poorly in declining asset prices also does well in rising asset prices. Of course we don't know the exact structure of the assets, but the more conservative balance sheets of the likes of American Express (NYSE:AXP) and Capital One (NYSE:COF), might be the least well positioned to a recovery in stock prices and, to a lesser extent, the housing market which is happening in 2012. Hence rushing to the winners of the stress test might be exactly the wrong course of action, at least if this economic environment persists with U.S. equities up over 10% YTD.
Total Losses As % Of Current Market Cap During Stress Test Period
The stress test also forecast what would happen to net income. Interestingly, Morgan Stanley (NYSE:MS) and Bank of America (NYSE:BAC) would experience the greatest losses relative to their market cap. Conversely even though Metlife (NYSE:MET) "failed" the stress test, their losses as a percentage of market cap would be much lower.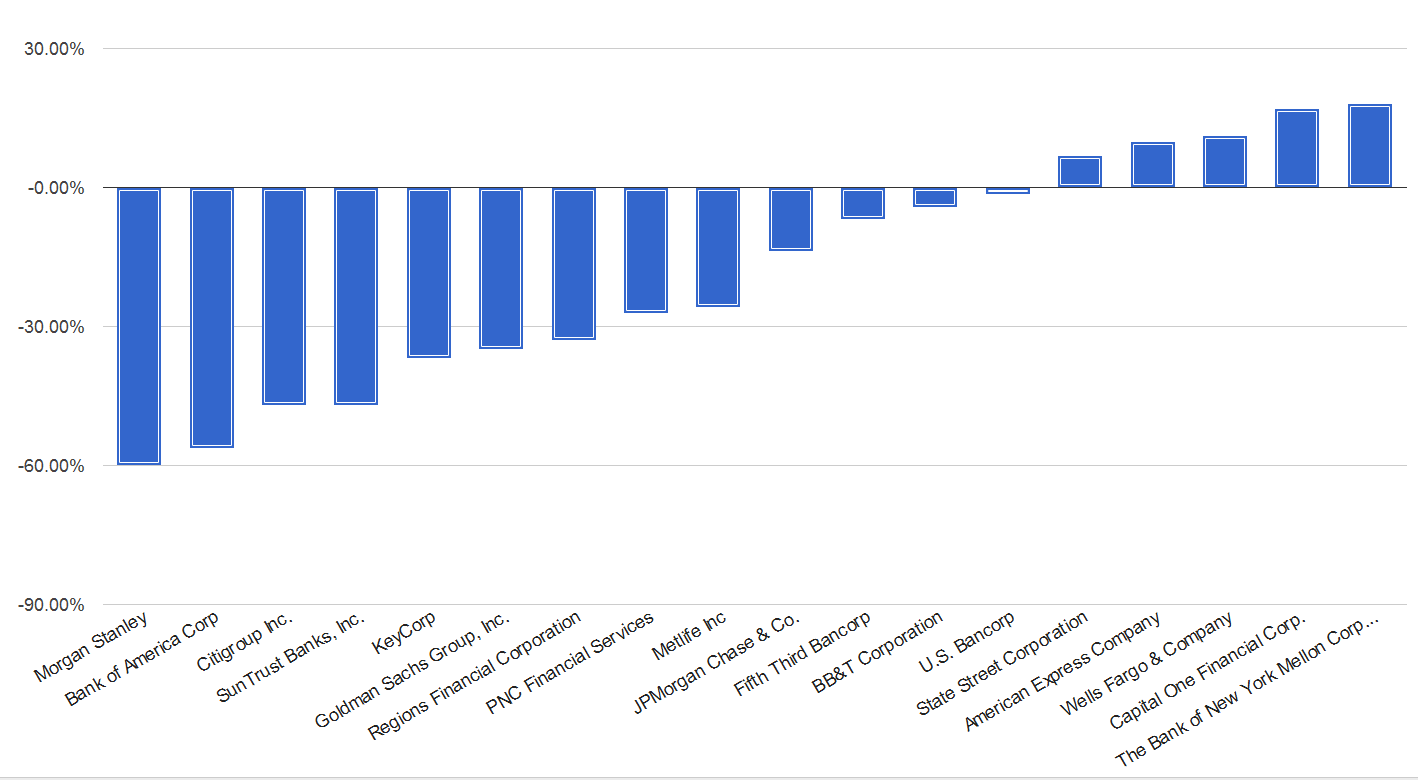 Click to enlarge
(Click to enlarge)
Banks That Will Likely Be Tested Next Time
There were several banks that were eligible for stress tests (meeting the U.S. domiciled and over $50B in total assets), but the results weren't published publicly because it was their first year and the Fed didn't review their numbers in the same depth, these were:
BBVA USA Bancshares Inc (NYSE:BBVA)
BMO Financial Corp (NYSE:BMO)
Citizens Financial Group Inc (NYSE:RBS)
Comerica Inc (NYSE:CMA)
Discover Financial Services (NYSE:DFS),
HSBC North America Holdings Inc (HBC)
Huntington Bancshares Inc (NASDAQ:HBAN)
M&T Bank Corporation (NYSE:MTB)
Northern Trust Corporation (NASDAQ:NTRS)
UnionBanCal Corporation (NYSE:MTU)
Zions Bancorporation (NASDAQ:ZION)
Now they have had their test run, these entities may well be included in future rounds.
The March 2012 Results
Cells where the values fail to meet the Fed's guidelines are highlighted in bold. I share this information to highlight that simply presenting it as pass/fail misses the point that several banks had ratios that only just passed, and hence drawing a bright line between passing and failure might be overstating the reality.
| | | | | |
| --- | --- | --- | --- | --- |
| Bank Holding Company | Ticker | Minimum Tier 1 Ratio | Minimum Total Risked Based Capital Ratio | Project Net Income ($B) |
| Ally Financial | n/a | 2.5% | 7.1% | -9.8B |
| American Express | (AXP) | 10.8% | 13.0% | 6.3B |
| Bank of America | (BAC) | 5.9% | 13.3% | -51.3B |
| The Bank of NY Mellon | (NYSE:BK) | 13.0% | 16.1% | 5.1B |
| BB&T Corp | (NYSE:BBT) | 6.4% | 9.9% | -0.9B |
| Capital One | (COF) | 7.8% | 11.5% | -4.0B |
| Citigroup | (NYSE:C) | 4.9% | 9.9% | -50.3B |
| Fifth Third | (NASDAQ:FITB) | 6.3% | 11.0% | -0.9B |
| Goldman Sachs | (NYSE:GS) | 5.7% | 10.9% | -21.5B |
| JP Morgan Chase | (NYSE:JPM) | 5.4% | 9.8% | -22.9B |
| Keycorp | (NYSE:KEY) | 5.3% | 9.1% | -2.9B |
| MetLife | (MET) | 5.1% | 6.0% | -10.8B |
| Morgan Stanley | (MS) | 5.4% | 9.2% | -22.5B |
| PNC Financial Services | (NYSE:PNC) | 5.9% | 10.5% | -8.9B |
| Regions Financial | (NYSE:RF) | 6.6% | 11.4% | -2.4B |
| State Street | (NYSE:STT) | 12.5% | 16.1% | 1.5B |
| SunTrust Banks | (NYSE:STI) | 4.8% | 8.5% | -5.7B |
| US Bancorp | (NYSE:USB) | 5.4% | 10.2% | -0.9B |
| Wells Fargo | (NYSE:WFC) | 6.0% | 11.2% | -19.6B |
Conclusions
The stress test data is useful for anyone who invests in the financial sector, but drawing a clear line between success and failure is misleading. For example, even though BAC and MS passed the impact to equity investors of the scenario might actually be worst than all of the banks that failed the stress test according to the Fed's projections.
In addition, holders of similar large cap financial names should not be surprised if the stress test extends to those entities in future.
Finally, the scenario of the stress test is almost the opposite of the rising prices we are seeing in 2012, at least in the equity markets, therefore, we should not be surprised if that same exposure that causes a bank to fail a stress test could be the very factor that leads to strong earning performance in 2012.