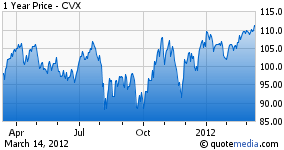 JP Morgan had positive comments on Chevron (CVX) this week and reiterated their "Buy" rating on the stock. I have been a bull on Chevron since it was around $90 in late September, it is core position in my portfolio and I concur with JP Morgan in that this stock has appreciation still ahead of it.
Key highlights from JP Morgan's comments on Chevron:
Best balance sheet in the industry
Dividend increase in 2012
Solid production growth in 2013
In addition, there were additional positive comments on Chevron this week
The company said it was on track to meet its 20% production growth target by 2017.
Reuters ran a piece saying the company could win back offshore rights in Brazil within months, which would be a positive for the stock as well.
4 reasons Chevron is still a good buy at around $110 a share:
It is a "Strong Buy" at S&P with a $132 price target and Credit Suisse has an "Outperform" rating and a $130 price target on Chevron.
The company has an AA credit rating and yields close to 3%. Given projected production growth, I would look for dividend payments to be hiked significantly over the next five years.
The stock is cheap at less than 6 times operating cash flow and less than 1 times annual revenues.
The stock is selling for less than 8.5 times forward earnings which is a discount to its historical average.
Disclosure: I am long CVX.