As many of the readers know, I've been following China's real estate market, specifically the residential real estate market, for clues on the possible impact this market can have in several worldwide basic materials' markets. This impact comes from the fact that China's residential real estate market is incredibly massive (I estimate China has around 48 million dwellings under construction) and also that it's a large consumer of many basic materials, namely steel (and thus iron ore), copper, aluminum, cement, etc.
Some of these materials, such as copper and iron ore, have worldwide markets, so any dramatic change in China's consumption of these materials is bound to have a large impact on prices and volumes outside China.
My basic thesis is that China's residential construction market is about to undergo a significant reduction in activity, and will thus consume a lot less of these materials, leading to price and volume plunges around the world. This thesis was initially predicated on the fact that real estate prices in China are already falling, and thus it is expected that activity will soon follow, as is our experience from past real estate booms around the world, with the U.S. being a prime example.
Although the thesis was initially based solely on the price movements, thanks to a report made public yesterday by the National Bureau of Statistics of China regarding real estate development and sales during the first two months of 2012, we now have a bit more hard data to work with. This data basically confirms the thesis, but also shows how slow things happen in these (real estate) markets.
First of all, the data shows that sales of residential real estate are already falling, at a -16% rate in terms of residential floor space sold, or -24.7% in terms of value, showing the impact of falling prices. The -16% rate still doesn't seem a deep plunge in volume, but this must be compared both to the surging completed residential construction (+45.9%) and the newly started residential construction (flat year-on-year, but with a volume that represented 186% of the volume of construction completed, and 242% of the volume sold).
These numbers tell us several stories:
Sales are already falling (not just prices), and are expected to accelerate in their drop;
Construction being completed already exceeds sales so buildings are increasingly sitting empty;
Construction being started, and already under way, greatly exceeds the rhythm at which it can be sold and guarantees a deluge of unsold real estate;
Also, the fact that construction being started still exceeds construction being completed, means that construction activity as a whole is still growing, delaying the expected effects on basic materials - that is, the volume decrease has still not hit, but should hit soon as construction being started is already falling into negative year-on-year numbers.

A chart including both residential and commercial space being sold is perhaps worth a 1,000 words here: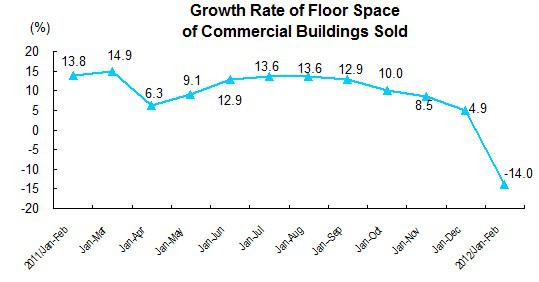 Conclusion
The hard data on sales of real estate in China leaves little doubt that this particular sector will be crashing and taking with it construction activity. The predictably reduced construction activity will lead to a lower need for a number of basic materials where China, and this sector in particular, is a large consumer. Some of these materials have worldwide markets which will thus see lower demand and significantly lower prices and margins, such is the case of copper, iron ore, steel and aluminum and probably other construction materials (some of them, like cement, are mostly traded locally).
Large quoted producers of the affected materials should see lower revenues and profits when this impact makes itself felt in their markets. As we've seen, there's a lag between prices falling, buying activity falling, and construction activity falling. Some of the stocks that might be affected, by material, are (data sourced from respective websites):
Iron Ore
Rio Tinto (RIO), around 45% of RIO's 2011 revenues came from iron ore and most significantly, around 70% of EBITDA was attributed to iron ore. Aluminum and Copper are also significant.
VALE S.A. (VALE), around 72.5% of VALE's 2011 revenues came from iron ore.
BHP Billiton (BHP), almost 50% of BHP's EBIT is from iron ore, which, at a 65% EBIT margin - higher than any other product including petroleum - shows how much room there is for falling prices in the sector.
Copper
Freeport McMoran (FCX), 78% of FCX's 2011 revenues came from copper.
Steel
United States Steel (X), AK Steel Holding Corporation Co (AKS), Arcelor Mittal (MT) and Nucor (NUE). Steel is a bit less of a worldwide market than iron ore or copper, but can still be very influenced by massive exports.
Cement
The impact should be substantial on cement producers. However cement is mostly a local market so only local producers should be affected. I am unaware of any U.S. quoted Chinese cement producers.
Disclosure: I have no positions in any stocks mentioned, and no plans to initiate any positions within the next 72 hours.