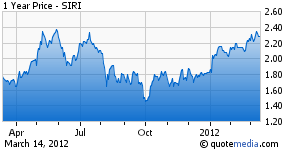 Early last year Sirius XM (NASDAQ:SIRI) announced a new deal with General Motors (NYSE:GM) that allowed for any participating GM dealer selling a satellite radio equipped used car (regardless of brand) to bundle in a three month promotional subscription to Sirius XM. The concept is simple. The dealership gets to add another bell and whistle to its sticker, and Sirius XM gets to expose that consumer to some of the best radio on radio in hopes that the customer will become a paying subscriber.
The GM deal was followed by an announcement with Chrysler as well as Nissan, and then Auto Nation. CarMax even participates in the program. I had indicated late last year that the used car market was finally getting to a point where its contributions could be considered meaningful to the subscriber picture. It was also a key reason why I have stated that Sirius XM investors do not need to have so much worry if new car sales do not deliver as anticipated (the mix of brands), or if we see a slight up-tick in churn due to the price increase.
Today Sirius XM announced that they have reached a deal with Asbury Automotive Group, Inc. (NYSE:ABG), one of the largest automotive retail and service companies in the U.S. Similar to previous deals, the program will provide Asbury customers a 3-month Sirius XM subscription when they purchase a pre-owned vehicle with factory-installed satellite radio from participating Asbury dealerships.
"We are pleased to be teaming up with Asbury to give customers the opportunity to experience the fantastic variety of entertainment offered by Sirius XM," said Joe Verbrugge, Senior Vice President, Automotive Remarketing Division, Sirius XM. "We continue to expand Sirius XM's pre-owned vehicle programs - now with over 4,000 participating dealers across the country - and look forward to working with Asbury's 79 dealerships to further enhance the pre-owned vehicle buying experience."
In theory there is no reason that a dealership wouldn't want to participate in this program. In fact, while the 79 Asbury dealerships may seem like a small number, as the program grows, the peer pressure will exist for more and more dealers to jump into the program. The benefits are distinct.
"We are eager to have all our locations participating in the Sirius XM pre-owned vehicle program," said Ryun Pavlicek, Director of Retail Strategy, Asbury Automotive Group. "Enabling our customers to drive off our lots with three months of satellite radio is a value-added service we are excited to provide."
The announcement today also gave us the first hints as to the size of the program. It is estimated that there are about 20,000 new car dealerships in the United States. With Sirius XM having ties to 4,000, or 20%, you can see that there is plenty of room for this program to grow, and the company to benefit. In addition, as each month passes, a larger and larger percentage of used cars are equipped with satellite radio.
As is the case most times, growth can come with benefit, and at an expense. Sirius XM has the advantage of these radios already having been subsidized and paid for. That will help a metric like subscriber acquisition costs per gross addition (SAC). On average this number should now be able to trend down with each already paid for radio activated. While there are more marketing costs now, the average will decline, and that is good.
On the flip side, this type of deal could have a negative impact on the take rate, or the percentage of those who convert to self paying subscribers from promotional subscribers, and should see a negative impact. Early on, Sirius XM has stated that its overall take rate is about 44%, while they are seeing a take rate of about 35% in the used car channel. Thus, the bigger the used car channel gets, the lower the overall take rate will be. Understanding the reasons behind a move in metrics is a key to becoming an informed investor.
So what does this mean to Sirius XM investors? It means that the company subscriber guidance of 1.3 million net additions this year might just get upgraded faster than many thought. With the equity testing new highs, such an announcement could help cement a more solid foundation. Be a savvy investor, and keep an eye on used car sales.
Disclosure: I am long SIRI.