It's almost mythic, this notion that silver should trade at a 1 to 16 ratio to gold because, well, that was the ratio hundreds of years ago.
I don't know where the myth got started, but Plan B Economics cited some data on the "crustal abundance" of silver being 19 times that of gold.
This may be true, but all that means is that if you take an average lump of dirt, there are 19 times as many silver atoms in it than gold atoms. You might even find that ratio of silver to gold atoms in your own back yard, but that doesn't mean that you can actually refine any of it. And it has nothing to do with supply and demand.
Repeat after me: The price of a metal like silver is set by the marginal additional demand for an ounce of it vs. the marginal additional cost to supply it.
The article also included a chart showing the ratio of gold to silver going back to 1687. For hundreds of years, silver was a lot more expensive than gold relative to those prices today.
DiggerUK posed this question in a comment in that article:
I have yet to be convinced of any merit in gold/silver ratio studies, when taken to the length of three centuries, it becomes absurd.

The most obvious problem over such a length of time, is the change in use of these metals.

I have yet to research the medical, manufacturing and scientific use of pm's from the 17th century until today, but I imagine it would reveal major shifts in the demand curve over time; making the comparison ratios a tad pointless.

The other major factor not allowed for, are the failed attempts to fix the ratios by state dictate; a problem that defeated Sir Isaac Newton, when taking time off from his scientific studies to manage the mint in 17th century London.
That's a question worth exploring. So here's my take on it.
Want High Silver Prices? Start an Empire
Consider life in the 17th century. Where is your silver coming from? There's a darned good chance it came from Spain (or actually, its colonies). Look at this map that shows the growth of the Spanish Empire.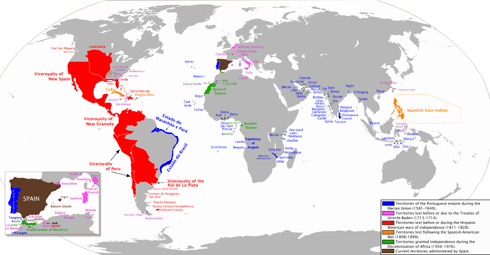 The red areas were controlled by Spain for hundreds of years. And the red areas are rich in, guess what? Silver. Tons of it. If you had control of all that silver, and you were a world power, do you think you could keep the price expensive? Of course you could.
In fact, the dominance of silver in global trade - and Spain's role in it - was one reason why the first U.S. Coinage Act of 1792 essentially set silver as a standard for the U.S. dollar back then. Some even say the dollar sign looks like an "S" is because of this very heritage.
But that's ancient history. Spain isn't keeping silver expensive these days. Nobody uses Spanish Real coins anymore. So silver's price will be determined by something else. I say it's marginal demand vs. marginal cost, but you can have your own theory.
Comparing the ratio of one commodity to another can be valid for maybe 20 or 30 years. But going back to 1687? There are so many distorting external variables that, while it's interesting, it isn't that useful for making future predictions on relative values.
For example, do you care about the price of whale oil? If you're studying 17th century economics, you should. It was a major source of energy for centuries. But this is 2012. Whale oil and its ratio to silver means nothing now.
Or consider something farfetched: Let's say we find out that there's an easy way one ounce of silver could completely cure a major disease such as cancer. You could envision silver trading for twice the price of gold in that case. Should you sell silver in that case because it "should" be trading at 1 to 16 relative to gold? I wouldn't.
Before you accuse me of silver bashing, I'm bullish on both metals (long both the Gold ETF (GLD) and the Silver ETF (SLV)). But if silver gains on gold (which it could do even if it doesn't cure cancer), it will have nothing to do with average elemental crustal abundance nor how Spain controlled the price of silver back way back in 1687.