I was going to write an article on SodaStream (NASDAQ:SODA) this week. I was going to tell readers to buy the name, because the company's latest earnings report was good, and yet the stock dropped roughly 25%. Now, I have two reasons to discuss the name. Yesterday, SodaStream introduced the Revolution, the next generation soda making machine.
The highlights of the new machine include the following.
The new machine is electric, as opposed to the manual operation of the older machine.
"Touch-button" activation providing a choice of carbonation levels (low, medium, high, turbo)
"Snap-n-lock" mechanism for easy bottle insertion and removal
LED display indicating carbonation progress and CO2 usage status.
Those last three bullets seem like rather good ideas to me. The choice of carbonation levels will meet different users' preferences, which should be good for family settings. I don't have the original machine, but from articles I've read like this one, you have to twist the bottle into the original machine. The "snap-n-lock" mechanism will make things easier. The LED display will also be nice, showing you progress and information on the CO2 status.
The only thing I'm not sold on is the time factor. SodaStream already says that you can turn water into soda in a matter of seconds, so I don't see how this new machine can save up to 30 seconds. Does that mean it works almost instantly? It's a minor point, but it just seems rather odd to me. While the new machine will certainly speed up the process, it seems like it may only save you 10 to 20 seconds, as the process didn't take that long to begin with. If the prior machine had taken say 5-10 minutes and this one could do the process in 45 seconds, it would be a bit more impressive. Still, any progress is good.
The new machine will cost under $200 in the US, and the company plans to have it out during the fourth quarter. Barring any problems, it will be in stores for the all important holiday season.
With the announcement of the new Revolution soda maker, the company has achieved one of its five goals for this year, an electric soda maker. Four other important goals for the company in 2012 include the following:
Get into more US retailers. The company increased its US footprint from 4,000 to 9,500 locations in 2011. They also expect to increase the number of locations where you can swap used CO2 containers for new ones (remember, a few key stores didn't have this ability yet in 2012).
Expansion into new markets. Brazil and some other South American countries are targets. The company is also targeting India, with its large population.
Keep spending on marketing. This is a key decision for the company. The company wants to promote its products, especially in the US, but too much spending will hurt the bottom line. In my opinion, SodaStream has made a great initial push into the US, now they need to increase their sales (and hopefully profitability in this country).
Sell its machines to restaurants, hotels, offices. There has been a push to sell SodaStream machines to restaurants to make their own sparkling water. I get the offices part, and probably the hotels too. I'm not sold on restaurants using the machines for regular soda just yet. I think they'll stay with Coca-Cola (NYSE:KO) and Pepsi (NYSE:PEP) for now.
So now let's get into the rest of the company. As I've mentioned in the past, I think this is a good niche product, but I still think SodaStream is a few years away from becoming a major competitor to Coke and Pepsi. Remember, the company's total revenues in 2011 was under $300 million, and between a third and a half of that number comes from selling the machines. Coca-Cola and Pepsi both have revenues in the tens of billions of dollars per year. SodaStream is not on their level yet. However, there are some positive comparisons when comparing SodaStream to the big boys. Look at the following table.
| | | | |
| --- | --- | --- | --- |
| Growth | SODA | KO | PEP |
| 2012 Rev Growth | 27.10% | 3.30% | 2.90% |
| 2013 Rev Growth | 19.20% | 4.90% | 4.50% |
| 2012 EPS Growth | 40.65% | 6.25% | -7.05% |
| 2013 EPS Growth | 25.43% | 9.56% | 8.56% |
| Analyst Rating | 1.6 | 1.8 | 2.4 |
| Average Target | $46.35 | $75.62 | $68.58 |
| Potential Upside | 23.63% | 7.64% | 6.59% |
SodaStream is growing a lot faster than the others, we know that. But analysts also have a much better view of the name (rating of 1 is strong buy, 5=sell). SodaStream has much better upside as well.
I'll give a quick talk about the fourth quarter results, since Adjusted EPS came in at €0.25. Revenues of €66.1 million, which were up 32% over the prior year period, beat by roughly €7.6 million. The revenue number was excellent, but I would have liked to seen a little better bottom line result. Net income of just €4.1 million compared to last year's €3.5 million was a nice increase, but nowhere near the 32% increase we saw in revenues. Additionally, the earnings per share number was based on an additional 3.7 million shares, so the €0.20 number was actually down from last years €0.21. Another disappointing number was unit sales of soda makers, which were only up 8% over the prior year period. Unit sales for the full year were up 41%, so you can see the dropoff that occurred in the fourth quarter.
2012 guidance was also great. The company projected revenue growth of 28%, which roughly translates to €285M versus an estimate of €252.2M. The company also announced net income guidance would rise 42% over the 2011 period, and that includes a share based payment expense of €4.1 million. Without the expense, net income is forecasted to rise by 35%. Yes, those numbers are correct. Since the adjusted net income (excluding the expense) figure for 2011 is higher, that's how the math works (21 million non-adjusted versus 25 million adjusted). Factoring in the expense, there is more of an impact on the non-adjusted number. The earnings per share number was well ahead of analysts' expectations, which at the time, were about €1.48. Those estimates now stand at €1.75.
The company also announced that starting with the current quarter, it will change its reporting currency from euros to dollars. This will make things simpler for all. Right now, if you look at the earnings estimates page from Yahoo Finance, those figures are all in euros. It can complicate matters when trying to figure out price to earnings estimates and other valuation metrics. After this quarter, we won't have to worry about that anymore.
SodaStream is in a good position right now. It is expanding its global presence, and is doing an excellent job of entering new locations in the United States, a market the company sees as crucial going forward. Right now, there are people out there, including some wall street analysts, that see this product as a fad. I am not that negative on the company, but again, I don't think they will be a major competitor to Coca-Cola or Pepsi for some time.
Now I always get asked about SodaStream in relation to Green Mountain Coffee Roasters (NASDAQ:GMCR). They are both high-growth companies, with Green Mountain growing a little faster. However, making coffee at home is a totally different dynamic than making soda at home. Coffee has to be made, I just can't go down to my basement and a cup of coffee is ready. However, I can go down to my basement and grab a can of soda, which is ready in seconds. There is a difference between coffee making and soda making. SodaStream will need to keep people interested in its products and protect whatever it has patented. Just ask Green Mountain about the latest news from Starbucks (NASDAQ:SBUX).
So what's my overall opinion on SodaStream. Well, given an estimated 2012 earnings number of $2.27 (based on today's currency conversion), SodaStream trades at about 16.6 times this year's earnings. For a company growing revenues at 28% and net income at a faster rate, I think that the valuation is fair, maybe a little undervalued. Take a look at the following table. SodaStream trades cheaper on a price to earnings basis when compared to both names for 2013. SodaStream is also cheaper on a price to sales basis than Coca-Cola for both years.
| | | | |
| --- | --- | --- | --- |
| Valuations | SODA | KO | PEP |
| P/E (2012) | 16.59 | 17.22 | 15.73 |
| P/E (2013) | 13.20 | 15.72 | 14.49 |
| P/S (2012) | 2.03 | 3.30 | 1.49 |
| P/S (2013) | 1.71 | 3.15 | 1.43 |
I liked the name when it was under $34 recently, but the quick $4 plus jump gives me a little pause. Now, the name was recently at $47.50, but investors seemed troubled by the soda maker unit sales. Also, I heard some say the 28% revenue growth was a little disappointing (even though it beat estimates at the time), because 2011 saw 39% growth. In my opinion, that argument doesn't hold, because analysts were expecting low numbers, but whatever.
My overall recommendation is to buy on a dip, not after the quick pop we just saw. As you can see from the following chart, SodaStream does tend to have sharp moves, so use down moves as your buying opportunity (like the one from $47 to $34). I would wait on the stock currently until it reached the $34 to $36 range, but overall, I'm in favor of the company's long term growth prospects.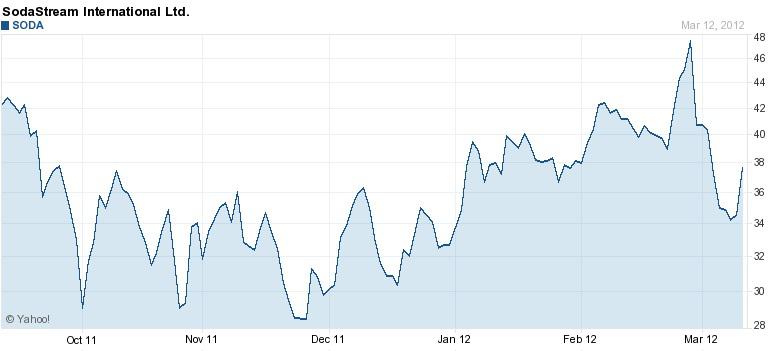 Disclosure: I have no positions in any stocks mentioned, and no plans to initiate any positions within the next 72 hours.