Exxon Mobil Corp (XOM), by market cap, is the second largest publicly traded company in the world. It is the largest of the "vertically integrated" major oil companies. There are such companies like Exxon that explore, produce, refine, and market oil and gas. It is always at the mercy of market makers like OPEC despite its size. Environmental concerns over natural gas and oil production are outside factors which always influence production. Its largest segment, Upstream (exploration and production) accounted for 75.1% of its earnings in 2010.
Exxon's stock value is struggling again as it appears to have reached the same impasse as it did early last year at the 87 level when it failed twice to push through. There are some recurring events that may have lead to this and may also be the reason analysts do not are moving away from the company as a buy. Within the last six weeks, three companies (Standpoint research/Howard Weil/Argus) have downgraded it from buy to hold.
Exxon recently announced that its intense program to develop shale from gas in Europe and China has run into complications because the type of shale is impervious to drilling techniques that have opened reserves in North America. New methods and techniques will be needed to tap the fields. Exxon, which by energy output is now 49% gas, failed in its first two efforts to crack gas-rich shale fields in Poland, not located in Poland's renowned USB (Upper Silesian Basin), one of the world's largest coal fields, also rich in coalseam gas. Gas discovered in a pair of Polish wells completed during the final three months of 2011 did not flow.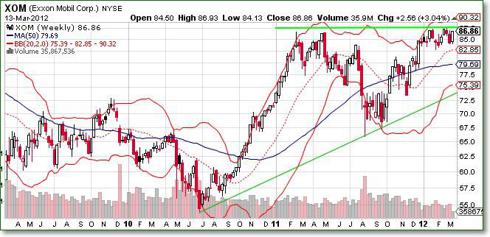 Keeping this in mind, and the fact that the company is less than 10% away from the 52 week projected high, it looks like Exxon may be losing steam right now. The stock has followed a similar pattern the last two years. It has been around September before the stock started to move up again. With this unexpected news that will surely have an adverse affect upon the stock and the fact that it is close to its expected highs, we are going to take advantage of a pullback in the stock with an options play.
The Options Play
We are looking at a Bear Put Spread here. As the stock has looked like it peaked we want to buy out past September if possible.
Buy an October 2012 '85' put option (priced at $4.60)
Sell an October 2012 '82.5' put option (priced at $3.60)
Net Debit to Start: $1.00
Maximum Profit: $1.50
Reasoning behind the Trade
The stock is pushing against strong resistance while the RSI is giving us a negative divergence which shows signs of weakness.
Analysts are pulling away from buy signals.
It is already closing in on the 52 week estimated high.
The bad news about fail shale drilling with cost extra money in unknown amounts.