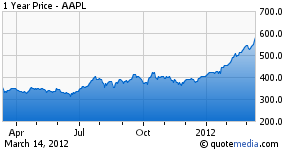 What happens after a stock goes parabolic? It goes parabolic again. That's Apple (NASDAQ:AAPL). Apple shares have soared 68% this year and just tacked on another 2% today, confounding the experts who were looking for a major pull-back. A rocket launch today alone, at one point up $25.
Along the way, it trounced large-cap rivals Google (NASDAQ:GOOG) (up a measly 9%), Hewlett Packard (NYSE:HPQ) (down 41%), and Research In Motion (RIMM) (down a whopping 80%). Only Microsoft (NASDAQ:MSFT) bucked the trend, managing a respectful but far weaker 27% climb.
The smart money was wrong. The pundits were wrong. In fact, most the investing public was wrong. The stock was dirt cheap.
I've been trumpeting Apple's undervaluation for years.
The market mis-priced Apple. Miserably. Totally. Ineptly. Apple has been the most undervalued stock in the universe. For the last two years, you could have picked it up at a PE of 13 despite having mind-boggling revenue and earnings growth.
No more. Apple blew past a PE of 14, then 15 in a matter of weeks. It took out 16 this week and is now pressing 17.
As for the parabolic move, you can't have true passion for a stock without a big move in valuation, something we are finally getting. You can't have a declaration of stock love without high PE valuation.
Why is multiple expansion so important?
For every 100 basis point PE increase, Apple goes up $35. Since its last earnings report, Apple has tacked on 400 basis points of PE, equivalent to $140 of share price, or $140 billion of market cap. This is the big Apple story of the year: Multiple expansion.
Multiple expansion is the market's equivalent of passion and the market just caught the fever.
To think, on January 25, Apple traded at a 12.7 PE.
Parabola, my foot.
This is a move that should have happened long ago. Think of it as a much needed correction in valuation. In terms of PE, Apple is still at the foot of the mountain. A $700 share price is beckoning. Apple remains unbelievably cheap even after today's rise.
Disclosure: I am long AAPL.
Disclaimer: The opinions in this document are for informational and educational purposes only and should not be construed as a recommendation to buy or sell the stocks mentioned. Past performance of the companies discussed may not continue and the companies may not achieve the earnings growth as predicted. The information in this document is believed to be accurate, but under no circumstances should a person act upon the information contained within. We do not recommend that anyone act upon any investment information without first consulting an investment advisor as to the suitability of such investments for his specific situation.