In the wake of disappointing Q4 earnings, and following a downward spiral in the second half of 2011 triggered by a combination of management missteps and an acute failure to keep pace with an evolving technological and consumer landscape, Hewlett Packard's (HPQ) stock price has taken a serious beating. HP returned -17.65% in 2010 and -37.77% in 2011. In HP we see a company struggling to transition to a new phase of its development, and the competitive challenges it faces are monumental. But we also see a proven blue chip equipped with a set of valuable core businesses and several exciting growth segments.
First and foremost, we believe HP is an attractive value play. Priced in the mid-twenties, HP trades at 8.6 times current earnings and 5.6 times forward earnings, with $8 billion in cash on the balance sheet, a price-to-book ratio of 1.2, and a healthy yield of 2%. Meanwhile, IBM (IBM) is trading at a 12.4 forward P/E and over 11 times book value. Granted, IBM has significantly higher profit margins and has executed brilliantly during a transitional period for the industry, but in IBM we see what HP can become. Even if HP falls short of the IBM model, we feel the upside from current price levels is substantial.
The following two year chart of HP's stock price shows the rapid depreciation following a series of management missteps and earnings disappointments. As evidenced by the comparison of HP's two year price movement to the S&P 500 and the broader technology sector (XLK), HP is lagging its peers and the broader market by a significant margin over the span - in the magnitude of 70%-90%. After a good start to 2012, Q4 earnings in late February set the stock back another 13%, giving us our current opportunity to buy near October lows: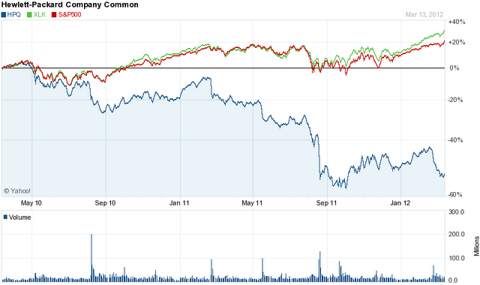 We applaud recent management changes and believe in the ability of CEO Meg Whitman to steer the ship to safer waters while, at the same time or shortly after, capitalizing on new, higher margin growth opportunities, such as those that exist in HP's services division. We believe HP's services division, which currently accounts for over 30% of operating profit, holds the key to the company's resurgence. Granted, disappointing results associated with HP's personal consumer devices (think tablets and PCs) have dampened the company's growth prospects, but given the steep price correction, it would appear that market expectations have been appropriately realigned following recent earnings troubles such that future deterioration in these divisions is expected. We believe surprise to the upside is likely to move the market price in greater velocity than would further negative news.
Additionally, we note that while HP faces Apple (AAPL) with little competitive stature at present time, Apple's dominance in the consumer device space is likely to be transitory when measured through the span of generations, given the inherent dynamism of technology and consumer trends. Despite its weakness to this point, HP is one company that could emerge as a competitor for market share in the tablet and mobile device space when the day comes that Apple's crown begins to weigh too heavy.
HP certainly faces challenges ahead, but we are confident in management's ability over the next two years to execute a sound transition and return the company to a position of growth. Given recent price action that has led to a historically low valuation, the expectation of any improvement in HP's market stature would in our view be met with significant upward price movement.
Disclosure: I have no positions in any stocks mentioned, but may initiate a long position in HPQ over the next 72 hours.