Unum Group (UNM) provides income-protection insurance products for individuals and groups. Its products are typically group benefits, life insurance and disability. It is the largest disability insurer in the United States with most of its revenue coming from employer insurance plans.
Recently, good news came from Bank of America concerning Unum Group. Bank of America increased its estimates from $33 to $36. Even though only a third of the analysts rate Unum a buy, BAC states:
We believe that UNM is a relatively low risk life name as it screens well on all of the factors that we consider for fundamental risk assessment.
This is good news considering the stock is presently trading at $24.14. It has a lot of room to move up.
But, at the same time, the company is not going to be growing and prospering like it is a solid economy. With the continued loss of its base revenue (group employer premium), Unum Group is expecting to be on the low end of the (6% to 12%) earnings growth in 2012. Richard McKenney Unum's Q4 Transcripts for 2011:
Given today's environment, our higher cash level holdings at year end, we would see ourselves currently in the lower end of the range of 6% to 12% earnings growth.
Click to enlarge: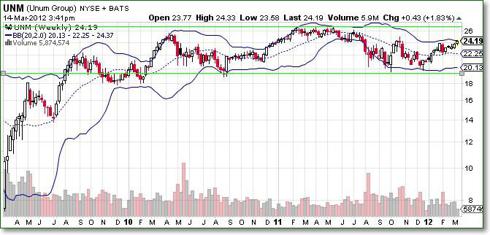 The company has been moving in a trading zone from September of 2009 to the present. It is presently trading on the low end of its low end price target for 52 weeks but in the middle of the trading zone that runs (20-27). It seems the stock is expected to rise in 2012.
If you are interested in long-term growth, this stock is worth putting on your watch list and looking into. If you are more of an options trader, buying a $25 call option may be the best strategy. When to buy will be the key. If you are going to buy soon, we would consider the September $25 call option.
Like all trades, make sure you do more research into the growth of the company before you commit to a trade.