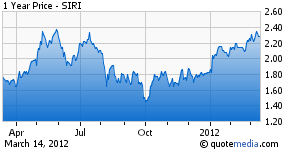 You may have read the title of this piece and thought to yourself that this was the next bearish article to hit the wire about Sirius XM (NASDAQ:SIRI). I mean, we've been deluged by them lately. I will say it does please me immensely to see that I have been mentioned in three of the six. Apparently, I'm getting under some of the bears' skin.
Oh well.
I'm not here to present you with a bearish article, though. Quite the contrary.
Last week on Jim Cramer's episode of Mad Money where he interviewed Mel Karmazin, Mel said the following regarding subscriber reaction to the subscription price increase Sirius XM instituted starting this year:
"On the price increase and I'll give you the answer on that one, is our consumers have been really loyal and they really love our product, and the reaction has been very modest, very modest. So you know, we feel very good about, you know, the subscriber growth in light of the fact that we put in a price increase."
I would like to mention here that this is a great time to read fellow Seeking Alpha author Crunching Numbers' article titled: Sirius XM Acknowledges Subscription Price Increase Has Modest Impact On Cancellations.
It was the best of times, it was the worst of times. I laughed, I cried, I made myself a sandwich. While Crunching had a more modest view of what modest means than I, I think his article is a great piece worth reading. You'll come away with a smile for sure.
On to my own opinion. As I listened to the interview with Jim Cramer, it sounded pretty much like any other prepared interview. I'll ask this and this and this, and you should have answers ready and be ready to speak about that and that and that. This allows for a back and forth quick pace demanded by television, especially Mad Money. But I will tell you if one thing grabbed me it was when Mel stated what he did above.
Mel speaks conservatively. Always. At least, I have not personally found him to do otherwise. End of the world predictions coming from the man's mouth? Unlikely. Thus, Mel saying that reaction has been very modest (twice), indicating the customers have been loyal, and saying they feel "very good" about the subscriber growth in light of the price increase, gives me a very good feeling moving forward.
Let's be honest with ourselves here. A buck fifty a month. How many banks is this breaking? This amounts to less than a $20 a year increase. Roughly 5 cents per day. Are customers going to be outraged by this and flip out and cancel? Sure, there might be a few. But I see the random anonymous complainers as just that, random anonymous complainers. They hold as much weight with me as the woman being interviewed on the news, filling up her Cadillac Escalade, complaining that the price of gas is too high and she might have to cancel her cable television because of it. Most people, I hope, have a bit more sanity.
I trust Mel's usage of modest is just as it is at face value. We will find within the first quarter conference call that guidance is raised. These issues that caused them to be conservative in guidance in the first place? In reality, they are turning out to have a modest effect. Conservative guidance was a prudent measure to prevent a possible miss, which of course would be punished heavily by Wall Street.
I'm very comfortable with Sirius XM moving forward.
Disclosure: I am long SIRI.
Additional disclosure: I am long SIRI June $2 calls.