I use a lot of different option and dividend strategies to try to gain an edge. With Comcast (NASDAQ:CMCSA) I am not nearly as interested in just the dividend as most. The dividend is relatevely small, but the company itself is very attractive.
The chart looks great with the 60 and 90 day moving averages trending well above the golden 200 day moving average. Comcast is clearly favored by trend follwers and it's no surprise watching the stock make new 52 week highs this week.
Comcast Corporation provides entertainment, information, and communications products and services in the United States and internationally. The company was founded in 1969 and is based in Philadelphia, Pennsylvania.
Comcast Corporation
Yield: 2.18%
Dividend Amount: $0.16
Ex-Dividend Date: April 02, 2012
Beta: 1.04
Here is a look at the fiscal year revenue: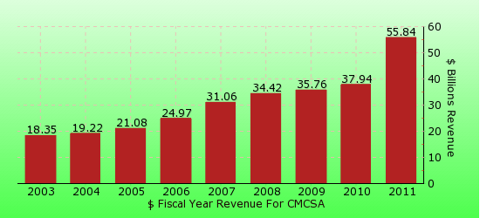 I generally hold any given position with a yield of 2.18% and dividend of $0.16 for about 14 days depending on the timing of the option expiration date and the day of the week of the ex-dividend. When learning a new trading strategy it is better to use a simulated trading account first. It is easy to make mistakes when starting out on a new strategy and mistakes cost a lot less with a simulated account. After a level of confidence is built, then it may be time to move into a real money account.
In this article we will go over an upcoming dividend with Comcast that I may capture with a minimum amount of risk. The criteria that I use is that I must be able to sell a call option in either the front, or first back month that is in the money, and with enough premium that I will not mind getting exercised early (which happens often and can be a good thing if the trades are executed correctly).
Strategy:
In combination with my buying Comcast stock and after checking company updates, offer to sell the April $27.00 or lower strike call for $0.17 over the intrinsic value. The option may get exercised early for a gain. In almost all cases I will sell the call option first to ensure the stock option leg is complete first. If not, after qualifying for the dividend, I will attempt to close out the trade with a gain of near $0.12, plus the dividend earned. It is important to sell the call option hedge at or near the asking price for at least the minimum amount over intrinsic value. I will not want to try putting on the hedge unless the sale of the option (hedge) will provide at least the full $0.17 over intrinsic value. If my shares get called away the day before they trade ex-dividend as a result of the option buyer wanting the dividend I will make about $0.17. The most I can make is $0.33 if I hold the covered call through option expiration day and the stock gets called away.
My last step (completed before making a trade on the same day) is to check company announcements, and news sources for possible events that may cause the stock price to move. This is especially important during earnings season. Learn more about stock options by clicking here. The one basic requirement to receive a dividend payout from a company is to be a shareholder on the day of record for the dividend.
I use a proprietary blend of technical analysis, financial crowd behavior and fundamentals in my short-term trades, and while not totally the same in longer swing trades to investments, the concepts used are similar. You may want to use this article as a starting point of your own research with your financial planner.
Disclosure: I have no positions in any stocks mentioned, but may initiate a long position in CMCSA over the next 72 hours.