For the past few years, trying to call a top in Treasurys has been a fool's game. From the manipulation of the Federal Reserve to fears of deflation to fears of global calamities, U.S. government debt has served as the reliable "go-to" rock under which to hide. The strong rally in stocks that has taken the S&P 500 (NYSEARCA:SPY) to new multi-year highs has surprisingly featured little reaction in bonds ... until now.
Over the past two days, selling volume has surged in iShares Barclays 20 Year Treasury Bond Fund (NYSEARCA:TLT), and buying volume has surged in the inverse fund ProShares UltraShort 20+ Year Treasury Bond Fund (NYSEARCA:TBT). The topping pattern in TLT looks compelling, and the bottoming pattern developing in TBT looks even more convincing. TLT has spent that last six months churning with a slight downward bias that began in earnest this year. TLT has now broken below its 200-day moving average (DMA) support. Meanwhile, TBT has finally broken above an extended trading range that looks like consolidation at a bottom.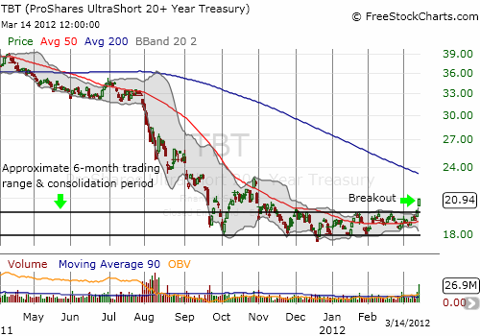 Starting to look like TBT has finally printed some kind of bottom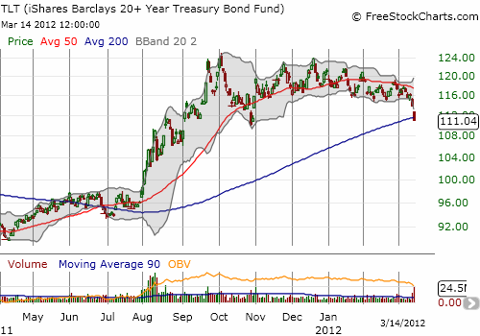 TLT looks like it is finally breaking down
Source: FreeStockCharts.com
The forces that continue to prop up U.S. government debt and keep yields low are strong. For example, on February 2, 2012, Doug Kass cited the following statistics about the continued flight from stocks to bonds in 2011 (see "A Contrarian's Dream"):
"According to the Investment Company Institute, in 2011 retail investors liquidated $130 billion of domestic equity mutual funds, accumulated $1.7 billion of international stock mutual funds, purchased $120 billion of bond funds and bought $8.4 billion of high-yield funds. Since the beginning of 2007 (through 2011), retail investors liquidated over $450 billion of domestic equity funds, accumulated $130 billion of international stock mutual funds and purchased $930 billion of bond funds. The near-$1.4-trillion swing out of domestic equity mutual funds and into bond mutual funds is unprecedented."
At the time I originally quoted these data, I noted how fascinated I was by the alacrity of individual investors in this cycle. Pulling money out of stocks for hiding in bonds has been a winning strategy from 2007-2011 (depending a bit on your timing of course). I cannot say whether investors will finally get it wrong in 2012. However, if these same investors are starting to cash in bonds for stocks as the action this weeks suggests, it is possible retail investors will get it right once again. Stay tuned…
Be careful out there!
Disclosure: I am long TBT.
Additional disclosure: I am also short TBT puts.