For the buy & hold investor, stocks that are cheap (the one's with a very low P/E) and have a nice yield (the amount of the dividend relative to the stock price) are the best way to go. For the most part these stocks are hassle-free, don't allow you to lose too much sleep at night, and pay you pretty well each quarter. That being said, I'd like to focus on an Atlanta, GA-based company that has enormous potential based on recent growth and the attractive yield it presents to potential investors.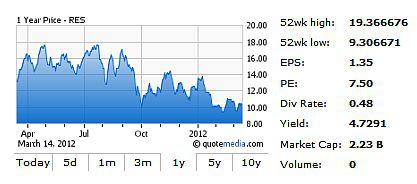 Rpc, Inc. (NYSE: RES) is an oilfield services and equipment company assisting independent oil and gas companies with resources and services needed to expand their exploration efforts. Broken down into separate segments, Rpc operates both a Technical Service and Support Service unit. These units have assisted firms with operations in North & South America, China, New Zealand and Latin America. Rpc just recently split its stock 3:2.
How Cheap Is Cheap? With a P/E ratio hovering around 5, Rpc is cheap compared to some of its other industry competition. For example, Baker Hughes (NYSE: BHI) and Halliburton (NYSE: HAL) both have P/E ratios hovering around 11.1. That's almost a 120% difference. Rpc is super cheap compared to other companies in the industry.
Comparative Growth: The Oil & Gas Equipment and Services sector has seen some very good and realistic upside in the last few quarters. Rpc happens to be one of the standouts. Based on Year over Year quarterly revenue growth, Rpc posted an industry leading 47.1%, while both Halliburton (36.9%) and Baker Hughes (21.8%) came in second and third respectively.
Dividend & Yield Comparison: Stocks in the Oil & Gas Equipment have often paid very nice dividends. Currently, Rpc yields just about 3.0% annually by paying a quarterly dividend of about $0.12. Compared to Baker Hughes which yields 1.2%, and Halliburton which pays 1.0%, Rpc ranks first by yielding almost triple what the other major players do.
While I'm sure to find other various long-term dividend winners, Rpc is of the brightest in the Oil & Gas Equipment and Services sector. Not to mention the sector itself, has posted its biggest turnaround in almost 40 years.
Disclosure: I am long [[Rpc]].
Additional disclosure: I currently owns shares of Rpc in a custodial account for my Daughter.