As tempting as it is to lump Julian Day stocks together, I'm decoupling my coupling of Sears Holding (NASDAQ:SHLD) and RadioShack (NYSE:RSH). I stand by the idea that RadioShack shares are worth $7 or more. What I must revise is my pessimistic view of Sears. Sears is adopting a contrarian set for standards, but it's getting judged by an old set of expectations. By its own standards, Sears looks like a solid buy.
As I wrote previously in regard to Zynga (NASDAQ:ZNGA), it is a mistake to arbitrarily apply vanilla rules of judgment to rule breakers. Cold hard revenue has a way of correcting false standards. Those who anticipate the correction can profit from the interim inefficiency.
Sears is ugly. While JC Penney (NYSE:JCP) adopts an authenticity-centric advertising strategy like Apple's (NASDAQ:AAPL), Sears is doubling down on Shop Your Way Rewards, which is a typical retail scheme to squeeze one last sale out of every customer.
As an example, at each of our Shop Your Way Rewards members visited just one more time in a year and purchased an average transaction, we would generate more than $1 billion of additional margin and our assets play particularly well to this strategy. We have an extensive set of customer touch points to further fuel the membership and engagement.
This comes from the new CEO, Lou D' Ambrosio, in the latest earnings call. One view of this strategy is that it is shortsighted, signaling a contiguous transfer of incompetence from prior management. As Sears preoccupies itself with chasing one last customer purchase, an investor is reasonable to wonder if she or he could be the one last shareholder.
The other view is that it's a moneyball story. Eddie Lampert is Brad Pitt, and he has recently brought in an outsider to lead a statistics-centric organization. I found it hard to believe at first. It felt gimmicky to me that after years of failure, Sears has realized it was doing something wrong, and has wisely ceded sovereignty to statistics. But the move has sunk in, it appears Sears understands this is the only way to go, and I now see it as an incredibly courageous act of humility.
The recent recovery in Sears shares was solvency-inspired. The next recovery will be sustainability-inspired. With Soros' injection of capital into American Apparel, it seems smart money is saying "we don't need to worry that much about solvency". You could laugh at me for weighting the Soros indicator--go ahead. Keep fixating on solvency as it fades into 2011. There's another Brad Pitt character who can help you with that.
One would assume the only way to be sustainable is the authentic approach of JC Penney, but Sears Holding is testing that assumption, and has a valid argument. My interpretation of the argument is that statistics won't mess things up as much as management tends to. So judging by the failed wealth generation in the last half-decade, I wonder if the rally in Sears is just getting started. As Berkowitz says, Sears is a (fixable) problem.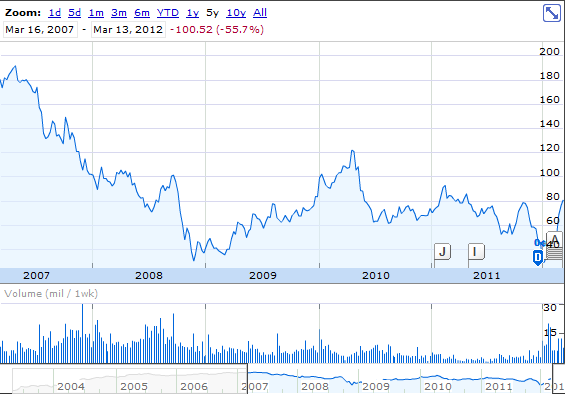 How to play it: if you have a 2 year horizon, that should be enough time for the implementation of Sears' strategy to take hold in its operations, and be validated in its earnings reports. I rate it a strong buy on this time horizon. Take profits at $110.
Disclosure: I have no positions in any stocks mentioned, but may initiate a long position in SHLD over the next 72 hours.
Additional disclosure: This does not constitute financial advice.