Late last month, Apollo Group Inc. (NASDAQ:APOL) cut its projections (to the low single digits from 13%) for second quarter enrollment citing, among other things, "changes in marketing channels to better identify potential students more likely to succeed at The University of Phoenix." This is a fancy way of saying that the company is being forced to change its recruiting practices due to ongoing concerns about their legitimacy.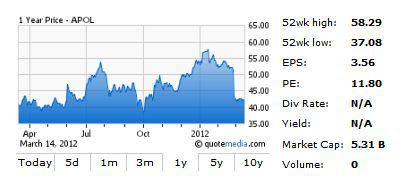 The for-profit education industry has come under increased scrutiny since 2010 when the "General Accountability Office (GAO) issued a harsh report that concluded the for-profit colleges visited by its investigators... has engaged in deception or fraud;" the full report is available here. University of Phoenix was included in those reports.
While Apollo points out that the Higher Learning Commission (HLC) committee convened to discuss the questionable recruiting practices uncovered by the GAO found,
based on its limited review... no apparent evidence of systematic representations to students or that the University of Phoenix's procedures in the areas of recruiting, financial aid and admissions are significantly inadequate.
However, the HLC also noted that
...there remain significant questions [related to student loans, the qualifications of admissions personnel, and the hiring and evaluation of financial aid officers among other things] that will be reviewed by a comprehensive evaluation team... in March 2012.
The fact that current quarter enrollment is down shouldn't surprise anyone. According to the company's 2011 annual report, new degree enrollment at the University of Phoenix (from which the company derives most of its revenue) was down 40.3% from 2010 when the GAO report was released. The change in recruitment techniques occasioned by the government's report is one factor Apollo cites in explaining why its enrollment has fallen.
Apollo also notes in its annual report that, as of July 1, 2011, must "obtain specific regulatory approval to operate in California," and California itself
must adopt additional statutes or regulations in order to comply with the new regulations adopted by the Department [of education] in order for [it] to remain eligible for Title IV funds in respect of operations within the state.
Now because California is the biggest revenue contributor for Apollo (as states go), impairment of its ability to operate there would present a material problem.
Also, Jim Cramer notes that an improving job market, increased competition from not for profit institutions, and government regulation in the form of 'gainful employment' rules may be enough to cripple the entire for-profit education industry. Of these risk factors, the impact of 'gainful employment' cannot be understated.
Essentially, as of July 1, 2012, only programs that prepare students for good jobs in recognized industries will qualify for Title IV funds. 'Preparation for gainful employment' will be measured by the government according to three criteria: annual loan repayment rate, discretionary income threshold, and actual earnings threshold. In plain language, 35% of student loans must be in good standing (regarding repayment) three years after repayment begins, annual loan repayments must not exceed 30% of former students' annual discretionary income, and similarly, annual loan repayments must not exceed 12% of former students' annual earnings. If an institution fails all three of these tests three times in four years, that program loses access to Title IV funding. Schools must begin calculating these ratios starting with this fiscal year. Notably, Apollo says it "believes substantially all of [its] academic programs currently prepare students for gainful employment measured in the manner set forth in the final gainful employment regulations," but no specific figures are given, so this remains to be seen.
The reason this is such a big deal is because, as I noted in a previous article, a large proportion of for-profit schools' revenue is derived from Federal Title IV funding. Specifically, The University of Phoenix, from which Apollo derives around 90% of its revenue, depended on Title IV funding for 86%, 88%, and 86% of its revenue in 2011, 2010, and 2009, respectively. The fact then that regulatory approval in California and the new gainful employment rules jeopardize that funding is very disconcerting.
On top of that, the fact that Title IV funds make up such a substantial portion of the University of Phoenix's revenues is itself a concern given how close it comes to violating the 90/10 rule which states that a proprietary institution that derives more than 90% of its cash basis revenue from Title IV for two consecutive years will lose its eligibility to receive said funds in the future. The University of Phoenix is dangerously close to crossing that threshold.
It is also worth noting that recently, two of Apollo's investors filed a lawsuit alleging that certain Apollo directors and officers breached their fiduciary duty by making improper statements and engaging in improper business practices which in turn
caused Apollo's stock price to drop, led to securities class actions against Apollo Group, and enhanced regulation and scrutiny by various government entities and regulators.
More specifically, the complaint alleges that Apollo's strong financial results were the direct result of its deceptive recruitment practices which involved high pressure sales techniques designed to railroad prospective students into enrollment even if it was clear that their chances of success were low. In many cases the students were encouraged to take out Title IV loans to pay for tuition, the balance of which they could not repay once they dropped out. The complaint even alleges that Apollo "routinely attempted to enroll homeless individuals, and improperly compensated its enrollment personnel."
Purportedly, several Apollo insiders sold their shares in the company with full knowledge that the company's success ultimately hinged on its ability to keep its enrollment numbers elevated by making false or misleading statements to prospective students.
In short, there is nothing to like about Apollo Group. Don't fall into a value trap chasing this stock down from where it was earlier this year--it will likely keep falling throughout 2012. Short APOL or, alternatively, buy puts.
Disclosure: I have no positions in any stocks mentioned, and no plans to initiate any positions within the next 72 hours.