Shares of clothing retailer Guess (NYSE:GES) take a beat in after-hours trading as the company issued a weak outlook for the fiscal year of 2013 (calendar year 2012). Shares traded 12% lower after-hours around $32.
Fourth quarter results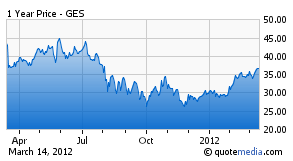 Fourth quarter revenues rose 3% to $776 million, net profit fell 6% to $96 million, roughly in line with analyst expectations. Full year revenues for the fiscal year of 2012 rose 8% to $2.69 billion. Net profits for the year fell 9% to $265 million.
Weak outlook
For the first quarter of fiscal year 2013, the company expects revenue to come in at $560-$575 million and earnings per share of $0.25-$0.28. For the entire year it expects $2.74-$2.78 billion in revenue and earnings per share of $2.50-$2.65. The outlook falls short of analyst expectations. Wall Street estimated quarterly earnings per share to come in at $0.48 for the quarter and $3.18 for the full year, respectively.
The outlook implies that revenue growth almost comes to a halt, while earnings are expected to fall another 11%.
Valuation
Factoring in a 12% decline at Thursday's opening, the market values Guess around $3 billion. This implies a 1.1 times revenue multiple for the fiscal year of 2013. Shares are valued at 13 times earnings and shareholders receive a nice 2.7% dividend yield.

Investment thesis
Despite a favorable risk-on sentiment on equity markets in recent months, performance in shares of Guess has disappointed. Shares trade around $32 which is 35% below the peak of $50 which was set in the beginning of 2011 before margins came under pressure.
Despite a modest valuation and a decent dividend yield, there are little triggers to boost shares in the medium term. Given the magnitude by which the outlook missed expectations I will be on the sidelines for the coming months.
Disclosure: I have no positions in any stocks mentioned, and no plans to initiate any positions within the next 72 hours.