Trading 52-week lows can be a dangerous game. Small-cap stocks making new lows often receive a short window of positive trading action likely due to the wide coverage from online investing sites when hitting annual lows. If you are looking at trading beyond a one- or two-week window, however, you better check what is under the hood.
SkyPeople Fruit Juice (NASDAQ:SPU) - Before we go any further let me say that this is a Chinese nano-cap company with all the lawsuits and mudslinging that goes with the reverse-merger territory over the last year. If you feel that the risk of a disappearing stock is higher than the upside of doubling your investment - then skip down the list. Are some of you still reading? Okay, here is the skinny... Chinese small caps have been pounded down to ridiculous valuations as if every single company has only Monopoly money in the vault. Is there high-risk when trading one company? Yes. Could you mitigate firm-specific risk by purchasing a basket of these deep value companies with only a small portion of your capital? Yes. My gut feeling is that many of these companies will trade at least 3x higher or more over the next two years once the dust and lawsuits settle. This will more than compensate you should one, two or even three out of 10 stocks disappear in a puff of smoke.
SkyPeople is trading at slightly less than half of its cash price. Short interest is almost 700K, which is down from the 1.3 million shares in June 2011 but up from the 500K in January 2012. Institutions have dumped 2.3 million shares over the last quarter, which has exacerbated the downward momentum. The less than 200K shares picked up by management since August last year has not been nearly enough.
When weighing out the pros and cons you need to consider the ultimate question of 'when to buy.' As a trader, what would I like to see before buying? While there is some support in the 52-week low range of $1.58 - $1.60 I would need to see the strong downtrend broken. This is what I would like to see before buying (but not necessarily what will happen):
Prices bounce up to $1.75 to $1.85 range over the next 2 - 3 weeks
Price make another quick low but $1.60 support holds with a sharp bounce up
As it moves past the recent weekly high I would jump in at this point
Even if prices are still trading in the $1.60 - $1.70 range by mid-April, I would begin nibbling at this
(Click charts to expand)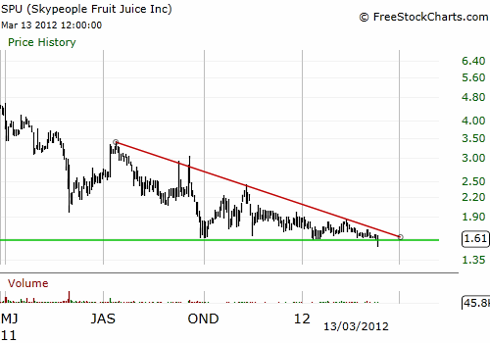 Today's price action is a bit premature for this trader, but I'm watching it closely.
Arch Coal (ACI) - The bearish view of coal comes from low natural gas prices, coal emissions, and decline of the energy market share on U.S. soil. The bullish view is that coal prices are so low that coal producers will continue to cut output until demand drives prices up. Mark Anthony makes a good case on the upside to the coal price forecast due to China's demand. As well, if and when natural gas prices rise, this will make coal prices seem cheaper. Just know that trading coal stocks is highly contrarian - which is why this company is trading at 52-week lows.
Below is a historical chart for thermal coal.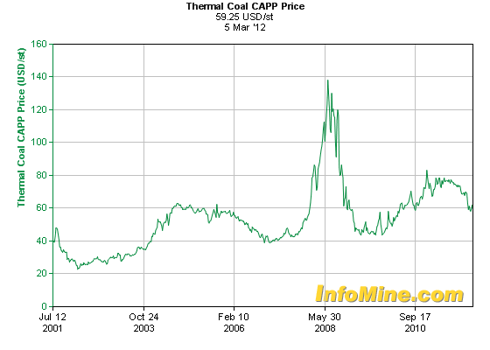 Short interest has risen four-fold since August 2011 in ACI. If coal does make a minor comeback there could be a nice short squeeze here. Share prices are trading 30% below book value. Forward P/E ratios are 9.05. When would I buy this stock?
There are two big drivers: one relates to commodity prices and the other is firm-specific deep value.
Coal is liable to trade a bit lower in my opinion. I'd like to see commodity prices shoot up to $70 over the next three months to be a buyer of ACI.
My second driver would be if coal prices continued to hover around $55 - $60 and ACI trades at $10.10. That would give me a PE ratio of 10 based on 2012 expected earnings with a decent upside should commodity prices go up. ACI would then be a dividend value play based on year-over-year annual dividend growth with enough current earnings to sustain a strong yield (almost 4.5% yield with an estimated payout ratio less than 50% of 2012 earnings if prices hit $10).
ACI Price Chart With Monthly Bars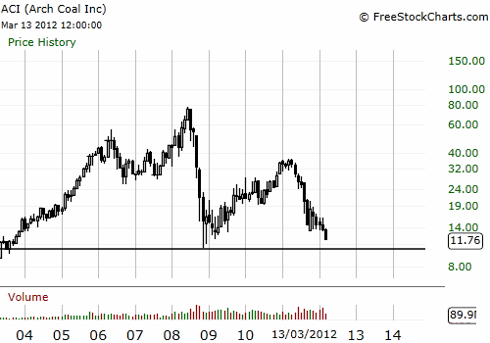 Yes, it is always worth your time to scour the list of stocks making new 52-weeks lows. With enough heat, time and pressure coal turns into diamonds. These two stocks may also be diamonds in the rough, but you should wait for the right fundamental and technical signals before buying.
Disclosure: I have no positions in any stocks mentioned, and no plans to initiate any positions within the next 72 hours.