For most people, saving today means putting money away in a 401(k) or an IRA account. Even though most plans provide a self directing option, after making the initial selection of an assortment of funds, most of us simply stick with the selection and forget about it until some significant events either good or bad happen. This is the buy-and-hold in the simplest and the most popular form.
If you buy-and-hold a mutual fund, the fund manager does the active management of the fund, weeding out the stocks producing inferior performance and replacing them with ones having better performance. However, if you self direct and do buy-and-hold in your 401(k) and you are thinking of holding them until you retire in 10, 20… or 50 years from now, what to do? You will have to choose stocks that will never go to zero. One possible candidate is the ETF DIA.
Suppose you buy only the DIA with all of your 401(k) contributions and reinvest all the dividends again in the DIA, what happens?
If the past is any guide, by the time you retire, your nest egg would have grown by an equivalent of a compound annual return of in the mid-8%. If you are lucky, it could be higher. But, if you are not as lucky, it could be in the 5% range. It goes without saying that the past performance is no guarantee of future results. However, past is the only experience we have and the best prediction we can have of the future is based on the past experience while, as the future becomes the present, we should be vigilantly looking out for the deviations from the past.
If you put away $1,000 on coming April 1, 2012, into your 401(k) and buy DIA with all of it and then put away every month thereafter a slightly larger amount in proportion to your ever (hopefully) increasing salary, you may achieve the following when you retire:
| | | | | | | | | | |
| --- | --- | --- | --- | --- | --- | --- | --- | --- | --- |
| Date of retirement | Number of years from now | Total Contributions* | Shares of DIA you will own* | DJIA | Price of DIA | Cash equivalent* | Equivalent annual rate | Cash equivalent in 2012 Dollar* | Annual dividends of the last year*,*** |
| 4/3/1972 | 50 years ago | | | **954 | | | | | |
| 3/12/2012 | Now | | | **12,959 | $129 | | | | |
| 4/1/2022 | 10 | $169,433 | 1,193 | 21,301 | $213 | $254,598 | 8.60% | $183,092 | $6,426 |
| 4/1/2032 | 20 | $423,027 | 2,460 | 39,126 | $391 | $946,969 | 8.77% | $498,192 | $24,926 |
| 4/1/2042 | 30 | $831,516 | 3,957 | 71,854 | $718 | $2,750,448 | 8.81% | $1,057,952 | $73,212 |
| 4/1/2052 | 40 | $1,489,511 | 5,747 | 131,979 | $1,319 | $7,225,923 | 8.81% | $2,028,722 | $192,673 |
| 4/1/2062 | 50 | $2,549,411 | 7,903 | 242,374 | $2,422 | $18,018,594 | 8.81% | $3,682,802 | $478,523 |
*If you contribute monthly an amount different from $1,000, proportion all of these numbers.
**These two DJIA figures are here for reference.
***You may adjust the dividends to the 2013 dollar by multiplying it with the corresponding "Cash equivalent in 2012 Dollar" and dividing it with the corresponding "Cash equivalent."
The results above assume there are no trading costs and no account maintenance expenses. You can get such cost free investment by investing in, for example, Schwab U. S. Broad Market ETF, [[SCHB.]] Here, you assume both Charles Schwab as well as the ETF will continue to stay in the present form until your retirement.
These numbers look amazing. However, if you compare them with the DJIA close of 954 on 4/3/1972 and that of 12,959 on 3/13/2012, they look plausible. However, extreme caution is advised in using these results since some of the extrapolations used may be extreme (see detail below).
These results are based on smoothed-out performance of various data used. In reality, there are perturbations, some extreme, and they may significantly affect the final results (see Past Performance at the end of this article).
Here are assumptions and how these numbers are arrived at.
Your Income
I assume your income follows the trend of the average male in America between 1950-2004 provided in and it will continue to grow at an annual rate of 4.88% as follows: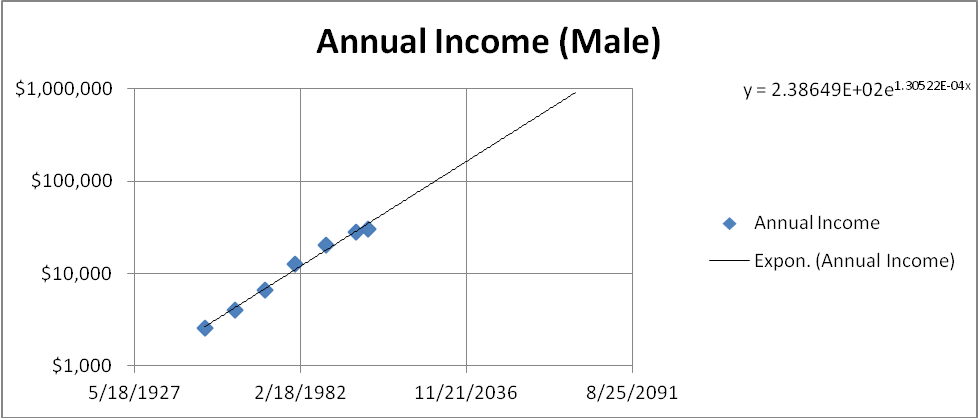 DJIA
I got DJIA monthly close data from Yahoo! Finance and extrapolated it with an annual growth rate of 6.26%.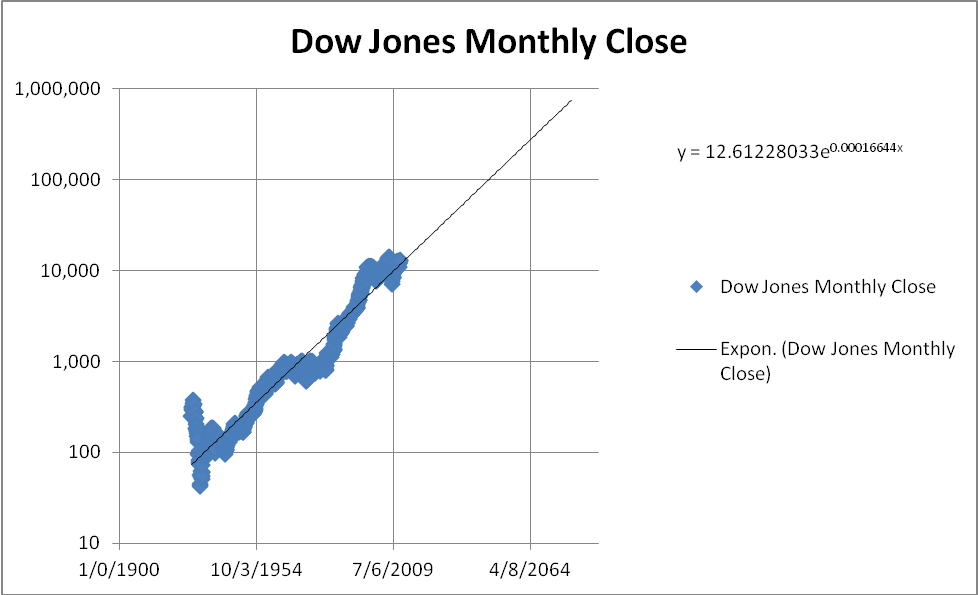 DJIA/DIA Ratio
There is a trend toward a higher DJIA/DIA ratio as follows: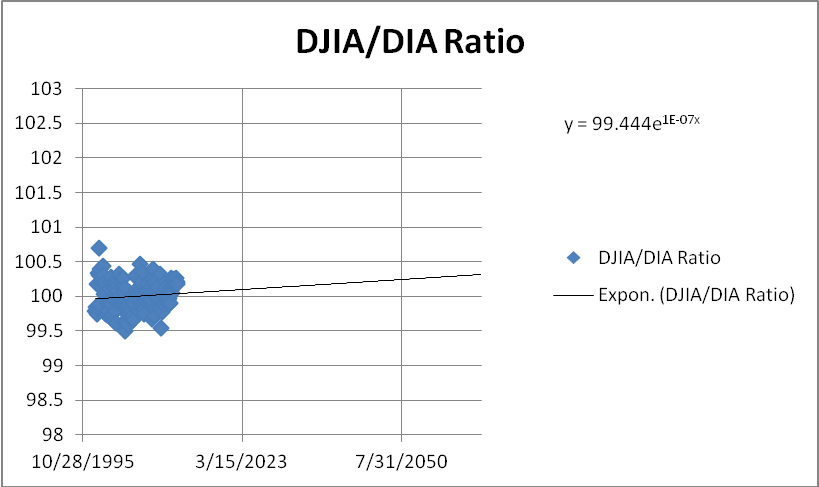 DIA Dividends
The dividends of DIA have been growing at 6.04% annually.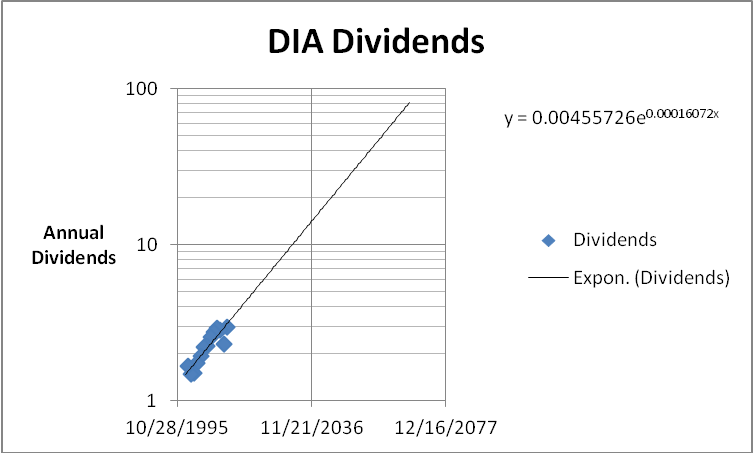 Inflation
An average annual inflation rate of 3.35% was calculated from the historical inflation rates (1914-2012) based on data provided by the Bureau of Labor Statistics.
Past Performance
The ETF DIA was commenced in January of 1998, some 14 years ago. If you apply the aforementioned buy-and-hold scheme from the day the DIA was created, with an end date of 3/12/2012, you would most likely have an annual return of about 5.31%, dividends included. Why so low?
It is because of DIA's relatively short span of existence (14 years) and the bad timing of its creation date.
The chart below shows how the return on your investment is affected by the starting date of the buy-and-hold program.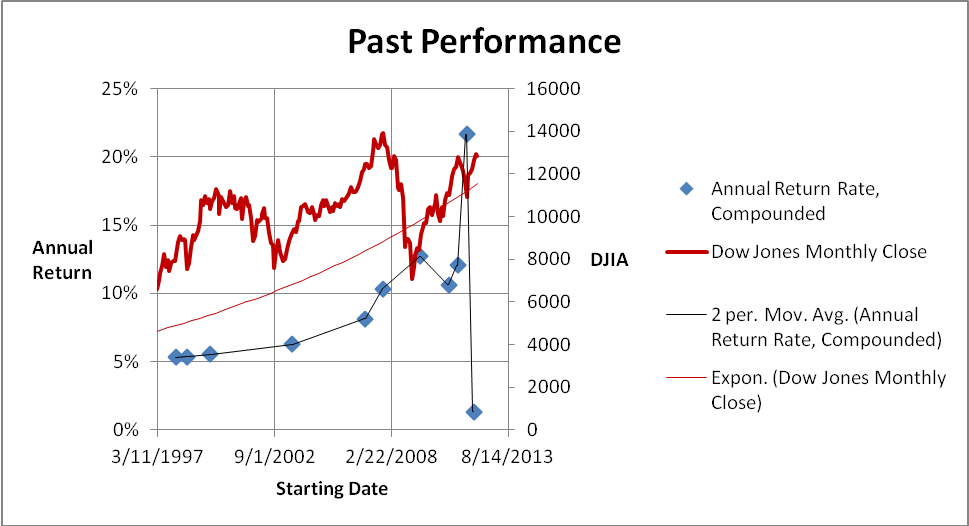 The ETF DIA was created in January of 1998 when the stock market was riding high on the tech boom of 1990s. As shown in the chart above, during most of late 1990s and early 2000s, the DJIA had been in a region above the historical trend (the thin red line). As we all know: if you buy high, even a good stock would perform badly. And because of its short life span, those low returns of the DIA you bought in late 1990s and early 2000s hurt you.
However, if you continue to hold those DIA you bought in January 1998, its return will improve as DJIA rises with time. The chart below shows the possible improvements in the return of the DIA bought in January 1998 if you hold it for another 10 years (2022), 30 years (2042), and 50 years (2062).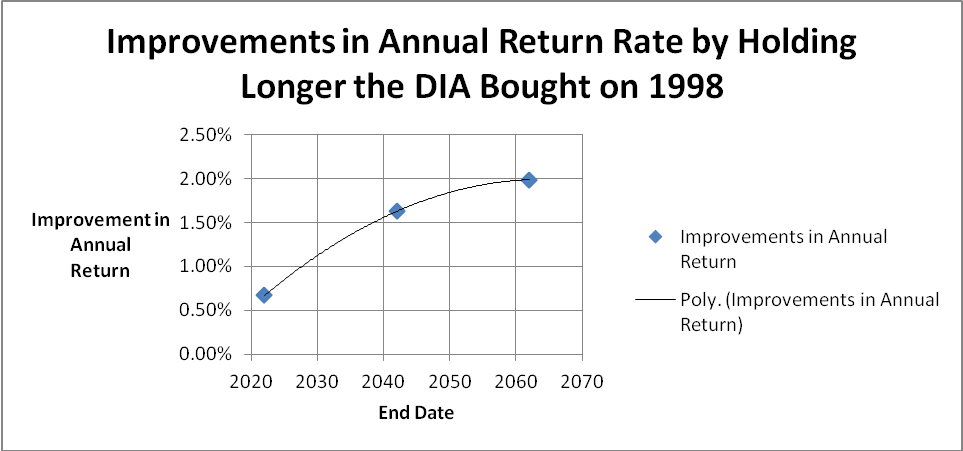 In the Past Performance chart above, you may have noticed the higher annual returns if you started your buy-and-hold after 2008. It is because of the fact that, after 2008, DJIA stayed below or close to its historical trend most of the time. This is a very interesting facet of any buy-and-hold program. While you are in the accumulation phase, you want the price (market) to stay low while you want it to move up when you start to cash it out. So, if you adopt this program, you may cheer when the market is down, not the other way around. Of course, you would also need to have a faith in the market that it will eventually "revert to the mean."
Conclusions
A buy-and-hold program with an intention to hold it till your retirement and beyond depends greatly upon the stock or ETF you buy and hold. For such investment, you would avoid stocks of individual corporations. Instead, you may try to hold some of the general market index ETFs like DIA, SPY, and QQQ. If the future performance of the U. S. stock market behaves like an extension of its past, chances are your return of such a program will be somewhere around in the mid 8%. If the stock prices are generally higher than the historic averages during the intervening years, your return could be lower. On the other hand if they are below the historic averages, your return could be higher.
Prediction of future performance of an investment is extremely difficult and subject to many uncertainties. Extreme caution is advised in adopting or adapting anything described above to your investment.
Disclosure: I am long DIA.