During my 18 years as a professional money manager, I would have to say that Cisco (NASDAQ:CSCO) was one of the greatest stocks that I ever witnessed. That was then, this is now, however.
I find it interesting that if I write a story about Cisco, I get 30,000 page views. If I write about a lesser-known stock that is flourishing today, I get about 1,000 page views. This tells me that Cisco is still over-owned.Stocks have life-cycles, companies have life-cycles. Investors should be in tune with these cycles so that they can freshen up their portfolios over time.
I can remember when the golf stocks like Callaway (NYSE:ELY) and Cobra Golf were some of the fastest growing stocks in the market. Take a look at the returns of Callaway today. The stock has gone backwards by an average of 8.5% over the last ten years.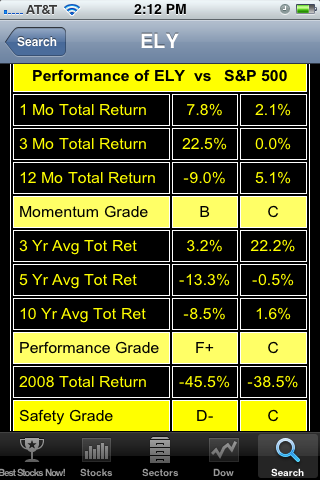 Data from Best Stocks Now App
One of the tricks to growth-investing is owning stocks when they are coming into, and or in their prime, and selling them as they mature and growth begins to slow. No company can maintain 25%-100% or higher growth per year, over the long run [except for Apple (NASDAQ:AAPL)!]. Obviously paying close attention to what you pay for that growth is also very important.
I remember when Cisco was putting up the big numbers as routers began to be an important part of the information super-highway. Before that, I can remember the huge numbers that Novell was putting up as we began to link our computers together. Who can remember Iomega, with their revolutionary zip drives? Where are Novell (NASDAQ:NOVL) and Iomega today?
I am not saying that Cisco is doomed for the scrap heap just yet, but as a stock it is way past its prime. I have pointed this out many times over the past several years, and I usually get a bunch of hate mail afterwards. That's O.K., I can take it, because facts are facts. Here is the performance of Cisco over the last decade.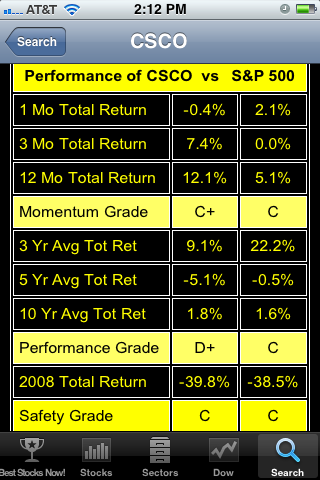 Cisco has basically matched the performance of the S&P 500 over the last ten years with a whole lot more risk. The stock has sorely underperformed the market over the last 3 year and 5 year periods of time, but it has outperformed the market over the last twelve months. This is a small consolation.
Over the last ten years, Cisco has dealt investors a paltry average annual return of 1.8% per year. That is just a hair above the performance of the market.
Over the last five years, Cisco has averaged an average negative return of 5.1% per year. The market has done much better.
Coming out of the market lows of 2008, the market has been humming along at 22.2% per year while the Cisco has been limping along at just 9.1% per year.
O.K. Cisco has beat the market over the last twelve months. Whoopee! It is up 12.1%, while a Apple Computer, a stock of today and not yesteryear has put up a return of 56.8%!
Another cost of owning a stock way past its prime is opportunity cost. How much is that spot costing you in your portfolio? I usually own about 25 stocks in the portfolios that I manage. Just like a baseball team that is in spring training right now, you want to have the best 25 members of your roster that you can find. Why hang onto a washed-up has been?
Oh boy, here comes the nasty replies, but look at the performance of Cisco over the last decade, it is hard to argue that it has been a good stock to own.
I suppose that a value investor could argue that the stock is cheap, but I show a PEG ratio of 1.16 and I have a five-year target price of just over $31.00 per share. This gives the stock just 64.8% upside potential over the next five years.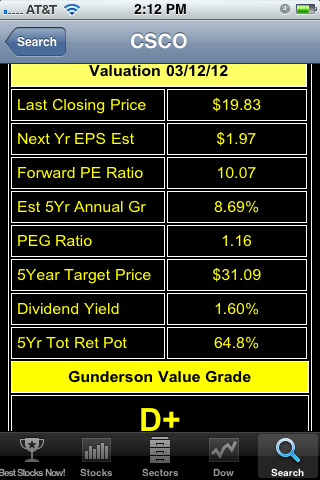 I like to buy stocks that have 80-100% or more upside potential. Cisco currently has neither performance nor value.
I have my own proprietary grading and ranking system for about 2,800 different stocks and ETFs. Cisco is currently ranked number 2,179 and earns an overall mediocre grade of just C+.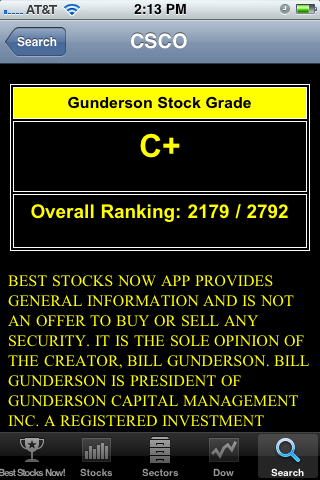 Let's look at one of Cisco's competitors that exhibits both peformance and value currently.
Let's first look at F 5 Networks (NASDAQ:FFIV) performance over the last decade: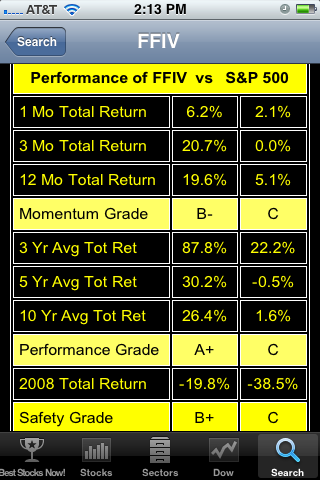 F5 Networks has blown away the performance of the market over the last 1, 3, 5, and 10 years. It earns an overall performance grade of A+. Compare this performance with that of Cisco.
Also, take a look at a current chart of F 5 Networks. The stock broke out once again today. It is now closing in on yet another new, all-time high.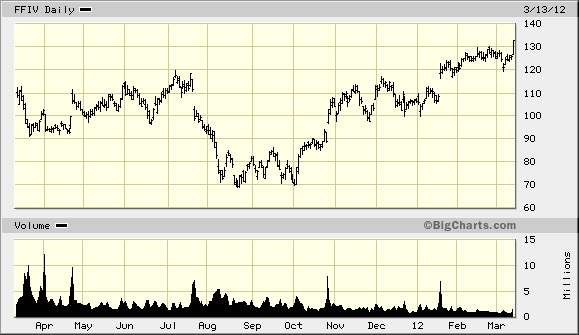 Click to enlarge
(Click to enlarge)
Lastly, let's a look at the current valuation of F 5 Networks:
When I take the next year's earnings estimate for F 5 ($5.30) and extrapolate them out over the next five years, and then apply a multiple that I think is appropriate, I come up with a target price of $241.77 per share. This gives the stock 82.1% upside potential over the next five years.
F 5 currently earns a performance grade of A+ and value grade of A-. When I compare F 5 against 2,791 other stocks in the market, the stock comes in at number 80 overall, and earns a grade of "A."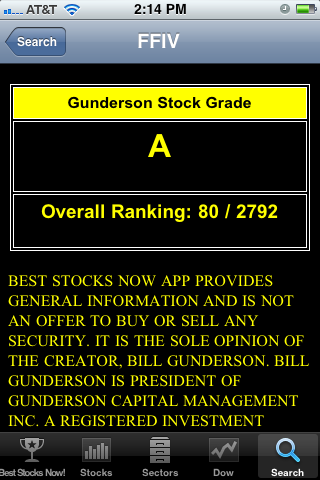 This represents the top 7% of the entire market. It should be noted that F 5 is for an aggressive risk profile and always should be part of a well-diversified portfolio.
Why would anyone own Cisco?
Disclosure: I am long FFIV.