The S&P 500 constituents (NYSEARCA:SPY) with the largest short interest as a percentage of their equity float have strongly outperformed their least shorted counterparts during the 2012 market rally. Strong liquidity on corporate balance sheets could spur a revival in mergers and acquisitions, which could benefit low multiple targets.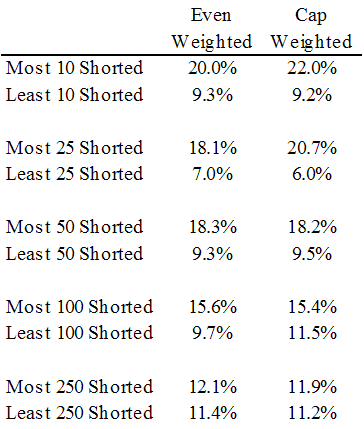 Examining heavily shorted equities that have underperformed the market could yield gains if equity markets maintain their torrid start to the year and shorts are squeezed. The twenty-five most shorted equities in the S&P 500 are listed below:
("Shorts" refers to investors who have borrowed shares from a brokerage and sold them to another buyer with the aim of "covering" or repurchasing the shares at a lower price in the future. A "short squeeze" occurs when a lack of supply of a shorted stock couples with excess demand.)
click to enlarge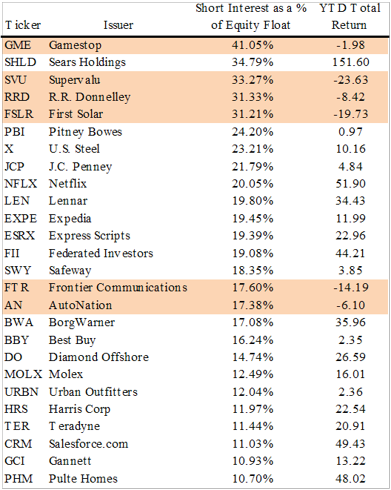 Click to enlarge
Gamestop (NYSE:GME)
At first blush, Gamestop and its position as the most shorted S&P 500 constituent, seems well justified. After all, the company operates over 6,000 retail stores worldwide dedicated to video gaming, an entertainment form that is rapidly transitioning to digital distribution. The company trades at extremely low earnings and enterprise multiples, but the short interest in the stock would believe these low multiples accurately reflect the secularly declining business.
The company's robust free cash flow generation saw it buy back $45mm in stock in the last quarter while also retiring $125mm in senior debt. Currently, it has only an undrawn revolver, and is completely debt free. Conservative free cash flow estimates for 2012 of $450mm would give the company ample munitions to fend off share price declines from bearish speculators.
With no debt, and the ability to continue to generate strong free cash flow, the shorts in the stock are going to have a long ride. Absent a debt maturity, there is no catalyst to tip the company towards bankruptcy. The company also recently announced its first ever quarterly dividend of $0.15 per share, which will also make the stock a tougher short to finance prospectively. GME remains profitable, even growing top-line sales by 2% in 2011 absent meaningful new console launches. With nearly a billion of cash on the balance sheet, strong free cash flow generation and no debt, do not be surprised to see a private equity firm take a stab at purchasing the company with the intent of pulling out enough cash in the form of special dividends over the next several years to offset the price tag. This approach would give the acquirer a "free option" to see whether the firm can navigate the digitization of its industry.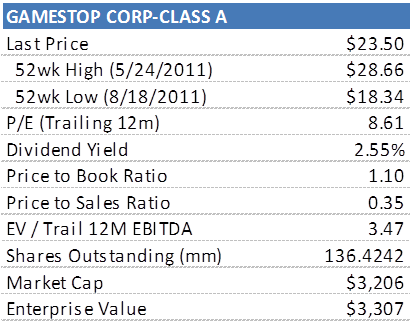 Supervalu (NYSE:SVU)
Unlike the debt-free Gamestop, Supervalu, the nation's third largest grocer behind Kroger and Safeway, operates a highly leveraged balance sheet. The company was downgraded from B+ to B at Fitch in January, taking it to five steps below the investment grade level. The company's continued sales declines, market share losses, and margin pressures were all cited as factors to the ratings change. Same store sales fell by six percent in 2011.
It is tougher to see a near-term catalyst that drives the stock higher given the difficulty of expanding earnings in the notoriously low margin grocery business. Below is a side-by-side comparison of key metrics at Supervalu and competitor Safeway (NYSE:SWY), the 14th most shorted stock in the S&P 500.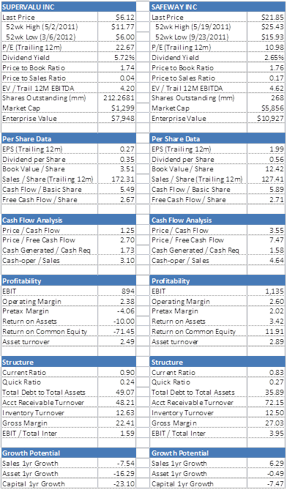 Click to enlarge
Given its stronger balance sheet, better margins, and better growth trajectory, SWY is better positioned to surprise shorts than SVU. SWY's investment grade credit metrics (rated Baa3/BBB/BBB-) also could allow it to pursue shareholder-friendly actions on the margin given that the company's five year debt issued in November trades at 2.5%, a level inside its dividend yield.
R.R. Donnelley (NASDAQ:RRD)
I recently tackled, RRD in an article regarding the S&P 500's top dividend payers. The company is the world's largest commercial printer, an industry like that of Gamestop's, which is undergoing a secular transformation. In RRD's case this changing business landscape is due to the digitization of books, newspapers, and other media. The commercial printing industry remains highly fragmented, and RRD's market share of non-newspaper printing is roughly four percent. Given the highly fragmented and commoditized nature of the industry, declining volumes could see the weaker players forced out, which could give surviving companies a chance to increase scale and improve market power.
If the company continued on its earlier stated plan of returning cash to shareholders, then it could potentially be a candidate for a short squeeze, but the company has recently reversed course on its capital structure positioning. The company sacrificed its investment grade ratings in mid-2011 with an aggressive share repurchase plan, but took a more cautious tone in its 4Q11 earnings call regarding capital allocation. This share repurchase plan could have been the catalyst that forced shorts to capitulate. I expect the company to conserve its balance sheet flexibility and utilize its cash flow generation to consolidate the industry in coming periods with the hope that these actions allow for margin expansion and ultimately multiple expansion.
First Solar (NASDAQ:FSLR)
After a -74% return in 2011 that placed the company in the ignominious 500th place in the S&P 500, investors are justifiably skeptical. A fourth quarter earnings release that included sharply lower guidance for revenues and module sales, a large warranty charge, and a reduction in manufacturing capacity further warrants skepticism. Margins should remain under pressure given declines of solar subsidies in its major markets, and a solar PV module market that is frankly oversupplied. Uncertainty over the health of its end markets makes it tough to determine whether the level of short interest is appropriate.
The company does maintain a strong balance sheet, which could allow it to participate in project financing deals given the appetite for "spread" in credit markets. These types of deals could help the company drive demand, but remain as uncertain as the broader industry trends.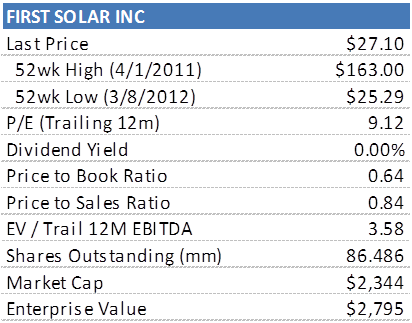 Frontier Communications (NYSE:FTR)
Like RRD, Frontier is another stock that I recently included in my article on S&P 500 dividend leaders given its index leading dividend yield. The company is the fifth largest incumbent local exchange carrier and largest rural local exchange carrier in the united States. The company provides telecommunications services in 27 states, boasting over 5 million access lines and more than 8 million voice and broadband customers. FTR cut its annual dividend from $0.75 per share to $0.40 per share during its recent earnings announcement, but this dividend rate still leaves FTR with the highest yield in the S&P 500. As the divided rate is decreased, the stock becomes comparatively easier to finance for shorts who owe the dividend to the shareholder whom they borrowed the shares from.
Frontier's wireline telephony business is in secular decline as more households transition to wireless only. The company lost nine percent of its access lines in 2010 and another 8.3% in 2011. The high distribution rate to shareholders is a function of limited capital investment opportunities inside the company.
While its business prospects are declining, the subscription nature of the revenue stream generates steady and predictable free cash flow. The company is not targeting a boost of returns to shareholders as witnessed by the dividend cut, and the declining leverage target. Total leverage is currently around 3.1x on a net basis, and the company's dividend reduction and meaningful free cash flow could see the company achieve its leverage target of 2.5x over the next several years.
An acquisition of FTR would be the best hope for a near-term pop in the stock given management's reticence to further degradate the balance sheet in favor of rewarding stockholders. The most likely consolidator in the industry is Centurylink (NYSE:CTL). An acquisition of FTR would appear unlikely given CTL's continuing attempts to integrate Embarq, Qwest, and Savvis, acquisitions the company has made in just the last two years.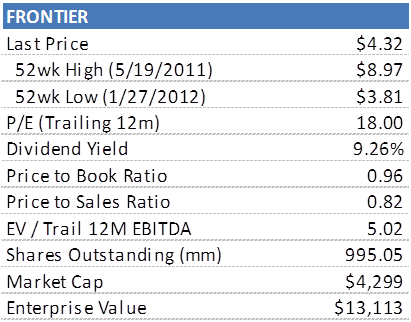 Autonation (NYSE:AN)
Owning and operating 260 new vehicle franchises in 15 states, Autonation is the largest auto retailer in the United States. According to an equity piece by J.P. Morgan, the average auto retailer had at most one unprofitable quarter in the most recent downturn. This surprising resiliency was driven by the high margin replacement part and service business. In 2012, U.S. auto sales per dealership are targeted to rise to a record given demand increases in stabilization of automakers' dealership networks.
The company bought back roughly 13% of shares in 2011, and still has headroom under its current authorization. Issued in January of this year, the company's longest dated bonds, rated Ba2/BB+/BB and maturing in February 2020, yield just inside 5%, giving it modest room to re-lever. Coming off of a year of record profits and with a shareholder-focused management team and activist shareholders (Eddie Lambert owns 14%), the company could certainly surprise to the upside. Short interest at AN more likely reflects the full valuation rather than declining business prospects.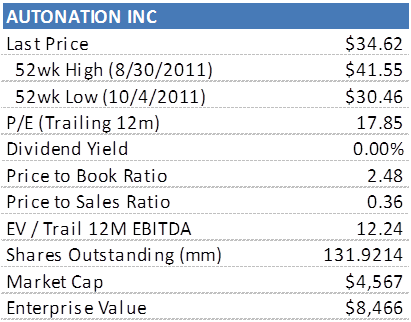 Disclosure: I am long SPY.