Below is a list of the S&P 500 stocks that have the highest percentage of analyst buy ratings. (Only stocks that have at least 10 analysts covering them are included.)
As shown, Agilent Technologies (NYSE:A) has the highest percentage of buy ratings at 94%. Five other stocks have more than 90% buy ratings -- AMT, HAL, ESRX, BLL and NOV.
While Apple (NASDAQ:AAPL) is tied for 7th place with 89% buy ratings, it's probably the most impressive stock on the list because its analyst coverage is so much higher than any of the others. A whopping 55 analysts cover Apple.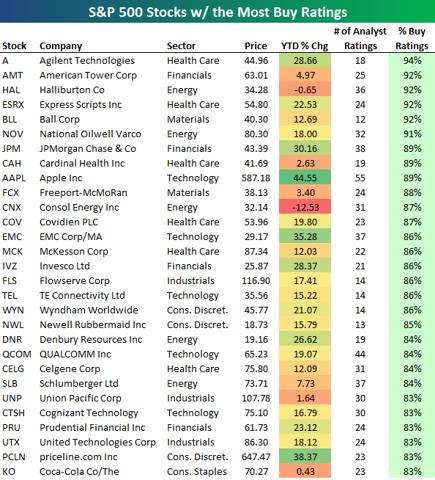 Click to enlarge
Below is a table showing the stocks that have seen the biggest increases in buy ratings so far this year. For whatever reason, analysts have gotten more bullish on these names in 2012.
LSI Corp (NASDAQ:LSI-OLD) has seen its percentage of buy ratings increase from 38% to 69% so far this year, which is an increase of 31 percentage points. This is by far the biggest increase of any name in the S&P 500. Varian Medical (NYSE:VAR) ranks second with a gain of 20 percentage points, followed by AIV, BLL, DFS and WPI. Other notable names that have seen an increase in buy ratings this year include Starbucks (NASDAQ:SBUX) and Chipotle (NYSE:CMG).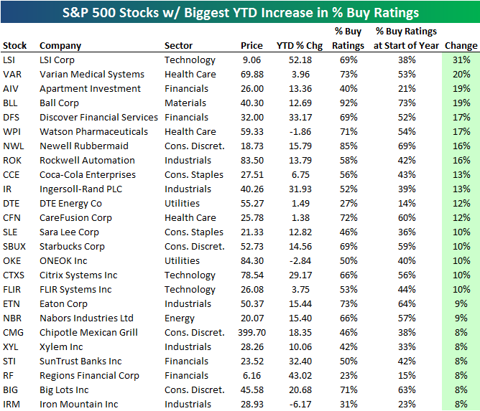 Click to enlarge