Investors can be both a fan of the company and a fan of the stock, just as in sports. But investors should also be able to look at what the company is doing poorly and discuss ways it can improve without being labeled a "basher."

- Cameron Kaine
Part 1 (Click to enlarge table)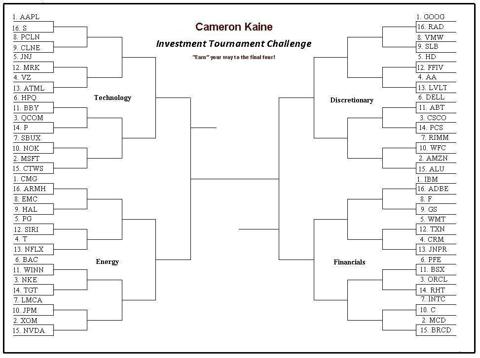 It goes without saying that the NCAA basketball tournament is an event that college basketball fans everywhere look forward to every March. In fact, the "madness" that ensues has prompted studies conducted on the degree of productivity that corporations often suffer each year as workforce productivity drops immensely if not halted entirely. On the stock market, it reminds me of the excitement that investors feel as they look forward to earnings season and anticipating the type of numbers from their investments that affirms their decisions and sends their portfolios higher.
Unlike the NCAA tournament, it is not a "one-and-done," where one loss sends your team packing for months until it is time to suit up again, but for a corporation reporting earnings and fighting for investor approval, "a loss" can mean host of other things, sometimes much worse than being sent home for the off season, it can be catastrophic for an entire year as Research In Motion (RIMM) has proven.
Investment Madness
In this article we are going to look at the stock market from the eyes of March Madness in my inaugural Investment Tournament Challenge. The goal is to have a little bit of fun while also taking a serious look at some of the strengths of several firms such as Alcoa (NYSE:AA) and Pfizer (NYSE:PFE) that may not get the attention that they deserve and also look at names such as Sirius XM (NASDAQ:SIRI) and Netflix (NASDAQ:NFLX) that perhaps get a bit too much. I encourage you to click on the bracket above, save it, print it and then follow along this series of articles as we "earn our way to the final four."
If you are like me, when you pick up a bracket, the first thing that you look for is who the number 1 seeds are. There were a lot of factors and variables that when into the selection of the number 1 seeds. These include items such as market cap, P/E ratio, average trading volume, (of course) popularity but most importantly earnings. However after all things were considered, I went with these four names: Apple (NASDAQ:AAPL), Chipotle Mexican Grill (NYSE:CMG), Google (NASDAQ:GOOG) and finally IBM (NYSE:IBM). As you can see the names of the regions are the sectors that happen to be the best performers at the moment, Apple takes the No. 1 overall seed in the technology region and will face communications giant Sprint (NYSE:S) which is the 16th seed in the first round.
Match-ups and Seeding
Search giant Google takes on 16th seeded Rite Aid (NYSE:RAD) in the discretionary region, followed by the financials region where bellwether IBM faces software giant Adobe (NASDAQ:ADBE) which then leaves Chipotle to face chip giant ARM Holdings (NASDAQ:ARMH) in the energy region. It's hard to imagine that there will be any upsets of the top overall seeds as those companies have tremendous track records of not only solid earnings but their growth prospects are also quite impressive. But what investors should pay attention to are the 5-12 match-ups as these pairings have often provided historic upsets in the tournament and may prove to be just as exciting in our investments as well. The pairings are as follows:
| | | |
| --- | --- | --- |
| 5. Wal-Mart (NYSE:WMT) | Vs. | 12. Texas Instruments (NYSE:TXN) |
| 5. Proctor & Gamble (NYSE:PG) | Vs. | 12. Sirius XM (SIRI) |
| 5. Home Depot (NYSE:HD) | Vs. | 12. F5 Networks (NASDAQ:FFIV) |
| 5. Johnson & Johnson (NYSE:JNJ) | Vs. | 12. Merck (NYSE:MRK) |
Wal-Mart Vs. Texas Instruments
This is really a tough match-up to break down, because one company which is the undisputed leader in its industry is Wal-Mart and another is extremely dominant in chips and rapidly growing. The first thing that I looked upon in this match-up were the earnings - where Wal-Mart recently reported fourth quarter numbers that came in line with analysts' expectations on revenues. However it missed on the all important earnings per share. On a quarter-over-quarter basis, revenue increased and GAAP earnings per share dropped while booking revenue of $122.29 billion.
For Texas Instruments, the fourth quarter included additional revenue from the acquisition last year of National Semiconductor, which was completed for $6.5 billion. Analog chip sales, where it leads in the market, continued to account for the majority of the top line and climbed a respectable 7% to $6.4 billion. But it was not the fact that it exceeded those numbers that should excite investors, but the fact that it put forth an outlook that implies that the company should be able to rebound from a disappointing 2011. And several analysts agree and cited the fact that inventory correction within the overall chip industry is now over.
Analysts are projecting sales growth and total sales of nearly $13.9 billion for 2012. The consensus earnings projection for 2012 is currently $1.89. This trend may likely pick up by the end of the year leading into 2013. By then totals are expected to approach the area of $15 billion for annual growth in excess of 8%, with earnings per share growth of more than 31% to $2.48 per share.
As great and as dominant as Wal-Mart is, I'm going to give the slight edge to Texas Instruments based on its growth outlook as well as stock potential whereas Wal-Mart may be stuck in this range for some time. Texas Instruments advances to face off against the winner of Salesforce.Com (NYSE:CRM) vs. Juniper Networks (NYSE:JNPR).
Sirius XM Vs. Procter & Gamble
With Sirius XM facing off against historical Dow component in Procter & Gamble, you can't have a match-up with more contrasting styles than these two. P&G has been around since the civil war and Sirius continues to be at war with how it is perceived on the market. Should it be viewed as a growth company or traditional media? This one should be interesting.
When Sirius XM reported its Q4 2011 earnings it was somewhat of a revelation for me - to the extent that it was at that point that I started to appreciate what my expectations were relative to the company's overall potential. The results were fair and far from horrible, but for me, I realized that my expectations for the company were too high if not entirely unrealistic. Though the company did well, any investor who conducts extensive due diligence about market dynamics will see that the report revealed some pretty uninspiring outlooks.
On the positive side, the company did well in terms of revenue guidance, however it did miss street expectations to some extent - although not by much. EBITDA estimates were solidly hit and the company was impressive on free cash flow, however, what was glaring was that its subscriber guidance for 2012 was 20% below its net additions for 2011 - this is even though auto sales are still climbing. Investors who wish to remain positive want to look at it as the company's standard M.O. of under-promising to over-deliver. But be that as it may, investors are overlooking that the company has never had to deal with a none-royalty price increase before, but only time will tell.
For Procter & Gamble, the world's largest producer of household and personal products by revenue, the question is, how much growth is left? With its products reaching 4 billion people around the globe it is hard to imagine that it will not be around for another 200 years since babies will always need diapers and men like me will always need razors contributing to its $1 billion in annual revenue.
In its latest quarter, the company delivered 4% sales growth to $22.1 billion. Growth was driven by higher volume and pricing actions, partially offset by geographic and product mix. The company continued to deliver broad-based organic sales growth, with all six business segments up versus the prior year. Diluted net earnings per share were $0.57 per share, reflecting non-core charges of $0.53 per share. The non-core items included a $0.50 per share non-cash impairment charge associated with the Appliances and Salon Professional businesses. Core net earnings per share were $1.10, toward the high end of the company's expectations for the quarter.
Although the company beat overall second quarter expectations, it did disappoint investors by guiding the current quarter below Wall Street forecasts due to high commodity costs and a strong dollar, which makes its products more expensive overseas. So on that note, it seems as if Sirius XM squeaks by with a victory after coming from double-digits down and advances to the round of 32 to face the winner of Netflix (NFLX) vs. Bank of America (NYSE:BAC).
Summary
As great as these companies are, they bring a lot of excitement each quarter as well as plenty of intrigue. Where Sirius XM has the potential for the stunning upset of a Dow component favorite in P&G, it also proves that making it to the final four still requires solid market performances, excellent execution and as Texas Instruments showed, being hot at the right time can work just as effectively when a company has momentum. Wal-Mart plays hard, but it just did not have enough growth on the bench and fatigue ultimately took over. In the next article, we will break down some more match-ups and see how your stock fared. Stay tuned!
Disclosure: I am long AAPL, AA.
Additional disclosure: Author is Short SIRI.