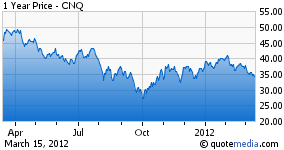 Over a month ago, Canadian Natural Resources Ltd (NYSE:CNQ) announced that it had unscheduled maintenance to an upgrader at its Horizons oil sands plant. This outage caused management to adjust their 2012 production forecast for Horizons to 93,000-103,000 boe/day from 105,000-115,000 boe/day. This caused a subsequent sell off that is leaving us with a terrific buying opportunity. This is one of the premier oil companies in the world with world class assets in Canada, the North Sea and Offshore West Africa. Selling them on a production outage is like throwing out your new iPhone 4S because the battery died. You just plug it in and re-charge (or in this case plug it out or buy more until the production comes back online). An outage like this is not uncommon for oil companies or CNQ (they had an 8 month outage last year when wild fires hit Horizons). But much like that famous (and I think only) Chumbawamba hit "Tubthumping" they got knocked down but they get up again, you're never gonna keep them down.
Let's look at some fundamentals:
On March 11th, CNQ announced its Q4 earnings, and they beat on both EPS (0.87 vs. 0.85 est) and Cash Flow Per Share ($1.92 vs. $1.83 est). Production was pretty much inline (657.6 mBoe/day vs. 661.9 mBoe/day). Now if that wasn't good enough, they decided to sweeten this situation by raising their dividend by 17% to 0.42/share (which is the 12th consecutive year of dividend increases).
What gets me excited about CNQ is the amount of cash that this company spins off. CNQ has projected 2012 cash flow of $6.87/share (basic) and $6.71/share (fully diluted). In the oil sector, the most important number is the cash flow number since it demonstrates the company's ability to fund its development and exploration activities. And at $34.42 a share (close of March 14th) CNQ is only trading at 5x Cash Flows which is extremely cheap. From an earnings per share perspective, CNQ is projecting fully diluted earnings of $3.08/share. At $34.42, CNQ is trading at 11x earnings, which is cheap considering the long life asset, enormous size of their reserves and their minimal exploration risk (it's all development, they have the oil they just need to get it out).
Speaking of reserves lets take a look at their reserves:
Proved Oil and Liquids: 3.795 billion BOE (barrels of oil equivalent)
Proved Natural Gas: 4.262 BCF (billion cubic feet)
Proved BOE: 4.505 Billion
Proved and Probable: 6.903 Billion BOE
That's a lot of oil! Now that you know their reserves, I bet you're wondering what their net asset value is?
CNQ's NAV is $48.31. At $34.42, it's trading at 71% of it's NAV.
I should also note that on March 14th, management said that they are recommencing production at Horizons, which should act as a catalyst to push Canadian Natural Resources higher.
I'd also like to add one last thing, CNQ is a pure play on oil. They do not have a refining component so they don't have to worry about refining margins. If you believe like I do, that oil is going to continue its march higher, then CNQ should out perform its peers who have a refining element.
Disclosure: I am long CNQ.