In this article, we will provide you with financial fundamental analysis of computer software and services companies on U.S. stock exchanges. For each company, we have provided price targets, buy/sell/hold ratings, buy/sell ranges and theses. Additionally, using a multitude of financial analytical ratios and comparisons, we have given each company a score on growth, profitability, financial health, value and management indices to compare each company and see where companies excel and where they have weaknesses. We have featured four of the 12 companies in the full report, which can be seen here.
We have initiated coverage on the following companies - Apple (NASDAQ:AAPL), Equinix (NASDAQ:EQIX) Fusion-IO (NYSE:FIO), Google (NASDAQ:GOOG), IBM (NYSE:IBM), Dell (NASDAQ:DELL), Tech Data (NASDAQ:TECD), Yahoo (NASDAQ:YHOO), Hewlett-Packard (NYSE:HPQ), LinkedIn (NYSE:LNKD), and Teradata (NYSE:TDC).
In Part 1, we will look more closely at AAPL, AKAM, GOOG, and IBM:
Apple , Buy, PT at $780 -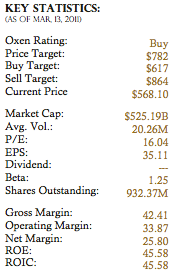 Apple is by and far the favorite company of The Oxen Group. They have great profitability, great financial health, ample cash flow, great products, great management, and so much more. We have a very lofty price target on Apple at $780, but a jump to that price would only take the PE to 22. By the end of 2012, EPS should be around 47 - 48…a PE of 16.5. Therefore, we believe this target is obtainable in the next twelve months.
What's not to like about Apple? They've created one of the strongest brand images in the world. They have transformed technology, and they offer a very small amount of products that they have perfected and mastered. We believe they are an important part of anyone's portfolio. Additionally, the company has created the ability to obtain successive purchases from their clients.
The company does have a strong economic moat, but they are in a highly competitive industry. The phone industry has seen Google steal market share as well as their tablets find competition. Yet, the company seems to continue to produce a product superior to their competition in the sense of profits and sales.
Overall, we believe AAPL is here to stay and is still very cheap in comparison to other growth stocks and their industry.
Akamai (NASDAQ:AKAM), Hold, PT at $44 -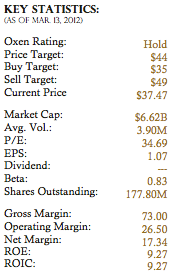 Akamai Technologies scored well on our EquityAnalytics scoring system, and we like this company a lot. We do see them as not at the perfect buy point right now, but we would be interested in picking them up on any dip below $35.
The company sits in the cloud services and web-based content delivery subsector of computer services, and they are one of the definite market leaders in their area of business. The company has built a solid moat for content delivery, and we believe the recent acquisition of Contendo helps to further the CDN moat the company is creating.
We are also a fan of the company's solid financial health and profitability. The company has one of the highest profitability margins in the industry with gross margin over 70%. Additionally, they scored very high in financial health as they have reduced debt and increased current and quick ratio. The company looks very healthy financially with no long-term debt as of now.
One issue we see is that the valuation is slightly strong at 35.00. While the profitability as well as solid growth in a growing industry is definitely worthy of some overvaluation, a PE of 35 and forward PE of 20+ is definitely a bit high for our liking.
Akamai has built a very solid line of business with top clients, and we are a fan of their recent acquisition. Buy on any dip!
Google , Hold, PT at $618 -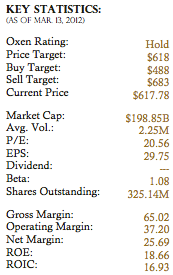 Google scored well for us in most categories, and the company is a great Hold right now. We do, however, believe that upside is going to be limited for GOOG. Here is why:
Google wants to be everything. Remind you of any other tech giant that rose to prominence in the 90s and stock went nowhere fast.
Google is in everything now. They want to be Facebook with Google+. They want to be Apple with Android. They want to be PayPal with Google Wallet. Now, Google has always offered very strong technology that is well developed and has gained good market share. The issue we see for the company is that they can get so large that their brand image becomes almost monotonous. Apple defines itself by a very small amount of products that appeal to the consumer. Google may be getting too big for their own good.
We also believe the market is pricing in the company's future growth pretty well right now with a 20.6 PE. The company's last report showed that cost per click was declining, and that the power of the advertisement that GOOG once held may be slipping.
For now, we believe that GOOG is becoming a blue chip stock that grows less and less as it becomes bigger and bigger, and it should be bought on a value move.
International Business Machines , Buy, PT at $275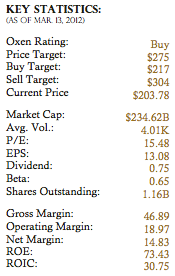 IBM is one of our favorite stocks in the industry. The company nearly invented business enterprise services, and they continue to dominate the space. We believe that they have amazing technological leadership and business relationships that allow for tem to offer solid, consistent growth as well as profitability that would be a welcome addition to anyone's portfolio.
The company did not blow any of the numbers out of the water because of this consistency. Yet, we believe they are the most fundamentally sound company in the industry sans Apple. They offer a very solid dividend as well, and we think they are cheap right now. The 15.5 PE is fairly cheap still, and we believe IBM should be around $275 by the end of the year.
One red flag to watch is that sales have been growing at a much slower rate than debt over the past five years. Financial health is pretty solid, but its recent path has been lower. Debt has grown and current/quick ratios have come down.
Overall, IBM is probably the second best stock in the bunch. The company has a solid economic moat that is built on technology, which is something that is hard to penetrate. Much of what IBM does is replicable but not with tremendous expense and years of building a technological base.
We like that advantage for the long haul.
Good Investing!
Disclosure: I am long AAPL.